"Pomegranates are like little explosions of awesome in your mouth. They are astounding fruits!". _ Tahereh-Mafi
If you love dessert dressings with a combination of sweet yet tangy tastes, then you are a lover of flavor.
Pomegranate molasses can give you feelings of home, if you have eaten them all your life. But what happens if they are unavailable? Can you replace them? What are your options? Sit back and enjoy these perfect substitute recommendations.
30-second Summary
You can buy pomegranate molasses from any grocery store or supermarket near you. If it is unavailable, then you can go to online stores.
Try out substitutes like cranberry juice, plum sauce, lemon and honey, tamarind paste, balsamic vinegar and grenadine for pomegranate molasses.
The results might be different for some substitutes but with the right alterations you can achieve the same sweet yet tangy flavor.
| | | | |
| --- | --- | --- | --- |
| Pomegranate Product Substitutes | | | Cocktail Ingredient Substitutes |
| Pomegranate fruit/seeds, pomegranate juice | Balsamic vinegar, cranberry concentrate, raspberry jam | Tamarind paste, sweetened lemon juice | Strawberry daiquiri flavoring syrup, jime juice, grenadine |
What Can I Substitute for Pomegranate Molasses?
1. Cranberry Juice
The first choice is cranberry Juice. It possesses the same bitter-sweet flavor as pomegranates. Although similar to pomegranates, the taste of cranberry is less intense.
As pomegranate molasses have a thick texture, you have to spruce things up when recreating this with cranberry juice.
Mix your cranberry juice with 1-3 tablespoons of sugar and boil until it slowly thickens and the volume reduces. For a sweeter juice, you can always add more sugar.
Once you have your desired texture, use a 1:1 ratio to replace pomegranate molasses.
2. Grenadine
Grenadine is obtained from boiling pomegranates with lemon and sugar which births a smooth blend of sweet and sour flavors similar to pure pomegranate molasses. Someone would call it a "grenade of flavor!"
Grenadine can be used in many ways. Such as barbecue or pork sauce; it adds a dash of color and flavor to your meal.
If you plan on using this for your cocktail, then you can be sure your tastebuds will light up with pleasure. Take note that grenadine is sweeter than regular pomegranate molasses. You want to be careful with the quantity you add to your alcoholic or non-alcoholic cocktails.
Use ½ tablespoon of grenadine where your recipe calls for one tablespoon of pomegranate molasses.
3. Balsamic Vinegar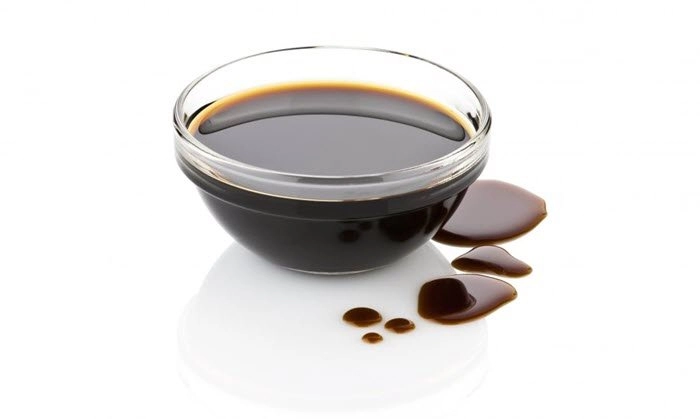 Good old balsamic vinegar is thick, sweet, and sour, making for a healthy and beneficial [1] pomegranate molasses substitute.
Balsamic vinegar is made from unfermented grape juice, and its balanced taste makes it ideal for fresh salads.
Some balsamic vinegar may not be as thick as pomegranate molasses, so you might want to consider that when you use them.
Except for pomegranate molasses, balsamic vinegar is also a good coconut vinegar substitute.
4. Pomegranate Juice
If you are not a fan of the seeds, you can use the juice as a substitute. Pomegranate juice has a red, rich texture and flavor, like molasses. To give an extra "flavor kick," you can add lemon or lime juice mixed with honey.
5. Pomegranate Seeds
Use pomegranate seeds if you want a substitute that gives you the pomegranate vibe.
Pomegranate seeds will give your meal a tasty and fruity flavor, but with little difference. A significant difference is that the pomegranate seeds are solid while the molasses are liquid.
Secondly, the seeds are not as sour as the molasses because of the different states. But this can be fixed, add a dash of vinegar to the seeds, and it'll be okay!.
The pomegranate seeds make a perfect replacement in salads, while molasses work for stews and marinades.
Use pomegranate seeds in a ratio of 6 or 7 seeds for one tablespoon of pomegranate molasses.
6. Lemon or Lime Juice Mixed with Honey
Lemon or lime mixed with honey is a simple and popular substitute for pomegranate molasses.
Lemon has the same thick texture as molasses, so it works as a good replacement. If lemon is unavailable, you can use other natural sweeteners like maple syrup or agave nectar.
This combo excites your taste buds with a tangy flavor wrapped up in the warmth of honey.
To make this mixture, mix equal parts of either lemon or lime juice with honey and add it to your recipe. And you can substitute ½ tablespoon of the mixture for one tablespoon of pomegranate molasses.
7. Raspberry Jam
Raspberry jam is a sweet, red, fruity spread. It has a jelly-like texture and thick consistency, especially after refrigeration.
When used in your ice cream, yogurt, salad dressings, or marinades, it's a suitable replacement for pomegranate molasses.
8. Plum Sauce
Plum sauce is a simple substitute for pomegranate molasses that comes in handy when you are in a fix.
This rich red sauce comprises plums, sugar, vinegar, and spices, making it a thick, syrupy texture like molasses.
You can use this red sauce in your noodles or your favorite stir-fry dish.
Further reading: What Can You Substitute for Plum Sauce?
9. Tamarind Paste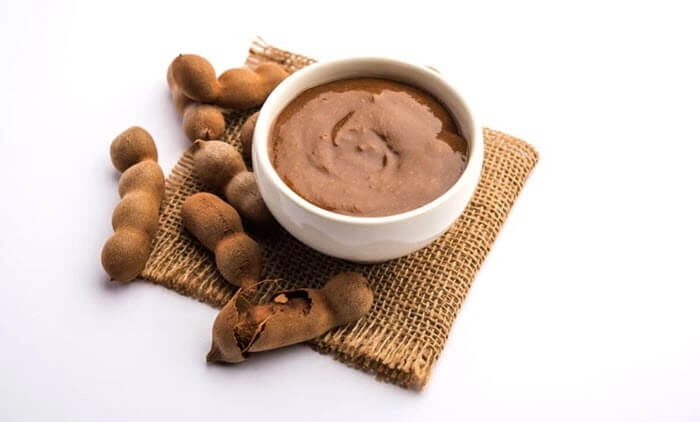 Tamarind paste has a dense sour and tart flavor when compared with pomegranates. But you can always get a good resemblance by adding other sweeteners to tamarind.
Due to its consistency and texture, tamarind sauce is an excellent alternative to pomegranates. If you use this sauce for grilled foods, they stick to the meat and give it a juicy taste.
You might want to pair your tamarind sauce with other ingredients to experience its robust flavor. For example, pair it with honey, corn syrup, and other ingredients with a strong sweet taste.
Further reading: 14 Tamarind Paste Substitutes
10. Orange Marmalade
Orange marmalade is a good replacement for pomegranate molasses. Although, with a bit more tart flavor, you can never go wrong with marmalade.
Orange marmalade is very healthy as it contains vitamin C to strengthen your immune system. It also contains calcium for healthy bones.
This choice is excellent for glazing and mixing in desserts. Orange marmalade gives your dish a burst of citrus freshness but tart.
You can add orange marmalade to roasted meat or poultry. It keeps it moist, tender, and juicy.
11. Black Currant (Cassis) Syrup
Although black currant syrup differs in color, it's still a good pomegranate molasses substitute. Most importantly, it gives the "sweet-tart" flavor with a burst of berry. It's also a healthy option, as it contains many vitamins and minerals.
Cassis syrup works perfectly with puddings and beverages if you want to create a tasty pudding.
Also, if you want to make a bubbly and fruity drink, you can use it in your summer cooler and cocktails.
You can dilute black currant with milk or sparkling water when you want to try out new things. It's a cool drink.
12. Grapefruit Juice Concentrate
Grapefruit does not give you the pomegranate effect, but you can use it as an alternative in some recipes. It's rich in vitamins C, A, and fiber.
The sweet yet acidic grapefruit taste makes it a superb option. Grapefruit can be used in salads, topping for toasted bread or pancakes, and desserts.
13. Homemade Pomegranate Molasses
Homemade pomegranate molasses is our final recommendation for you, and with good reason.
If you don't have access to already made molasses, you can prepare pomegranate molasses at home. It is so easy to achieve, and we have the right recipe for you!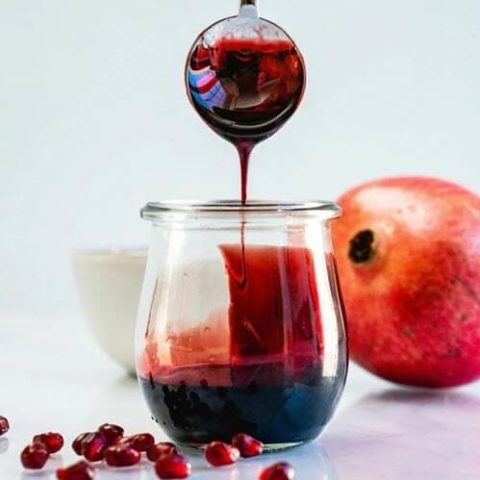 How To Make Pomegranates Molasses
Total Time:
1 hour
5 minutes
Homemade pomegranates molasses.
Ingredients
4 cups of pomegranate juice
Two tablespoons of Lemon juice
½ cup of sugar
Instructions
1. Pour all your ingredients into a large saucepan and boil on medium heat. Boil until your juice simmers and your sugar is completely dissolved.

2. Simmer the mixture for about one hour or until it has the same consistency as syrup. (If you like sweet molasses, you can increase the quantity of sugar.)

3. Once you are satisfied with the texture, turn off the heat. Pour your pomegranate molasses into a jar. Allow it to cool and refrigerate.
Nutrition Information:
Yield:

1
Serving Size:

1
Amount Per Serving:
Calories:

930
Total Fat:

3g
Saturated Fat:

1g
Trans Fat:

0g
Unsaturated Fat:

1g
Cholesterol:

0mg
Sodium:

98mg
Carbohydrates:

232g
Fiber:

1g
Sugar:

226g
Protein:

2g
Recipes with Pomegranate Molasses
Pomegranate Molasses Marinated Quail
---
Make Pomegranate Molasses and Salad
FAQs About Pomegranate Molasses
Where Can I Buy Pomegranate Molasses?
To purchase pomegranate molasses, you might want to check your local grocery stores or supermarkets first. If it's unavailable, then check out sellers on Amazon.
Can I substitute pomegranate molasses for regular molasses?
In fact, you can't serve pomegranate molasses as the regular molasses. Pomegranate molasses is made of pomegranate juice, sugar, and lemon juice. They are different basic textures and sweetness.
What to substitute for pomegranate molasses in muhammara?
You can use lemon juice mixed with honey to substitute for pomegranate molasses, a 1:1 ratio will be ideal.
Can I substitute pomegranate molasses for date molasses?
Date molasses is sweeter than pomegranate molasses. When you need 1 tsp pomegranate molasses, use 1/2 tsp date molasses and 1/2 tsp lemon juice.
What to substitute for pomegranate molasses in tomato cucumber salad?
When making tomato cucumber salad, balsamic vinegar will be your best choice. To substitute for 1 tsp pomegranate molasses, use 1 tsp balsamic vinegar with 3 tsp of cranberry juice.
How can I substitute pomegranate juice concentrate for pomegranate juice in pomegranate molasses?
Pomegranate juice concentrate is thicker than pomegranate juice, so use use 1/3 tsp pomegranate juice concentrate for 1 tsp pomegranate molasses.
Final Words
Pomegranate molasses give your meal a sweet yet tart flavor. But switching up things in the kitchen won't hurt.
Try these pomegranate molasses substitutes and have your tastebuds watery and begging for more!