Have you ever tried to make Pad Thai, curry, or chutney? If so, you know these dishes rely on a key ingredient for their flavor: tamarind paste.
Sweet, sour, and fruity, tamarind paste is primarily used in Asian, Middle Eastern, and Latin cooking.
You can obtain tamarind paste online or in grocery stores. But if the Pad Thai craving strikes and you don't have any, there's a variety of tamarind paste substitutes to choose from.
Things About Tamarind Paste You May Like
What Is Tamarind Paste?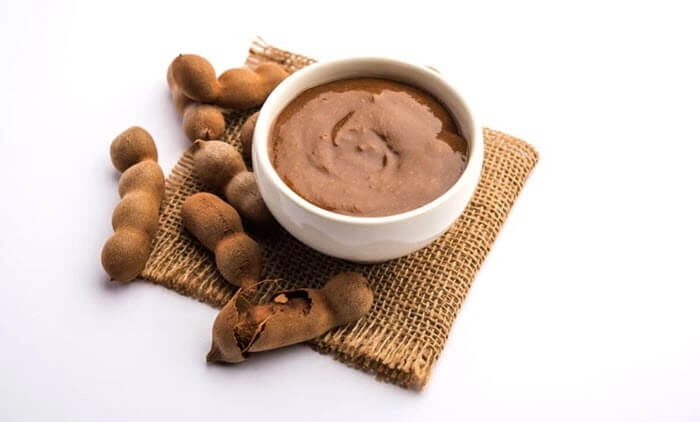 Tamarind paste comes from the fruit of the tamarind tree, which is native to tropical Africa and now grows in South Asia, Mexico, and Central America.
The tamarind tree produces long, brown pods that look a bit like peanuts, and the paste is made by extracting the fleshy pulp within.
Tamarind is rich in Vitamin C, a potent antioxidant, and used as a natural laxative [1].
What Does It Taste Like?
Tamarind paste has a sweet and sour flavor, and the riper the tamarind is, the sweeter the fruit will be. It also has citrus and caramel undertones, and the consistency of molasses.
Different ingredients can be mixed with tamarind paste to bring out different flavors – for example, sugar will enhance its sweetness, and lime will add to its acidity.
How To Use Tamarind Paste
Tamarind paste works well as a marinade for meat and poultry since it softens the meat and brings flavor. You can mix it with herbs and spices and add it to chutneys, curries, and sauces (it's a key ingredient in Worcestershire sauce).
Tamarind paste is also used in desserts–in Mexico, the pulp is used [2] to make agua fresca and chili powder candy.
13 Substitutes for Tamarind Paste
To mimic the taste of tamarind paste, you will need to use ingredients that have sweet and sour flavor profiles. If tamarind is the main ingredient in a dish, it's best to get your hands on the real thing.
However, if you can't find any or don't want to leave your house, these substitutes will do the trick.
1. Worcestershire Sauce
Tamarind paste can be used to make Worcestershire sauce and they have similar flavor profiles, so it works well as a substitute.
You'll want to thicken the Worcestershire sauce to resemble tamarind paste's consistency by adding a few simple ingredients:
3 tablespoons Worcestershire sauce
3 tablespoons lemon juice
2 tablespoons brown sugar
½ cup tomato paste
2 tablespoons water
Mix all ingredients together in a bowl. Use as a 1:1 substitute for tamarind paste.
Further reading: 11 Worcestershire Sauce Substitutes
2. Lime Juice and Brown Sugar
You might have these ingredients on hand already, which makes this mixture a convenient option. The lime juice replicates the sour taste in tamarind paste, while the brown sugar adds sweetness.
Mix equal amounts of lime juice and brown sugar. The subsequent mixture can be used as a 1:1 substitute.
3. Rice Vinegar and Brown Sugar
The sour-sweet flavor combination in tamarind paste can be replicated with rice vinegar (or white wine vinegar, or apple cider vinegar) and brown sugar, and you can use equal parts of each ingredient to create a 1:1 substitute.
You can also use white wine vinegar or apple cider vinegar if you don't have rice vinegar available.
If you want to tone down the sweetness, use less brown sugar, and if you would like a thicker consistency, add a little cornstarch or arrowroot powder.
4. Pomegranate Syrup
Pomegranate syrup, or molasses, is thick, juicy, and acidic, making it a great substitute for tamarind paste.
You can buy pomegranate syrup or make it with pomegranate juice, lemon juice, and white sugar.
2 cups pomegranate juice
¼ cup lemon juice
¼ cup white sugar
Combine ingredients on the stove over medium heat, then reduce heat to medium-low and cook until the liquid reduces and has a syrup-like consistency.
Use in equal quantities as tamarind paste.
5. Mango Chutney
Mango chutney works as a substitute because of its acidic base and complex flavor. The consistency of mango chutney makes it a good swap, but keep in mind that it will be on the sweeter side from the mango.
Use it as a 1:1 substitution.
6. Marmalade
This is another condiment that mimics tamarind paste because of its thicker consistency and citrus base. Marmalade is sweet, bitter, and astringent, and keep in mind that it will be a little sweeter than tamarind paste.
Marmalade can also be used as a 1:1 substitution.
7. Amchur Powder
Made from dried, unripe mangoes, amchur powder elevates Indian recipes with its distinct aroma. Amchur powder is sour and a little sweet, but as you may guess, has a different consistency than tamarind paste.
To make a paste, combine equal parts amchur powder and water and use as a 1:1 substitution. It works particularly well in Indian recipes.
If you can't find this option, here are 12 Amchur powder substitutes for your choice.
8. Dried Fruit and Lemon Juice
Dried fruit brings the sweetness to this combination, while lemon juice provides the sourness.
Let dried fruit soak (prunes, dates, or apricots work well here) in water and lemon juice for about half an hour, then drain and blend. The result is a thick, sticky paste that you can use as a 1:1 substitute.
9. Ketchup
While ketchup is a good starting point, you'll want to combine it with a few other ingredients so it resembles tamarind paste.
1 tbsp ketchup
2 tbsp brown sugar
2 tbsp fish sauce
2 tsp oyster sauce
1 tsp soy sauce
2 tbsp rice vinegar
While not the easiest substitution, this mixture particularly works as a swap in Pad Thai and can be used as a 1:1 substitute.
10. Kokum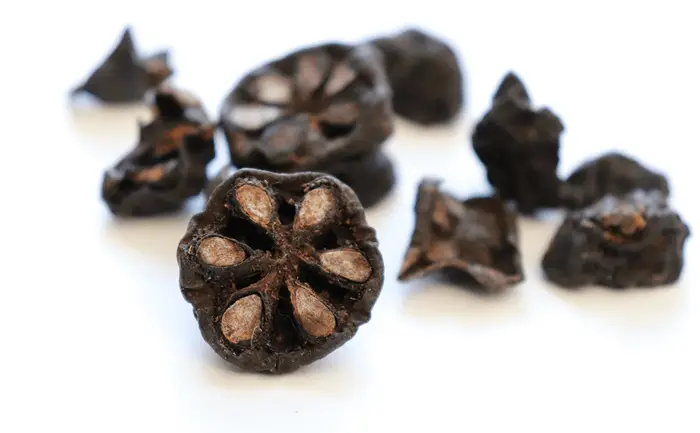 Kokum is a small fruit that looks like a cherry tomato, and can be used as a tamarind paste substitute because of its sour taste and sweet aroma.
Soak 4-5 kokum pieces in ¼ cup hot water for 30 minutes, then squeeze the mixture, strain it over a bowl, and discard the solids.
Try it first in a small amount, then add more to taste.
11. Kachri Powder
Kachri powder is an Indian ingredient that is made from kachri, a wild variety of cucumber. It gives a tangy flavor but should be used sparingly as it has a stronger taste than tamarind paste.
Add a pinch to your dish to start, then taste and add more if desired.
12. Dried Tamarind Pulp
You can make your own tamarind paste if you can get your hands on dried tamarind pulp.
First remove the seeds, then separate the pulp. Combine 2 tablespoons of tamarind pulp with ½ cup warm water and soak, then blend the softened pulp in water to create a paste.
While this substitute will work, dried tamarind pulp may be hard to find, and fresh pulp will make a higher quality paste.
13. Fish Sauce
This tamarind paste alternative works best in dishes that use other fishy ingredients, like Pad Thai. Otherwise, keep in mind that it will add a fishy taste to your recipe.
You may also want to add brown sugar to mimic the sweetness in tamarind paste.
Further reading: Fish Sauce Vs. Oyster Sauce: What's the Difference
14. Homemade Tamarind Paste
Who needs substitutes if you can get the real thing?
If you're looking to bust out your apron and make tamarind paste yourself, you can make your own tamarind paste in an hour.
The best part? It only requires two ingredients: tamarind pulp or pods, and water.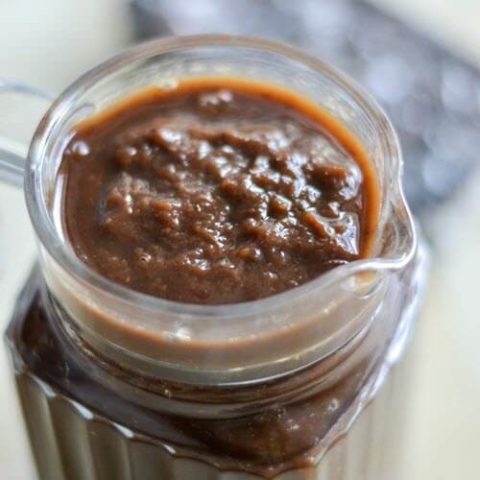 How to Make Tamarind Paste
Homemade tamarind paste recipe.
Ingredients
9 oz tamarind fruit pulp (from 15 to 20 shelled pods or from a compressed block)
1 ½ cups boiling water
Instructions
1. First, you need to separate the tamarind into small chunks. And then place the fruit into a bowl (medium heatproof).

2. Pour the boiling water over the tamarind, then let it sit for about 40 minutes. Don't forget to cover with plastic wrap.

3. Occasionally stir the tamarind with a fork, then separate the fruit from the seeds by rubbing it with your fingers.

4. Strain the mixture over a bowl, and squeeze out liquid by pressing on it with a large spoon. Transfer tamarind paste to a container and store in the fridge for up to 2 months.
Nutrition Information:
Yield:

1
Serving Size:

1
Amount Per Serving:
Calories:

706
Total Fat:

2g
Saturated Fat:

1g
Trans Fat:

0g
Unsaturated Fat:

1g
Cholesterol:

0mg
Sodium:

88mg
Carbohydrates:

184g
Fiber:

16g
Sugar:

115g
Protein:

9g
FAQ's About Tamarind Paste
Where Do I Buy Tamarind Paste?
If you'd like to purchase tamarind paste, you can find it on Amazon or at major stores like Whole Foods and Walmart.
In your local U.S. grocery store, check out the international foods aisle or look for it next to other Asian condiments. Visiting an Asian market is a great option if you have one near you.
If you can't find tamarind paste, you can always search for tamarind concentrate, tamarind pods, or tamarind pulp and make the paste yourself at home.
Do I Need to Refrigerate Tamarind Paste?
Most tamarind paste jars instruct you to refrigerate after opening. Before opening, keep your tamarind paste in a cool, dark cabinet.
How Long Does Tamarind Paste Last?
Tamarind paste lasts six to 12 months before opening [3], but only two to three months when refrigerated after opening.
To make your tamarind paste last longer, pour it into an ice cube tray, place it in a Ziploc bag, and freeze it.
Are Tamarind Concentrate and Tamarind Paste the Same?
The short answer? Sometimes. In general, tamarind concentrate is made from tamarind juice, while tamarind paste is made using the pulp, so the paste will have a stronger flavor.
However, results will vary by brand, some brands may use "paste" and "concentrate" interchangeably.
Conclusion
Tamarind paste is tangy, nutritious, and endlessly versatile if you enjoy making Asian and Latin food at home.
If you're not yet brave enough to use the real thing, try one of these substitutes and let us know if you can taste the difference!