The marinara sauce, which has Italian origins but was made popular by Italian-American food, is today well-known and adored all over the world.
However, if there is a drawback to this delectable sauce, it is that it requires more than an hour to make at home and isn't something you would often buy to keep on hand. You will need to utilize a marinara sauce alternative in certain circumstances.
What is Marinara Sauce?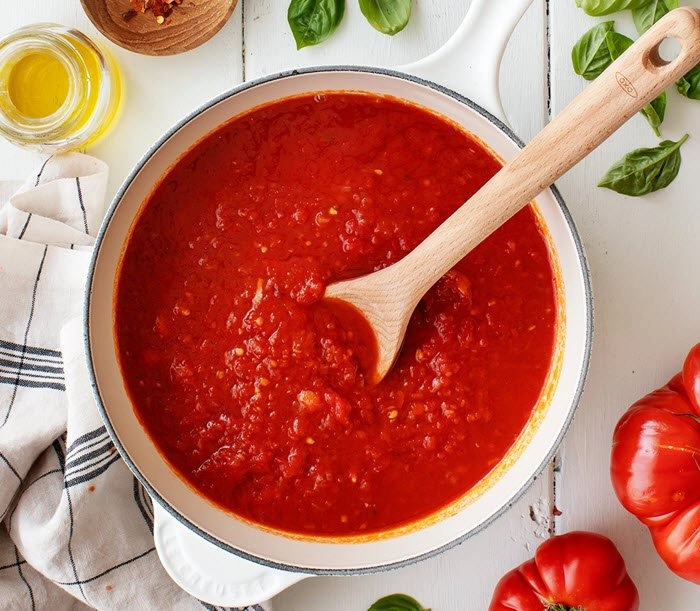 Marinara is a staple red sauce. Tomatoes are the main component. However, you must add some unique ingredients to give it that incredible flavor we all know and adore.
Fresh basil, fresh garlic, olive oil, salt, black pepper, and other components are examples of additional ingredients.
Marinara sauce is primarily used in lasagna, pizza, mozzarella Sticks, meatball subs, sandwiches, spaghetti, and more.
The simple sauce could benefit from the addition of bell peppers or spicy pepper flakes too. Because the marinara sauce is so adaptable, you may replace it with any tomato-based or non-tomato-based sauce depending on the application.
Further reading: Marinara vs Spaghetti Sauce, What is the Difference?
What Can You Substitute for Marinara Sauce?
1. Tomato Ketchup
Because tomato ketchup can be easily customized and may always be present in your refrigerator, it makes a perfect marinara sauce substitute.
Be aware that your tomato ketchup will be more acidic than a typical marinara sauce because it has added sugar and vinegar.
Ketchup can be used as a substitute for marinara sauce on pasta or pizza by adding water to thin it out and get a similar consistency to marinara sauce.
2. Pizza Sauce
If you want something that is ready to use, pizza sauce is the finest alternative to marinara sauce. The smooth texture of pizza sauce and the method of preparation are the key distinctions between it and marinara.
Marinara frequently has tomato chunks, whereas pizza sauce employs blended components.
You may buy pizza sauce in a jar from the grocery store, get it as part of a pizza kit, or make it yourself at home. Garlic, olive oil, canned tomatoes, and seasonings make up a homemade pizza sauce.
Further reading: 8 Best Store-Bought Pizza Sauce Review
3. Tomato Puree
Since tomato puree has a more neutral flavor, you can customize its flavor however you choose. Tomato puree appears very thick and solid at first, but you can simply make it thinner by adding water or tomato juice.
You can put your tomato puree on the stove and add one teaspoon of olive oil to it to make it as much like the marinara sauce as you can. Additionally, include the basil that gives marinara its distinct flavor, and season with salt and garlic.
Pizza, pasta, or chicken can all be prepared using this sauce in its place.
Further reading: 11 Tomato Purée Substitutes for Your Recipe
4. Canned Tomatoes
Canned tomatoes are another great marinara sauce substitute. You can use it in marinara recipes like spaghetti, pizza, subs and others.
Similar to marinara sauce, canned tomatoes have a wonderful texture and consistency. You can add additional ingredients to the canned tomatoes to increase its flavor and to resemble marinara.
Try adding extra virgin olive oil, oregano, basil, garlic to make it resemble marinara sauce.
5. Tomato Paste
Tomato paste is significantly different from marinara sauce while being very similar to it.
Tomato paste is prepared for a longer period and is ultimately reduced to a thick sauce, whereas marinara sauce is cooked for a shorter time and is juicier. As a result, tomato paste has a stronger flavor, which you should keep in mind when using tomato paste in place of marinara sauce.
The tomato paste has a strong flavor and a noticeable bitterness because the natural tomato fluids have disappeared. To lessen the bitterness of tomato paste, you could wish to add some sugar to it if you intend to replace marinara sauce.
Additionally, you must thin the consistency. The paste is simmered for a short while after being combined with water and olive oil. Now, it has become a great marinara sauce substitute.
6. Diced Tomatoes
Diced tomato is another good substitution. Empty the additional water and blend the tomatoes to get a flatter texture. Add fresh garlic, chopped onion, or parmesan cheese to improve the taste and texture.
You can use an equal distribution for marinara.
7. Tomato Soup
The variety of canned tomato products is seldom given the proper recognition. One of the better alternatives to a cup of marinara sauce is a can of tomato soup. Despite being frequently seen as a lighter dinner, it tastes a lot like marinara sauce.
When replacing marinara, tomato soup would function as a thin sauce on its own. It needs to have the extra water removed because it lacks the consistency of Marinara.
8. Alfredo Sauce
Despite not having a tomato base, Alfredo sauce made the list because there are some applications where it works just as well as marinara. It pairs well with spaghetti, mushrooms, chicken breast, and chicken drumsticks.
Despite being creamier and more spreadable than marinara sauce, Alfredo sauce is thicker and stickier.
Further reading: 7 Best Tasting Store-Bought Alfredo Sauce Review
9. Pesto
Basil or olive pesto or the blend of the two is the most well-known variety of pesto. Once the basil and olives are homogenized, they are seasoned with salt and garlic, and then olive oil is added to the mixture to bring it all together.
Although it doesn't contain any tomatoes, pesto can be used as a marinara sauce substitute due to its flavor.
10. Carrots and Beets Marinara
Carrots and beets marinara is another sauce without tomatoes that works well as a replacement for marinara.
The watery beets mash-up beautifully with the pureed carrots. They go well with spaghetti and are also a fantastic match for marinara seasoning.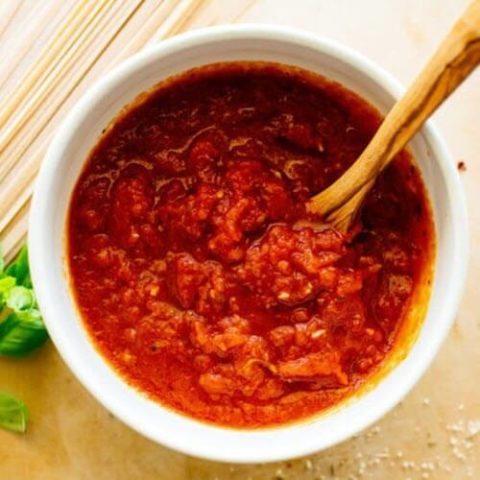 Homemade Marinara Sauce
Super simple marinara sauce recipe!
Ingredients
1 large can of whole peeled tomatoes
1/2 chopped medium yellow onion
2 garlic cloves
2 tablespoons of extra virgin olive oil
1 teaspoon dry oregano
Red pepper flakes as required
Salt, as desired
Instructions
1. Combine the tomatoes (and their juices), onion, garlic cloves, olive oil, oregano, and red pepper flakes in a medium, heavy-bottomed saucepan.

2. Over medium heat, bring the sauce to a simmer, then reduce the heat to maintain a slow, constant simmer for 45 minutes, or until oil floats clear of the tomatoes. After around 15 minutes, stir occasionally and smash the tomatoes against the side of the pot with a heavy wooden spoon.

3. Remove the onion from the pot and turn off the heat. Use a fork to pound the garlic cloves against the pot's side, and then whisk the crushed garlic into the sauce. Crush the tomatoes with the spoon or you can blend this with an immersion blender or stand blender.

4. Add salt as desired and serve hot.
Nutrition Information:
Yield:

2
Serving Size:

1
Amount Per Serving:
Calories:

155
Total Fat:

14g
Saturated Fat:

2g
Trans Fat:

0g
Unsaturated Fat:

12g
Cholesterol:

0mg
Sodium:

297mg
Carbohydrates:

8g
Fiber:

2g
Sugar:

4g
Protein:

1g
Conclusion
Finding a decent substitute for marinara sauce shouldn't be too difficult in any circumstance. These marinara sauce alternatives are certain to satisfy your cravings, whether you're looking for something new or require a change due to dietary restrictions.
Try one of them the next time you're in the mood for something distinctive.
Perhaps you will discover your new favorite sauce.