Creamy, cheesy, comforting—what's not to like about Alfredo sauce? Although it's not difficult to make from scratch, most of us prefer the convenience of ready-made sauce in a jar.
It can be hard to decide which Alfredo sauce to try when there are so many brands to choose from.
Check out our top seven store-bought Alfredo sauce recommendations before you shop.
What is Alfredo Sauce?
Alfredo sauce is a classic white pasta sauce made with butter, cream, and parmesan cheese. There are several legends surrounding its invention, but most point back to 1914 and an Italian restauranteur named Alfredo di Lelio.
Although butter had long been eaten on noodles, adding parmesan cheese was a novel idea at the time. American tourists brought the idea back to the United States in the 1920s and added cream to the recipe. Alfredo quickly became a popular alternative to classic tomato-based pasta sauces.
Fettucine noodles are the classic pasta pairing with Alfredo sauce, but any pasta shape will work. Many professional and home cooks add chicken, shrimp, broccoli or spinach to Alfredo sauced pasta dishes, while others use it as a dipping sauce for breadsticks.
7 Best Store Bought Alfredo Sauce Review
Here are our top seven picks for the best tasting store-bought Alfredo sauce brands.
1. Rao's Homemade Roasted Garlic Alfredo Sauce
Perfect for garlic-lovers, this sauce's cream, butter and cheese foundation is flavored with granulated garlic and real garlic puree.
It has a rich, velvety texture that partners well with pasta, chicken, shrimp, or vegetables.
Pros
It only has 2g of total carbohydrates, making it ideal for those on a low-carb diet. Rao's ranks high as one of the best store-bought Alfredo sauces for keto enthusiasts.
Cons
Rao's is a bit more expensive than other store bought Alfredo sauces. If you don't enjoy garlic, this Alfredo sauce may not be for you.
2. Prego Roasted Garlic Parmesan Sauce
Although the word "Alfredo" isn't on the label, this is a classic Alfredo combination of cream, parmesan, and garlic.
It thickly coats pasta, vegetables, and meats with cheesy, garlicky goodness.
Pros
Because it contains real roasted garlic, its flavor profile is perfect for those who adore garlic-forward foods.
It includes black pepper and onion, both of which add depth to your favorite Alfredo dishes.
Cons
Prego's strong parmesan flavor might be off-putting to those who prefer a lighter cheese taste.
3. Bertolli Alfredo with Aged Parmesan Cheese
Bertolli's brand of Alfredo sauce has aged parmesan and Romano cheese as its primary flavor, but it also adds hints of nutmeg and sherry.
Nutmeg has long been a chefs' secret in cream-based sauces, and it definitely adds a nice touch to this Alfredo sauce. This is a great sauce for those who love Alfredo but aren't big fans of garlic.
Pros
The visible flecks of black pepper and nutmeg give it the appearance of homemade Alfredo sauce.
The sherry wine adds an interesting flavor profile not found in other store-bought Alfredo sauces.
Cons
Some discerning palates may not enjoy the hints of nutmeg and sherry, as they are a little different from the classic cheese-and-garlic combination.
4. Ragu Classic Alfredo Sauce
Thick, but not too heavy, this sauce contains plenty of real cheese.
It's equally delicious on steamed broccoli as it is on pasta, making it a good choice for vegetarians who consume dairy products.
Pros
Ragu is an excellent, budget-friendly brand of Alfredo sauce.
It includes all the ingredients one looks for in Alfredo sauce: cream, grated Italian cheeses, and a hint of garlic.
Cons
The first two ingredients are water and soybean oil, which some say gives it an overly processed taste.
It's a little less flavorful than the more expensive Alfredo sauces shared above.
5. Knorr Alfredo Sauce Mix
Although it takes a little more work to prepare, this powdered mix combines with milk to result in an impressively flavorful Alfredo sauce.
It includes four types of cheese for amped-up cheesiness: parmesan, Romano, cheddar, and blue. It's a great sauce for those who use alternatives to cow's milk in their cooking.
Pros
Because some preparation is involved, the end product has a fresher flavor than simply opening a jar.
It's an ideal staple to keep in the pantry because it stays fresh longer than jarred Alfredo sauce.
Cons
You'll need at least six minutes to whisk and stir this sauce together on the stovetop.
The end product may be thinner than jarred Alfredo sauces, but you can easily thicken it with additional cheese.
6. Daiya Alfredo Style Deluxe Cheeze Sauce
Daiya is a top brand of cheese and dairy substitutes for those who prefer plant-based foods.
Each box has three ready-to-eat pouches of plant-based Alfredo sauce. It is flavored with garlic and onion, and has a thick, creamy texture.
Pros
This is a highly-rated traditional Alfredo sauce alternative for those with food allergies.
It's free of the most common allergens, including dairy, eggs, gluten, soy, nuts, and shellfish. It's also non-GMO certified.
Cons
It's high in sodium, with 870mg in each ¼ cup serving. People unaccustomed to eating vegan dairy substitutes may find non-dairy Alfredo sauce an acquired taste.
7. Little Italy in the Bronx Alfredo
Named for a famous street in New York, this sauce contains authentic Italian ingredients including fresh garlic and real Parmigiano Reggiano cheese.
It's an ideal choice for foodies seeking a ready-to-use Alfredo sauce made with premium ingredients. Its depth of flavor makes it our choice for the best store-bought chicken Alfredo sauce.
Pros
This brand is popular for producing a variety of jarred sauces that taste remarkably like homemade.
Additionally, a portion of the proceeds supports the Belmont Business Improvement District, a NY nonprofit.
Cons
This is pricier than other jarred Alfredo sauce, but the quality and charitable contribution makes it worth the extra expense.
Things to Consider Before Buying
Alfredo may not be the healthiest pasta sauce on the market, but it's possible to find one to fit just about anyone's dietary requirements.
Consider each brand's carb, sodium, fat, and calorie content before choosing an Alfredo sauce.
Also keep in mind that the standard serving size for Alfredo sauce is just ¼ cup, or two ounces. It's easy to eat significantly more than that, so measuring portions will help you stay within your health goals.
How to Make Alfredo Sauce
You only need three primary ingredients and about 10 minutes to make velvety Alfredo sauce from scratch.
In fact, it's a good idea to start the sauce when you put your pasta on to boil, as they'll be ready at about the same time.
Although our recipe includes garlic, nutmeg, and parsley, all of those ingredients are optional. Feel free to double or triple the garlic if you wish.
Don't forget to add salt to your pasta cooking water. It makes a subtle, but noticeable difference in taste.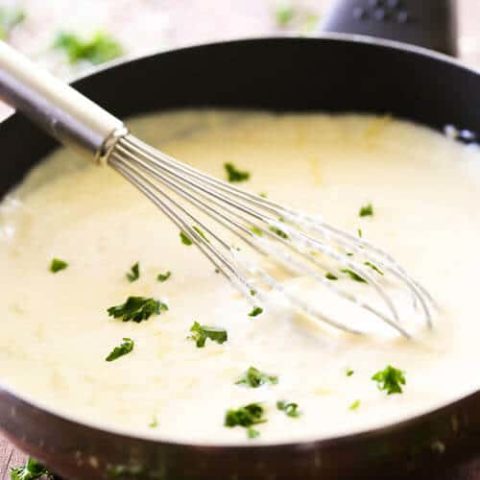 Homemade Alfredo Sauce
Make your Alfredo sauce at home!
Ingredients
¼ cup (1/2 stick) butter
1 clove garlic, crushed, pressed, or finely grated
1 cup heavy cream
1 ½ cups freshly grated parmesan cheese, or half parmesan and half Romano
Pinch of freshly grated nutmeg
Salt and pepper to taste
¼ cup chopped fresh parsley, for garnish
Instructions
1. Melt butter in a saucepan or skillet over medium-low heat. Add garlic, and cook for one minute, stirring to keep the garlic from burning.

2. Whisk in the cream and simmer gently for 5 minutes until hot.

3. Remove the pan from the heat and add the cheese ½ cupful at a time, whisking after each addition.

4. Once the cheese is melted, return the pan to the heat and simmer gently 4 to 5 minutes or until the sauce has thickened. Do not allow it to boil.

5. Season with nutmeg, salt, and pepper.

6. Toss your hot pasta into the sauce until it's well-coated. Sprinkle with parsley and serve immediately.
Nutrition Information:
Yield:

2
Serving Size:

1
Amount Per Serving:
Calories:

758
Total Fat:

66g
Saturated Fat:

40g
Trans Fat:

2g
Unsaturated Fat:

20g
Cholesterol:

207mg
Sodium:

1661mg
Carbohydrates:

15g
Fiber:

0g
Sugar:

4g
Protein:

28g
Alfredo Sauce FAQs
What to add to store-bought Alfredo to make it taste better?
Melt a tablespoon or two of butter into your hot jarred sauce, and thin it with a little cream or half-and-half.
Melt ½ cup of grated parmesan cheese into the sauce and sprinkle more on top when it's done.
Seasonings also elevate the flavor of store-bought Alfredo sauce, which can admittedly taste a bit bland. Sprinkle on some garlic powder, or add a pinch of nutmeg. Freshly ground black pepper adds amazing zing to Alfredo sauce.
Your favorite seasoned salt or salt-free seasoning blend is another easy way to brighten the sauce's flavor profile. If you're into spicy food, add a few pinches of red pepper flakes or cayenne pepper. Or top each serving with chopped fresh herbs, such as basil, oregano, chervil, or thyme.
Fettuccini Alfredo add-ins also change the flavor of store-bought sauce. Sauté spinach or broccoli florets with fresh garlic and stir it into your jarred sauce. Chopped cooked chicken breast, shrimp, or crabmeat are excellent protein choices that also improve its flavor.
How do you make store-bought Alfredo sauce thicker?
If your store-bought Alfredo sauce is a bit runny, try one of the following to thicken it.
Add ½ cup grated parmesan or Romano cheese and allow it to melt into the sauce. If it's still too thin, add a bit more.
Melt half a block of cream cheese into the sauce.
Whisk together 1 tsp. of cornstarch and one ounce of cold milk. Pour into the hot Alfredo sauce and whisk until thickened.
Whisk together one egg yolk and ¼ cup heavy cream. Once the Alfredo sauce is bubbling hot, slowly whisk egg yolk mixture into the sauce.
Can you freeze Alfredo sauce?
Definitely! Both store-bought and homemade Alfredo sauce freeze and reheat well when you follow these tips:
Allow the sauce to cool down before transferring to a freezer bag or container.
Leave a little extra space at the top of the bag or container, to allow the sauce to expand as it freezes.
Tightly seal the bag or container and label it with the date and its contents. Plan to use it within six months.
Never freeze store- bought Alfredo sauce in the jar it came in. It will break.
Defrost frozen sauce in the refrigerator for at least 12 hours or overnight. It's normal for cream-based sauces to separate when thawed.
Empty thawed sauce into a pan and stir it well until it appears combined again.
If the sauce seems too runny, follow the tips above to thicken it.
For more details: Can You Freeze Alfredo Sauce?
Is Alfredo sauce gluten-free?
Homemade Alfredo sauce is almost always gluten-free. However, if you're eating at a friend's house or in a restaurant, always ask if flour was used to thicken it.
Many store-bought Alfredo sauces are also gluten-free. If they are, it will usually say so on the label. Prego brand Alfredo sauces are gluten-free, as are Newman's Own and Bertolli.
Why Trust Us?
We are a group of foodies and food experts who want to help others experience the best cuisine the world has to offer.
Our recommendations are based on our own real-life experiences, not driven by advertising dollars.