The tomato has several culinary applications and health benefits. In fact, just about every cuisine in the world uses tomatoes or their puree.
Tomato puree gives consistency to dishes. It also gives soups and gravies a deeper flavor than regular tomato pastes or sauce.
If you don't have the puree, below are 11 of the best tomato puree substitutes.
But before we get into that, let's learn more about the ingredient in question.
What is Tomato Purée?
Tomato puree is a thick tomato mixture added to soups, salads, and sauces to give them deeper flavor and thickness.
The preparation process for tomato puree involves slightly cooking the tomatoes and then draining out the skin and seeds.
Besides its use in dishes, tomato puree is also a key foundation for marinara and pizza sauces and dips for breadsticks and nachos.
Most people confuse it with tomato paste. However, tomato puree has a thicker viscosity and is much simpler than the paste as it includes no extra ingredients.
Here Are the Top Tomato Purée Substitutes
As long as you keep the taste and consistency of tomato puree in mind, finding the best replacement for it is easy. All you need is something with fewer seasonings and spices and more of a thicker texture.
If you run out of tomato puree and lack time to make one from scratch, you can grab any of the following as an alternative.
1. Tomato Sauce
One of the best replacements for tomato puree is tomato sauce.
However, unlike tomato puree, sauce usually features additional ingredients such as herbs and vinegar. You can compensate for this by adjusting other ingredients in your dish where necessary.
Another difference is that tomato sauce has a thinner consistency. To increase the thickness, cook it in a container or pan.
Use one cup of sauce for every cup of puree.
2. Tomato Paste
Tomato paste preparation involves cooking tomatoes for several hours to reduce the moisture when straining to remove the seeds and skin. Then, cook the fluid again to thicken for a richer concentrate.
Tomato paste is a perfect replacement for tomato puree. It gives a similar taste and viscosity to your dishes. You don't need to add any preparation or flavors.
To substitute tomato paste for tomato puree, add 1/3 cup of the paste with 2/3 of water to achieve the thickness and surface.
3. Pizza Sauce
For pizza lovers, you'll be glad to know that pizza sauce does wonders as a substitute for tomato puree.
You can use it in an equal amount as tomato puree in your dishes.
Remember, pizza sauce has high amounts of salt, spices, and sugar. Therefore, it's advisable not to add any ingredients.
4. Canned Tomatoes
This is one tomato puree substitute that gives you the thickness and flavor of tomato puree.
All you need to do is strain the tomato chunks to separate them from the juice.
Since it's not as concentrated as tomato puree, you need to double the amount for every cup of tomato puree to achieve your desired flavoring.
5. Fresh Tomatoes
Chop a few fresh tomatoes and cook or simmer in a pan until they're tender. Leave them to cool, then blend.
For a sweet dish, use four cups of fresh tomato in place of every cup of puree.
6. Marinara Sauce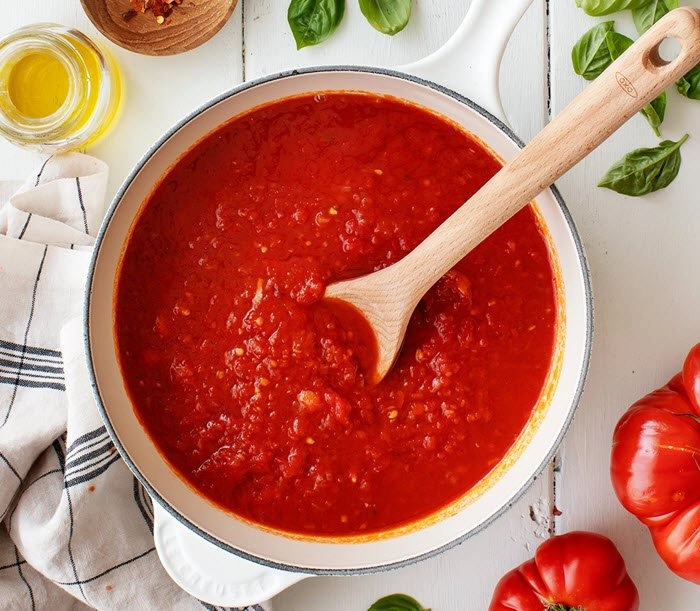 Marinara sauce, just like pizza sauce, makes an excellent tomato puree substitute.
In fact, nothing changes as you'll substitute one cup of puree with a cup of marinara sauce.
Note, marinara features seasonings and herbs, so adjust other ingredients accordingly for the best flavor.
Lear more: Marinara vs Spaghetti Sauce: What's the Difference
7. Roasted Tomatoes
Roasted tomatoes also make a good substitute for tomato puree.
It gives your dishes a rich and deep flavor. However, note that you need to have enough time.
To prepare, roast some tomatoes in your oven with some salt and oil. Then, blend to achieve an ideal consistency and substitute in a ratio of 1:1.
8. Tomato Passata
Although Passata is not so common in the US, it's available in some specialty food and grocery stores. It tastes a lot like tomato puree.
Passata may be a little bit thicker, requiring you to add some water to make it thinner. Then use one cup of Passata for one cup of puree.
9. Ketchup
Ketchup does not make such a great substitute for tomato puree. That's because it's highly flavorful with numerous spices and herbs.
However, if you have no other option, you can use it.
Especially for dishes requiring a mildly sweet taste, you can just pour ketchup while cooking.
10. Pureed Bell Peppers
If all you have is bell peppers, you can make a perfect tomato puree substitute.
Roast the peppers until they soften, then puree until smooth. Pureed bell peppers work best for pasta recipes. Use in the ratio of 1:1.
11. Homemade Tomato Puree
While substituting tomato puree with the above will work pretty well, you still have the option of creating one.
Here's how: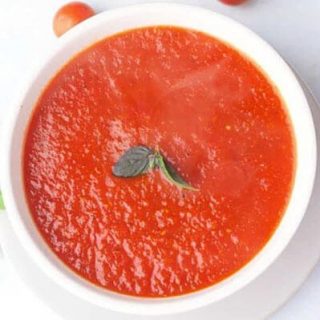 How to Make Tomato Puree
Additional Time:
25 minutes
Your easiest homemade tomato puree recipe.
Ingredients
4 pounds of Roma tomatoes
½ teaspoon salt
Instructions
Wash your tomatoes and cut them into halves while removing the cores.
Chop them and place them in a large container or pot. Add half a teaspoon of salt.
Heat the tomatoes over medium-high heat until they boil.
Then, lower the heat to medium as you continue cooking. Ensure you occasionally stir until the tomatoes soften and reduce in volume. This will take around 20 minutes.
Stop heating and allow them to cool for 30 minutes.
Puree the tomatoes in a blender for about 30 seconds until they're smooth.
Place the tomatoes in a fine mesh mixture and strain. Ensure to push the mixture through using the back of a spoon. This will remove seeds and skin.
Empty into clean jars and keep in your refrigerator for a week.
For a thicker puree, place the mixture back to the pot and simmer until you achieve your desired consistency. Cool, empty in pint-sized containers, and store.
Notes
It's worth mentioning that a pound of tomato can produce one cup of puree, which you can freeze and keep for up to six months.
Nutrition Information:
Yield:

8
Serving Size:

1
Amount Per Serving:
Calories:

41
Total Fat:

0g
Saturated Fat:

0g
Trans Fat:

0g
Unsaturated Fat:

0g
Cholesterol:

0mg
Sodium:

144mg
Carbohydrates:

9g
Fiber:

3g
Sugar:

6g
Protein:

2g
Make Shakshuka Eggs with Tomato Puree Substitutes
Tomato puree is an essential ingredient when making shakshuka eggs, but you can also use one of its substitutes such as tomato sauce when you run out of it.
Questions About Tomato Puree
What is the difference between tomato sauce and tomato puree?
There is nearly no difference between tomato sauce and tomato puree. They are both made from tomatoes that have been cooked down to a pulp with seasonings added for flavor.
You can substitute one for each other with a ratio of 1:1.
What can I substitute for tomato puree in chili?
Here are my top choices:
Tomato paste
Crushed tomatoes
Tomato juice
Fried or canned mushrooms (can also add umami)
What can I substitute for tomato puree in curry?
There are a lot of alternatives for tomato puree when making curry:
Fresh Tomatoes
Passata
Tinned Tomatoes
Final Word
Undoubtedly, tomato puree makes our meals tastier while bringing multiple health benefits to our bodies.
Luckily, you now know 11 substitutes for tomato puree you can use if you run out of the real thing. You also know how to make a homemade tomato puree.
Depending on the flavor you want to achieve, any of the aforementioned substitutes will come in handy.