The Beef Stew Recipe is one of the most popular dishes we serve on our Christmas Eve Dinner. It's a hearty stew that is similar to beef bourguignon. The contrast in flavors between the meat, tomatoes, carrots and spices makes for a truly delightful meal.
So, what to serve with beef stew? We're going to show you the top 10 sides you should never miss!
What Sides to Serve with Beef Stew?
1. Rice
In some cultures, rice is the perfect side dish to announce the "entrance" of a steaming bowl of delicious beef stew. If your aim for a beef stew side dish is something chewy and probably mild, then rice is your match!
Rice is chewy and quite mild, it doesn't overshadow the delightful taste of your beef stew, it makes the taste of your beef stew obvious. It blends so well, you can say they are a "combo made in heaven" and you can be certain your hunger would be satisfied.
You can use white or brown rice to pair up, with brown rice you get more flavor from the rice but still on the mild side. This is a must-try!
Recipe
Get your brown rice and wash off any excess starch. This process makes the rice fluffy because washing off the starch takes away that clumsy effect caused by the starch.
Add water to the rice that is about the level of the rice in your pot or slightly above it. The quantity of water determines the tenderness of the rice.
Once that is done, place your pot on your stove and boil for about 45 minutes until your ice boils to the desired tenderness. Boil your rice using medium heat
After that turn off the heat and leave the pot covered for about 10minutes after that you can open the lid. Your rice is set and ready to go!
2. Homemade Crusty Bread
With bread, you can never go wrong! You do not have to worry about what bread goes with beef stew.
Bread is a great choice for a beef stew side, as the name suggests it's crunchy and crusty on the outside, while it is chewy and soft inside. The perfect thing about bread is that it's homemade, so you can always add ingredients you feel comfortable with and that complement your stew.
You need ingredients like all-purpose flour, yeast, salt, basil powder, garlic, and any other ingredient of your choice.
Recipe for Homemade Crusty Bread
Ingredients
3 cups of multi-purpose flour
2¼ tsp of dry yeast
Warm water
1 tsp of salt
Instructions
Add the warm water to a large bowl and sprinkle the yeast on top. Let this mixture sit for 10 minutes or until you see foam appear on it.
Mix in your flour and salt into the water. You can either mix in a mixer with a dough hook for about 5 minutes or knead by hand until the mixture becomes stretchy and slightly sticky.
Line your baking sheet with parchment paper and sprinkle a large amount of flour on the paper.Mold the dough into a dome or any shape you like and place it on the parchment paper. Then sprinkle more flour on top of the dough.Cover your mold loosely with plastic wrap and set it aside in a warm place for about 1 to 1½ hours (this gives the yeast time to work) by this time your dough should have tripled in size.
After that, preheat your oven to a temperature of 450 F.
Once your oven is preheated, place a roasting pan or rimmed baking sheet on the bottom rack of your oven. Then, pour a cup of hot water into the pan.
At this point, your dough should have risen, remove the plastic wrap from the dough (you might need to reshape the dough since the increase in size altered the shape).Make a couple of deep slashes on the top of the dough with a sharp knife. Place the baking sheet that contains the dough on the top rack and bake your dough for about 30 minutes or until it turns brown.
Allow it to cool for about 15 minutes. Serve with your best bread with beef stew!
You may like: What to Serve With Beef Stroganoff? 16 Side Dishes for You
3. French Baguettes
French baguettes[1] are a pleasurable side dish for beef stew. This French comfort pastry would create an amazing experience when eaten with beef stew.
Baguettes are an embodiment of the flavor and taste of fresh herbs, flour, and sometimes a touch of brandy for adventurous cooks. It is a great option for beef stew sides.
Recipe for French Baguettes
Ingredients
2½ cups of all-purpose flour
1½ tsp of instant dry yeast
1 egg white
1 tsp of sugar
1 cup of warm water
1 egg white
I tsp salt
½ tsp of water
Instructions
Put your flour, sugar, and yeast in the bowl of your stand mixer. Add water and knead for about 5-7minutes until your dough becomes smooth.
Once it's smooth, use a clean towel to cover it. Allow the dough to sit for 15 minutes.
Sprinkle salt uniformly on your dough and knead with a dough hook until salt is well absorbed.
Again, cover with a clean towel and set aside for about 30 minutes in a warm place until your dough is doubled in size.
Sprinkle flour lightly on the surface, then place your dough on it. Roll your dough into a 16×12 inch rectangle (to give the baguette shape) and then tightly roll up the rectangle from the 12inch side. As you roll, ensure to flatten out air bubbles and thin off the ends of the dough.
Line a baking sheet with a baking mat and place your dough or you could spray your baking sheet with a nonstick cooking spray. Place your dough on the sheet.
Make short diagonal slashes on your dough. Then cover with a clean cloth and allow to rise for about 40minutes or until it doubles in size.
Preheat your oven to 375F and then glaze the surface of the dough with a mixture of egg white and water.
Once that is done, bake the dough until it turns golden brown.
Allow it to cool and your homemade French baguettes are ready to pair up with beef stew.
4. Cornbread Muffins
If you've ever wondered what to eat with Beef Stew, then you should try this sweet mix of beef stew and cornbread muffins.
Cornbread is sweet comfort food that pairs just fine with beef stew. Usually, cornbread is just sweet and crumbly, but if you are feeling a bit adventurous, you could jalapenos to bring in some spice.
Recipe for Cornbread Muffins
Ingredients
1 cup of yellow cornmeal
1 cup of all-purpose flour
½ tsp baking powder
⅓ cup of cane sugar or any substitute
¼ tsp salt
¾ cup of milk
2 eggs
1 tsp of lemon juice
4 tsp of melted butter
4 tbsp applesauce
Instructions
In a small bowl, mix milk and lemon juice, then let it curdle for a few minutes. Add baking soda and salt then stir again. Keep this mixture aside.
Preheat your oven to 350F and prepare your muffin tray with a nonstick cooking spray.
Whisk butter and sugar until they mix properly in a large mixing bowl. Then add the applesauce and egg to the mix in the bowl and whisk thoroughly for all the ingredients to mix.
With a spoon stir in the cornmeal and flour, do not overmix. The mixture would look thin and lumpy.
Pour the mixture evenly into the muffin tray and bake for about 25 to 27 minutes, until it turns golden brown.
Let it cool down for a few minutes and serve this cornbread delight as a side dish. You can also store your cornbread in an airtight container.
5. Mashed Potatoes
Potatoes, when soaked in broth and mashed, have a rich savory flavor that combines perfectly with beef stew and makes a wonderful appetizer.
Different cultures have diverse preparation methods of mashed potatoes but you can be certain that every method produces a delight for your taste buds.
Recipe for Mashed Potatoes
Ingredients
2 pounds of potatoes (peel and cut these)
1 cup of milk
2 tsp of butter
Salt and pepper to taste
Instructions
Boil a pot of salted water, then add your potatoes and cook until they are tender yet firm for about 15 minutes. Drain your potatoes.
Place a small saucepan on low heat, add butter and milk. With a potato masher slowly blend the milk mixture into your potatoes until it becomes creamy and smooth.
Once you are satisfied with the texture add your salt and pepper to taste.
6. Buttermilk Biscuits
You can be confident that buttermilk biscuits would make a great beef stew side dish.
Buttermilk biscuits can be enjoyed with any meal, and they are quite easy to prepare. All you need are basic pantry items and your delicious buttermilk can be enjoyed fully.
Recipe for Buttermilk Biscuits
Ingredients
2 cups all-purpose flour
7 tablespoons of freezer chilled, unsalted butter cut into thin slices.
2 teaspoons baking powder
2 tablespoons buttermilk
1 teaspoon salt
¼ teaspoon baking soda
¾ cup cold buttermilk
Instructions
Preheat your oven to a temperature of 425F
Line your baking sheet with a baking mat or parchment paper.
Pour flour, baking powder, baking soda, salt in a large bowl and mix them all.
Add your butter to the bowl and with a pastry blender mix, the ingredients for about 5 minutes or until it has a coarse look.
Make a well in the center of this mix and pour in your buttermilk. Stir this mixture properly so the ingredients.
Put the dough on a floured surface and pat the dough into a rectangle.
Fold the rectangle into thirds, press the dough back together picking up any crumbs and then fold it back into a triangle. Repeat this step 3 times.
Roll the dough out to a ½ inch thickness.
Use a 2½-inch round biscuit cutter cut out 12 biscuits.
Place the biscuits on your baking sheet. Make a dent on the top of the biscuits with your thumb.
Then brush the top of the biscuits with buttermilk.
Bake the biscuits in a preheated oven till it turns brown for about 15 minutes.
You may like: Top 15 Beef Broth Substitutes for Your Recipe
7. Couscous
What goes with beef stew? Try couscous [2]! It's not among the popular side dishes to combine with beef stew but it is one combination that works just as fine.
Couscous has a special grainy texture that makes it stand out from other types of pasta, its neutral taste makes it a perfect combination with beef stew as it absorbs its flavor. If you are feeling eventful you can always spice up your couscous with vegetables.
Recipe for Couscous
This is a simple method of preparing basic couscous.
Ingredients
I cup of Golden Couscous
1¼ cups of water or Broth
2 tbsp of unsalted butter or oil
½ tsp of salt (this is optional)
Instructions
Pour your water or Broth into a pot, add salt (if you decide to use it), and boil over medium heat.
Add the couscous and butter or oil. Stir and cover.
Once cooked, remove from heat and allow to stand for 5 minutes.
Fluff with a fork and it is ready.
8. Buttered Egg Noodles
Are your taste buds already watery from the thought of this mind-blowing combination of beef stew and buttered egg noodles? Well, they should!
With buttered egg noodles, you don't have to worry about what to serve with beef stew, all you need to do is get cooking and sit down to enjoy the happy mixture of sweet and savory flavor that this meal gives.
You can spruce it up anytime with whatever spice of your choice, garlic, spinach, cheese, or anything that gives it an extra taste. If you like spicy food, feel free to throw in some red pepper flakes into the mix!
To make your meal flavor, you can boil your noodles in chicken broth instead of water.
Recipe for Buttered Egg Noodles
Ingredients
1(16ounce) pack of Fettuccine noodles
6 tbsp of butter
⅓ cup of grated Parmesan cheese
Salt and ground black pepper to taste.
Instructions
Fill a large pot with salted water and bring to boil.
Stir in your fettuccine noodles and cook over medium heat until it is tender and firm to bite.
Drain the noodles and return to your pot.
Mix parmesan cheese, butter, salt, and pepper into your noodles thoroughly until they blend evenly. Serve with your beef stew.
9. Salads
When it comes to choosing a side dish that compliments beef stew, salads must make the list. Never underestimate the coolness, freshness, and crispness that comes from adding a salad to your meal.
A cold salad with a tasty beef stew is always a delight and on the plus side, it's fast and easy to prepare. Some popular salads to go with beef stew including, tomato salad, cucumber salad, or green salad. The colors in this mix make both your stomach and eyes leap for joy!
Recipe for Tomato Salad
Ingredients
1 pound of tomatoes cut into bite-size wedges
1 pint of cherry tomatoes
2 tbsp of Extra Virgin olive oil
2 tbsp thick balsamic vinegar or balsamic glaze
½ cup chopped red onion
¼ cup of thinly sliced fresh basil leaves (you can substitute with chives, parsley, or dill).
½ tsp of flaky sea salt or kosher salt
Freshly ground black pepper to taste
Instructions
Get a small bowl with ice water and add the red chopped onion, this would make it crisper and reduce its intense flavor
Next, spread the tomato wedges on a serving platter. Then, drain the onion in ice water thoroughly, and add one-third of the onion on top.
Then add half of the cherry tomatoes and another one-third layer of the onion.
Once that is done add the remaining cherry tomatoes, the last layer of the onion, and sprinkle basil on it.
Drizzle olive oil on the tomato wedge, then vinegar. Sprinkle the salt and black pepper to taste.
Your salad is ready! Serve immediately to be consumed within a few hours. Your salad can be refrigerated for about 3days, ensure it's covered.
10. Cheddar Cheese Cookies
This is our final recommendation for what to eat with Beef stew. Cheddar cheese cookie is a "double yes" because it is a mix of rich taste and crispness. The cheese in these cookies would sure give your taste buds a delicious experience.
Recipe for Cheddar Cheese Cookies
Ingredients
2 cups of shredded sharp Cheddar Cheese
1 ¼ cup of all-purpose flour
½ cup of butter
½ tsp garlic powder
6 drops of Tabasco sauce
Pinch of salt to taste
Instructions
Pour all ingredients into a large bowl to form a dough. Take a teaspoon of dough and roll it into a ball
Place the dough balls on a cookie sheet and refrigerate.
At this point, place your balls in the oven at 375F until it turns golden brown.
Once it's ready, remove it from the oven and place it on a cooling rack, and serve alongside your beef stew.
FAQs About Beef Stew Sides
How to make beef stew?
---
What dessert goes with beef stew?
Best choice: Yorkshire rice, vanilla and chocolate pudding
Simple dessert: strawberries, blueberries, apples and mangoes topped with whipped cream
Or a glass of milk with chocolate chip cookies
What to serve with beef stew and cornbread?
Roasted/sauteed vegetables (add texture, and healthy nutrients)
Salads (add satisfying crunchy texture and refreshing flavor)
Cheese biscuits (add a salty taste)
What to serve with beef stew and rice?
It is no secret that red wine served with beef stew and rice is a match made in culinary heaven. The pairing of the dry taste of the wine with the tender and rich flavors of beef is one that seems to satisfy both palates.
What to eat with gluten free beef stew?
Some common gluten-free dishes to serve with beef stew are quinoa, mashed potatoes, white rice and steamed vegetables.
What wine to serve with beef stew?
For red wine, then a Cabernet Sauvignon or Chianti will work well.
For white wine, you can't go wrong with Riesling.
For holiday meals, look for sweeter fortified wines like port or sherry.
What vegetables go with beef stew?
Beef stew is a hearty and delicious dish perfect for cold winter days. The best vegetables to pair with it are rich in flavor and nutrients like carrots, potatoes, corn, bell peppers, onions, and celery.
You may like: What's the Difference Between Pot Roast and Beef Stew
Final Thoughts
Beef Stew is a wonderful dish to share with those close to you on a cold winter's day. The dish can be served as it is or as an accompaniment to another meal.
Come up with your recipe for a great Beef Stew, and you'll be warmly welcomed into the kitchen.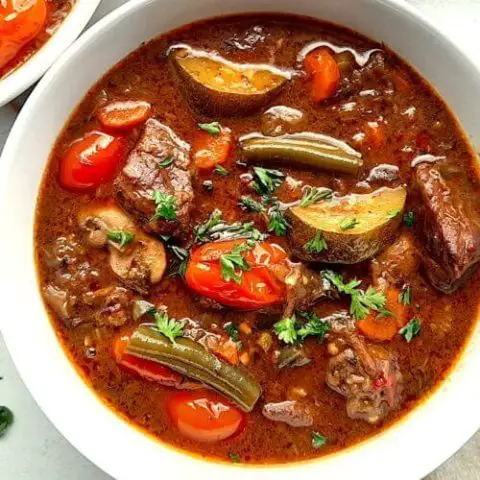 Beef Stew Side Dishes
Find your favorite side to eat with beef stew.
Ingredients
Rice
Crusty Bread
French Baguettes
Cornbread Muffins
Mashed Potatoes
Buttermilk Biscuits
Couscous
Buttered Egg Noodles
Salads
Cheddar Cheese Cookies
Instructions
Choose the side dish you like from the above list
Prepare the ingredients
Follow the instructions to make the meal.
Enjoy!
Nutrition Information:
Yield:

1
Serving Size:

1
Amount Per Serving:
Calories:

2636
Total Fat:

58g
Saturated Fat:

16g
Trans Fat:

2g
Unsaturated Fat:

32g
Cholesterol:

108mg
Sodium:

3995mg
Carbohydrates:

448g
Fiber:

23g
Sugar:

54g
Protein:

79g