Nothing warms you up on a cold, dreary day like a hearty, meaty meal. If you're looking for something to warm you up while it fills you up, pot roast or beef stew are the way to go.
But you may wonder, what's the difference between pot roast and beef stew? While they share many similarities, the biggest difference is beef stew has more broth than pot roast.
Keep reading to learn more about pot roast and beef stew, as well as some delicious recipes!
What is Pot Roast?
Pot roast provides a meat-forward dish embellished with a classic mirepoix [1] of vegetables like celery, onion, and carrots.
Tough cuts like chuck roast, short ribs, and other less-desirable cuts of beef transform under slow cooking under high heat. Roasts cook between 350 and 400 degrees for several hours.
This cooking technique most likely migrated from classic French cuisine. The dish Boeuf à la mode features a large chunk of beef simmered with white wine and vegetables.
Cultures throughout the world put their spin on pot roast using cultural ingredients, and Germans marinate their sauerbraten in vinegar. Jewish communities incorporate ingredients like artichokes.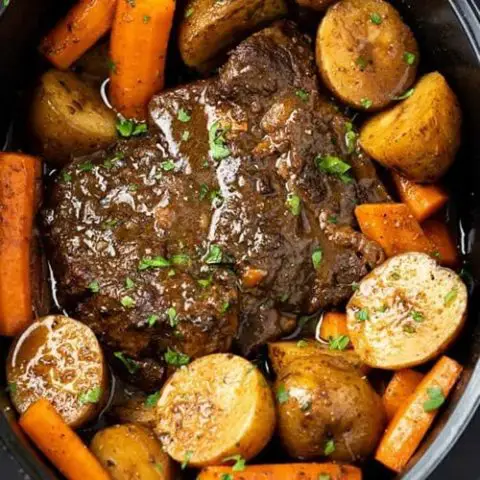 Homemade Pot Roast Recipe
Easiest recipe to make delicious pot roast at home!
Ingredients
4 lb bottom round or chuck roast
1 carrot, diced
1 stalk of celery, diced
2 medium onions, diced
6 carrots, peeled, trimmed, and halved
1 whole onion, peeled, root end left intact
6 medium russet potatoes, peeled and quartered
5 whole cloves of garlic, peeled
4 cups beef stock
2 cups full-bodied red wine, like Pinot Noir
1 bay leaf
1 1/2 tsp dried thyme
3/4 tsp ground black pepper
4 tbsp olive oil
1 tbsp flour, plus more
1 tbsp cornstarch
2 tbsp water
Instructions
1. Preheat the oven to 350.

2. Prepare a dutch oven with two tbsp olive oil over medium heat. Season the roast and quickly sear on all sides, then set aside.

3. Add the rest of the olive oil and saute diced carrots, onions, and celery. Once the onions are transparent, add flour and garlic. Add wine and boil to deglaze the pot. Add spices, salt, and beef broth. Bring this liquid to a boil.

4. Once the liquid is boiling, return the seared beef to the pot. Enough liquid should be in the dutch oven to submerge half of the roast in the seasoned liquid. Roast in the oven for two hours.

5. Check after two hours and add whole vegetables, two cups of beef stock, and water if needed. Vegetables should be underwater. Cook for another hour until everything is tender.
Nutrition Information:
Yield:

6
Serving Size:

1
Amount Per Serving:
Calories:

1122
Total Fat:

56g
Saturated Fat:

21g
Trans Fat:

3g
Unsaturated Fat:

32g
Cholesterol:

251mg
Sodium:

613mg
Carbohydrates:

54g
Fiber:

7g
Sugar:

7g
Protein:

84g
What is Beef Stew?
Beef stew resembles pot roast as tougher cuts of meat simmer with the traditional mix of vegetables like carrots, celery, onions, and potatoes.
With beef stew, the broth becomes the star. This meaty broth becomes thick with beef flavor from beef broth, red wine, and the gradual cooking of the beef.
This hearty meal has nourished societies since primitive times. The earliest evidence of stew comes from Japan between 14,000 to 300 BC. Beef stew illustrates a comfort food that spans generations and all parts of the globe.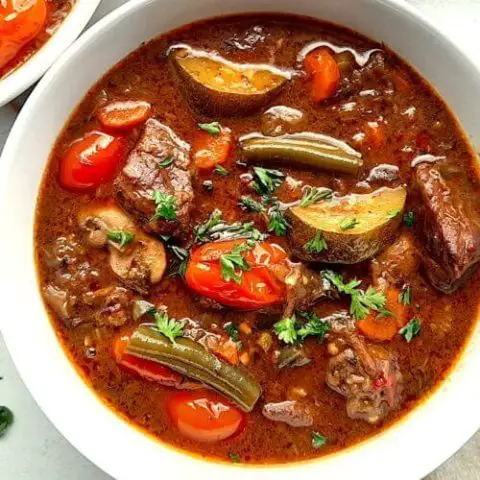 Homemade Beef Stew Recipe
Cook Time:
2 hours
30 minutes
Total Time:
2 hours
30 minutes
Old-fashioned beef stew you must try.
Ingredients
¼ cup all-purpose flour
¼ tsp, pepper
1 lb beef stew meat, like short ribs or chuck roast, trimmed and cut into inch cubes
5 tsp vegetable oil
2 tbsp red wine vinegar
1 c red wine
3 ½ c beef broth, homemade or low-sodium canned
2 bay leaves
1 medium onion, peeled and chopped
5 medium carrots, peeled and cut into 1/4-inch rounds
2 large baking potatoes, peeled and cubed
2 tsp salt
Instructions
1. Coat the beef cubes with flour and black pepper by tossing them in a bowl.

2. Heat a large pot to medium-high with three teaspoons of oil. Sear the beef by adding chunks for about five minutes on each side. Remove the beef chunks and set them aside.

3. Add vinegar and wine to the pot on medium-high heat to deglaze the pot. Add beef broth, meat chunks, and bay leaves, then simmer for 90 minutes.

4. Add onions and carrots to the meaty broth. After 10 minutes, add potatoes and cook for another 30 minutes. Season with salt and pepper before serving.
Notes
For those who don't know what to serve with beef stew, here are 10 side dishes.
Nutrition Information:
Yield:

4
Serving Size:

1
Amount Per Serving:
Calories:

652
Total Fat:

22g
Saturated Fat:

7g
Trans Fat:

1g
Unsaturated Fat:

14g
Cholesterol:

151mg
Sodium:

2109mg
Carbohydrates:

47g
Fiber:

6g
Sugar:

5g
Protein:

55g
Differences Between Pot Roast and Beef Stew
| | | |
| --- | --- | --- |
| | | |
| | Big piece of meat in gravy | |
| | Vegetables aren't required | Vegetables such as carrots, tomatoes, and potatoes are needed |
| | | |
| | | Cooked in low heat on the top of the stove until it's tender |
| | | |
Size Meat
Pot roast requires large pieces of meat while beef stew only requires small pieces of meat.
The Ratio of Meat to Broth
Pot roast differs significantly from beef stew with the ratio of meat to broth.
A pot roast naturally produces liquid as the meat cooks, but chefs often discard this natural jus from a pot roast.
With beef stew, the deep, delicious broth makes this meal distinct. Red wine is essential in this recipe as it provides the signature beef stew flavor when cooked for about two and a half hours.
Vegetables or Not
None or fewer vegetables are cooked with the pot roast, but you may use vegetables as a side dish.
About beef stew, various vegetables and seasonings are required.
Cooking Method
Pot roast is usually cooked in the oven, while beef stew is prepared in a on top of the cooker until it's tender.
Cooking Time
Pot roasts take at least three hours to cook. Unlike a pot roast, beef stew comes together in about two hours.
FAQs About Pot Roast and Beef Stew
Read on to learn more about making pot roasts and beef stews.
Can you use pot roast for beef stew?
Yes! One way to use pot roast leftovers is to incorporate the meat into beef stew. However, don't forget you are using fully-cooked beef in your recipe, so you should add the meat toward the end.
Is chuck roast and pot roast the same?
Chuck roast [2] is the cut of meat sold at butcher shops and grocery stores that comes from a cow's shoulder. Pot roast refers to the finished recipe, which you can make from a chuck roast.
Why is my pot roast still tough?
The biggest culprit for tough meat is undercooked beef. A pot roast must cook for at least three hours to cook through. If you have chosen a large cut of meat, you may need more than three hours.
Your pot roast is done when a meat thermometer reaches 145 degrees. Avoid bones to achieve an accurate temperature reading. If you don't have a meat thermometer, the pot roast should feel tender when it is done.
Conclusion
Pot roast and beef stew both deliver a traditional, cozy meal.
Cook up a large cut of chuck roast for a Sunday pot roast feast. Use pot roast leftovers or other less-desirable cuts of meat to develop a slow-simmering stew from these same familiar and delicious ingredients.
You May Like