It's a tranquil summer evening and you've just started a bourbon chicken recipe and you open the fridge… Oh no!
You forgot to restock apple juice!
Now, you simply cannot abandon your entire recipe, especially after all the work you put in.
Thankfully, there are numerous substitutes available for apple juice which you can find in the kitchen.
In this article, let's explore the comprehensive list of alternatives, from fruit juices to vinegar.
What Can You Substitute for Apple Juice?
1. Apple Cider
Apple cider is the best apple juice substitute for ribs, marinade, bourbon chicken, and many other recipes. And it has a sour flavor and hints of bitterness in addition to low acidity and high sugar content.
The opaque appearance and rich viscosity are the results of the pulp and sediment that are left over from the process of pressing the apples into the cider.
And the intriguing thing about apple cider is that as it ages, it will eventually reach a point where its composition is hard apple cider, and then it will continue to age into vinegar.
Be careful to not use it excessively for certain recipes as apple cider has an intriguing flavor and higher acidity.
Further reading: 10 Best Substitutes for Apple Cider
2. Rice Wine Vinegar
This is one of the best-unsweetened apple juice substitutes.
By literally fermenting rice starches and sugars until they transform into alcohol and subsequently acetic acid, which gives its acidic flavor, rice wine vinegar is produced.
As a result, it tastes like apple juice and is sweet and acidic. However, vinegar has a very faint color.
Therefore, if you intend to use them in your dish, be sure to include a few more spoons of it. No, you shouldn't worry about the recipe's flavor. It won't be greatly impacted.
Rice wine vinegar has a moderately acidic flavor, so you may sprinkle it on dishes.
3. Orange Juice
The fruity flavor and tartness you seek in apple juice can be found in fresh orange juice.
Orange juice works well as a substitute for apple juice in baking, smoothies, marinades, salad dressings, and sauces. And bourbon chicken serves as the ideal substitution for apple juice.
Before using it as a 1:1 alternative, you can add a small amount of sugar if your orange is on the tart side. Due to its citrus flavor, some recipes might not go well with it.
Further reading: Top 20 Substitutes for Orange Juice in Baking/Cooking/Liquid
4. Lemon Juice
One of the most widely available alternatives to apple juice is lemon juice, which is easy to get in any kitchen.
Lemon juice has a lovely acidic flavor that will enhance any dish.
In addition to using it in various salad dressings, you can use lemon juice if you're on a keto diet.
Apple juice is not as acidic as lemon juice. As a result, using smaller amounts of lemon juice is recommended.
You can begin by using half a cup of lemon juice if your recipe calls for one cup of apple juice.
Further reading: Does Lemon Juice Go Bad If Not Refrigerated?
5. Red Wine Vinegar
Red wine vinegar can replace unsweetened apple juice in a recipe and work wonders since it gives food a tangy and somewhat sweet flavor.
Additionally, it includes beneficial antioxidants that can be used in Mediterranean cuisine, marinades, gazpachos, and pickling foods.
Red wine vinegar and apple juice both have a similar amount of acidity. However, the flavor can be a little different.
Keep in mind that you should use it sparingly when substituting. Start with 1:2 ratios and you can adjust the quantity to suit your tastes as you require.
Also, your dish's color may change due to the red wine vinegar's tint.
6. White Grape Juice
White grape juice is a widely used replacement for apple juice.
White grapes are crushed and blended to create this juice and can be used in place of apple juice due to its inherent sweetness.
The flavor of the white grape juice is particularly crisp and energizing. Because it won't contain any additional flavors, it is ideal for recipes.
7. Lime Juice
Quite similar to lemon juice, lime juice can be used in place of apple juice in recipes or drinks.
Finding lime juice in supermarkets can be a little more challenging, but you can easily get it at home by squeezing limes. However, not everyone enjoys the milky bitter flavor of lime juice.
But, if you don't use it excessively, this element won't likely affect you. If you want your smoothies and salad dressings to taste more energizing, try adding some lime juice.
8. Pear Juice
Apple juice can be successfully replaced with pears juice. And the flavors are pretty similar too.
Pear nectar might work, however, you need to account for its higher sugar concentration when preparing a recipe.
You can also use dried or canned pears if you don't have any pear juice, but we recommend you use homemade or fresh pear juice to get the best flavor.
9. White Wine Vinegar
White wine vinegar is the result of the fermentation and oxidization of white wine, giving it a subtle fruity flavor.
Compared to red wine vinegar, white wine vinegar has a milder, more delicate flavor.
You must be careful with the quantity when substituting because it has a stronger flavor than apple juice. Therefore, use it sparingly.
For example, you can use half a tablespoon of White wine vinegar for 1 tablespoon of apple juice in your dish.
Further reading: 8 Best White Wine Vinegar for Salad Dressing/Cooking
10. White Wine
Now you may think, why not use white wine as an alternative if you have any on hand?
Although you'll need to add a little more, it has the fruity undertones you want from apple juice but lacks the acidity flavor.
White wine can be used as a substitute for unsweetened apple juice because it lacks a strong sweet flavor.
11. Soda
Yes, this may sound surprising, but in some apple juice-required recipes, soda is an acceptable substitute.
To get a soda that tastes more like apple juice, make sure you choose a citrus-flavored soda.
But keep in mind to taste your food as you add soda because you could need to change your soda selection or add more as required.
Further reading: 5 Best Baking Soda Substitutes for Banana Bread
Other Substitutes
You can also use the following options to substitute for apple juice in a 1:1 ratio.
12. Apple Cider Vinegar
13. Pineapple Juice
14. Grapefruit Juice
15. Balsamic Vinegar
16. Sherry Vinegar
17. Sherry Wine
18. Champagne Vinegar
19. Homemade Apple Juice
You can also make your own apple juice at home if you like and the steps are much straightforward.
Here's an easy apple juice recipe you can make at home.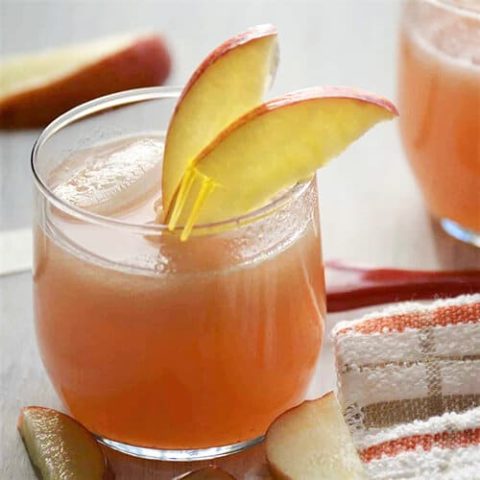 Homemade Apple Juice
Your easiest homemade apple juice recipe.
Ingredients
3 apples (seeds removed)
5 cups of water
Sugar (optional)
Instructions
1. Add the apples to a pot and cover them with water.

2. Boil the apples over low heat for 20 to 25 minutes, or until very tender.

3. In your fine mesh strainer, put a coffee filter or a piece of cheesecloth, and set it over a bowl.

4. Gently mash the apples after slowly ladling the hot apple mixture into the strainer.

5. Once done, you can add sugar as required to the juice to suit your taste. Cool completely before consuming.
Nutrition Information:
Yield:

5
Serving Size:

1
Amount Per Serving:
Calories:

60
Total Fat:

0g
Saturated Fat:

0g
Trans Fat:

0g
Unsaturated Fat:

0g
Cholesterol:

0mg
Sodium:

11mg
Carbohydrates:

16g
Fiber:

3g
Sugar:

12g
Protein:

0g
FAQs About Apple Juice
Can I use water instead of apple juice?
Yes, you can use water, other fruit juices, and types of vinegar or wine as substitutes for apple juice.
Is Apple Cider Vinegar The Same As Apple Juice?
Apple juice is essentially apple cider that has been cooked to alter the color, flavor, and consistency.
Apple juice flavor is richer and the color is translucent. Apple cider is unfiltered raw apple juice that has not been processed to remove large pulp or sediment particles.
Apple juice, on the other hand, goes through filtration to eliminate pulp and then is pasteurized to increase the shelf life.
Does Apple Juice Make Your Pee Pee Bigger?
No! There is no scientific evidence to support the idea of apple juice increases the size of your pee-pee.
According to Mayo Clinic, there is not much support for non-surgical methods of expanding the pee-pee.