Are you looking for store-bought enchilada sauce?
Choosing the best enchilada sauce might be difficult because there are so many different brands to choose from. To make it easier for you to find the sauce you want, we've compiled a list of the 8 best options.
Our best choice is Ortega Enchilada Sauce because it contains healthy ingredients, and is perfect for every palette.
In this article, we will discuss some of the best enchilada sauces, things to consider before buying, and more.
8 Best Store-Bought Enchilada Sauce You Can Buy Today
1. Ortega Enchilada Sauce
Since all of its components are of good quality, this sauce has incredible taste and flavor.
It is made of spices, hydrolyzed corn, soybean oil, ground chili pepper, salt, corn starch, and tomato paste.
This mild red sauce doesn't have any MSG (monosodium glutamate), which is a flavor enhancer used in fast food [1]. This sauce contains wheat and soy, though.
Your entire family may enjoy this sauce because it is not very spicy. This sauce from Ortega is ideal for tacos, burritos, and enchiladas.
Pros
No MSG
Mild
Unique flavor
Cons
2. Las Palmas Enchilada Sauce
Do you love spices? Then you will like this sauce.
These cans have 19 ounces of sauces and are available in a pack of 12. Each serving of this sauce has just 0.5 grams of total fat and 15 calories.
This Enchilada sauce has natural ingredients like spices, garlic powder, cottonseed oil, red chilies, and salt.
Pros
It can be used in several dishes
Strong taste
The sauce is created from red chili peppers
Cons
3. Old El Paso Enchilada Sauce
Chili pepper, salt, and other flavors are the key ingredients of this sauce. Hydrolyzed corn, protein, and sugar are also present.
The good news is that this sauce is not just for enchiladas! You can add this tomato-based Enchilada sauce to your salad dressing, meatballs, or any food you wish!
This sauce is medium and gives you just the perfect amount of flavor and heat to create superb enchiladas of any type.
Pros
Fast prep time
Versatile
Medium to hot heat level
Cons
4. La Victoria Red Enchilada Sauce
This sauce is perfect for people trying to reduce weight and consume less fat because each serving only has 25 calories and 1.5 grams of fat.
It is gluten-free, making it the perfect choice for people who are sensitive to gluten.
If you don't know what gluten is, it's a kind of protein [2] found in many foods, such as wheat, rye, and barley.

And gluten sensitivity is when you get sick after consuming gluten. Feeling gassy or bloated is one of the most common concerns among individuals with gluten intolerance.
This Enchilada sauce from La Victoria is made from simple ingredients, such as spice, garlic, soybean oil, corn starch, and red Chile. When it comes to spice level, it has a mild heat level.
Pros
Low-calorie content
Gluten-free
Have low-fat content
Cons
Only mild sauce is available
5. Siete Green Enchilada Sauce
Did you know what the best thing about this sauce is?
This tangy and bright enchilada sauce is dairy-free, vegan-friendly, paleo-friendly, and gluten-free. And it is hot when it comes to heat levels.
This grain-free sauce contains high-quality and authentic ingredients, such as apple cider vinegar, jalapenos, avocado oil, and roasted tomatillos.
Everybody can use this sauce regardless of dietary limitations.
Pros
Simple and authentic ingredients
Grain-free sauce
Perfect for strict diets
Vegan-friendly, dairy-free, and gluten-free
It can be used with anything
Cons
The taste of apple cider vinegar is particularly noticeable
6. McCormick Enchilada Sauce Mix
If you want a tiny packet serving for single meals, this Enchilada sauce from McCormick ought to be your first pick.
It is 1.5 ounces in size, making it perfect for making dinner for a single individual. The flavorful sauce contains cumin, garlic, onion, and chili peppers.
What's more, it does not contain any MSG, artificial colors, or flavors.
Each serving of this Enchilada sauce contains 15 calories and 0 grams of fat.
Thus, it is a great sauce for those on a low-carb diet.
Pros
Free of artificial flavoring and colors
Low-carb sauce
Pocket-friendly size
No MSG
Cons
It might be a bit too salty for some individuals
7. Simply Organic Green Simmer Sauce
This tangy, green Echnilada sauce is organic. It has a delicious Mexican taste, is made with 100% organic ingredients, and contains no artificial preservatives.
It is made from delectable jalapenos and rich poblano peppers, giving you the best mixture of spice and taste.
Although you may use it for any kind of cuisine, it works best with pork, chicken, or cheese enchiladas.
Pros
Versatile
It does not contain preservatives
Tangy and Spicy
Organic friendly
Cons
It might be a bit too hot or spicy for some individuals
8. Hatch Green Chile Enchilada Sauce
Do you follow a strict diet? If yes, then this mild Enchilada sauce is for you.
This jarred Enchilada sauce is free of gluten. And it's made from healthy ingredients, such as garlic, soybean oil, and hatch green chiles.
Apart from being gluten-free, this sauce from Hatch is vegetarian-friendly, vegan, and non-GMO.
And what does Non-GMO mean?

It signifies the absence of ingredients derived from genetically altered organisms in the food.
The flavor is what differentiates this product from others.
You can use this sauce in any cuisine you like, including burritos, tortillas, dips, salsas, and spicy stews. Which is the best-jarred enchilada sauce, according to you?
Pros
Vegan-friendly
Gluten-free
Non-GMO
The flavor is smoky and spicy
Cons
Some people may find the sauce too hot
---
After choosing your favorite Enchilada sauce, you can still DIY to make it taste better, here is how.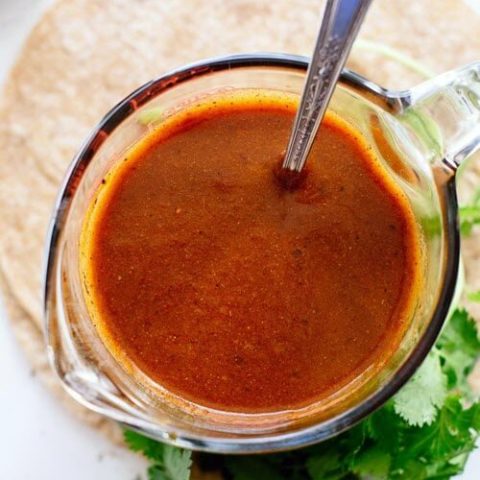 How to Make Store-Bought Enchilada Sauce Taste Better
Make your Enchilada sauce taste better!
Ingredients
1/4 teaspoon of black pepper
1/2 teaspoon of Kosher salt
1 cup of chicken broth
1 can of red enchilada sauce
1 tablespoon of all-purpose flour
1 tablespoon of unsalted butter
Instructions
1. Melt the butter in a frying pan over low heat or medium-low heat.

2. Now add the flour to the utensil and stir it continuously for one minute.

3. Pour the store-bought enchilada sauce into the mixture. Then mix in the pepper, salt, and chicken broth.

4. Heat the mixture until it boils, and then lower the heat. Simmer until the sauce has thickened.

5. Keep the mixture warm over low heat until you are ready to serve.
Nutrition Information:
Yield:

2
Serving Size:

1
Amount Per Serving:
Calories:

85
Total Fat:

6g
Saturated Fat:

4g
Trans Fat:

0g
Unsaturated Fat:

2g
Cholesterol:

18mg
Sodium:

1038mg
Carbohydrates:

6g
Fiber:

1g
Sugar:

3g
Protein:

2g
How To Choose The Best-Canned Enchilada Sauce?
Below are a few things you need to consider when purchasing enchilada sauce.
Ingredients
Before choosing any enchilada sauce, one of the first things you should think about is its ingredients.
When comparing different sauces, you should pay attention to the ingredients because they will affect how the sauce tastes.
Flavor
Another factor to consider while selecting the sauce is its flavor. The taste will depend on the kind of chilies used in the sauce, along with other components.
Versatility
Most enchiladas sauces are versatile and can be used in meals besides enchiladas. You can add them to pizza, casseroles, meatballs, and salad dressing. The level of taste in each sauce may vary, though.
Check product reviews to identify those that you can use with most dishes.
Nutrition Information
You should check the nutrition facts listed at the back of the can or jar.
This is especially helpful for individuals following a certain diet because it will reveal how much fats, sugar, and carbohydrates a specific sauce has.
FAQs About Enchilada Sauce
Which one is better: red or green enchilada sauce?
Red enchilada sauce is usually mild because red chiles typically have a smoky, fruity, and sweet taste.
On the other hand, green enchilada sauce normally is hot and has a wide heat spectrum because it is prepared with green components like jalapenos, tomatillos, and green chiles.
How do you prevent enchiladas from getting mushy?
If you want to keep your enchiladas from getting soggy, quickly fry your corn tortillas in the oil before filling and rolling.
Frying creates a barrier between the corn tortillas and the sauce so that they don't get mushy.
What type of cheese is used in Mexican restaurant enchiladas?
Mexican restaurants use Queso Blanco cheese in enchiladas.
It is frequently used as a filler for burritos, enchiladas, chicken breasts, and peppers, or as a topping for spicy or saucy Mexican cuisines like enchiladas and empanadas.
Is there a substitute for red enchilada sauce?
Are you looking for a red enchilada sauce substitute? Perhaps, you are out of enchilada sauce or do not like the taste.
Regardless of why you want to find a replacement, here are some worthy alternatives.
Yucatan sofrito sauce
Picante sauce
Taco sauce
Chiltomate sauce
Why Trust Us?
We provide impartial and accurate information about food products. Our product reviews are supported by research.
However, we advise you to do more research before making any purchases. Sometimes, we source information from other highly-reputable review sites.