Sauce! Sauce! Sauce! It takes your meal to a whole new level!.
What is there not to love about the sauce? They give your meal that extra "zing"!
In today's article, we'll talk about perfect substitutes for Adobo sauce. Towards the end, we'll sprinkle in a recipe of how you can make your Adobo sauce.
30-second Summary
Adobo Sauce is a flavorful sauce that breathes life into a dish. But, when it's unavailable, you have to substitute.
Substitute for Adobo sauce with garlic chili sauce, chipotle pepper, tabasco chipotle hot sauce, achiote paste, ancho chile past, Greek seasoning, cajun seasoning, or prepare your homemade Adobo sauce.
11 Best Adobo Sauce Substitutes for Your Recipe
1. Garlic and Chili Sauce
Garlic and chili sauce is a great substitute for Adobo sauce if you want a dip. This sauce combines the spiciness of chili with the solid savory flavor of garlic.
You can create garlic chili sauce to marinate your fish or meat in. Blend garlic and chili. Add olive oil to the mix, and it becomes a thick paste.
Add sugar or a natural sweetener, vinegar, and (or) lemon to give the mix a tangy flavor. This should be ready in about 3minutes, and you are good to go.
2. Chipotle Peppers
Chipotle pepper in Adobo sauce is the first choice amongst chefs. Chipotle pepper, when grounded, has a smoky flavor mixed with sweet undertones.
When you use chipotle pepper, it serves the purpose of hot sauce. So you might want to be mindful of the heat level.
Feel free to use this chipotle pepper in stews, beans, vegetables, marinades, soups, and grilled meat.
3. Tabasco Chipotle Hot Sauce
Tabasco chipotle hot sauce is a fast substitute for Adobo sauce. It is a shelf away; you can get it in a grocery store.
This hot sauce contains chipotle peppers, garlic powder, onion powder, distilled vinegar, sugar, and salt. These ingredients match those of Adobo sauce 100%.
Although there might be slight differences in flavor and texture, this is an excellent alternative to Adobo sauce.
4. Ancho Chile Paste
Ancho chile paste is not a one-for-one substitute. Most of them in grocery stores contains ancho Chile puree, water, and salt.
This may not be your conventional substitute, as ancho chile doesn't give the exact flavor of Adobo sauce.
However, if you need a substitute that gives your meal a sweet-smoky undertone, this is your best choice.
Additionally, ancho chile has an excellent quality of being a flavor foundation. With its already existing flavor, you can add other spices and ingredients to it and create a whole new flavor burst for your sauce.
5. Achiote Paste
This brick-red paste is a popular ingredient in Central American, Mexican, and Caribbean dishes. Achiote paste has a characteristic sweet, earthy, and slightly hot flavor.
It contains cumin, oregano, annatto seeds [1], black pepper, cloves, garlic, and coriander. These ingredients combine to give their signature flavor.
Use achiote paste as a marinade, sauce, or rub for your fish and meat.
Further reading: 9 Achiote Paste Substitutes You Can Use in a Pinch
6. Greek Seasoning
If you love Mediterranean flavors, you'll find this substitute a perfect fit for you. Greek seasoning has similar ingredients to Adobo sauce. It also contains thyme and marjoram [2].
You can prepare your mix of spices for Greek seasoning, or purchase already prepared blends.
It's a good idea to rub greek seasoning on your meat or fish for grilling. It gives you a sensational flavor.
7. Cajun Seasoning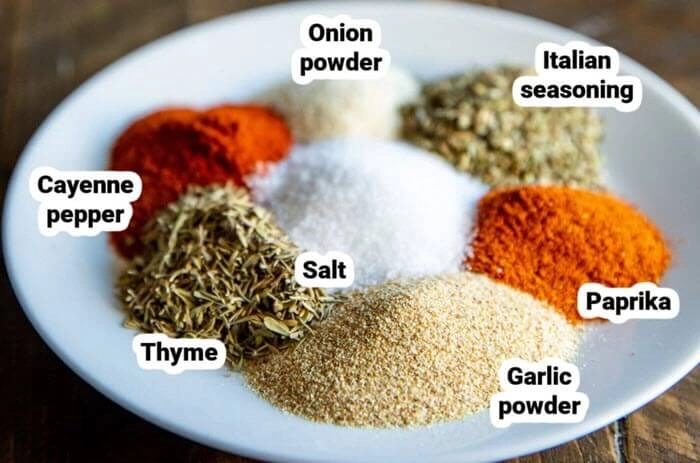 Cajun seasoning blend is a pretty good Adobo sauce substitute. The taste might differ slightly due to oregano, black pepper, and garlic.
To prepare your cajun seasoning, mix paprika with the following ingredients:
black pepper
garlic powder
cayenne pepper
onion powder
½ teaspoon of salt
In your recipe, use cajun seasoning to substitute for Adobo sauce in a ratio of 1:1.
Except for the Adobo sauce, Cajun seasoning is also a great substitute for Old Bay Seasoning.
8. Ranchero Sauce
Ranchero sauce is made with onion, tomatoes, serrano or jalapeno chili pepper, garlic, chilies, cilantro lime juice, and salt.
Ranchero sauce is bubbling with flavor from its components. It can be an excellent topping for tacos, enchiladas, and Mexican foods.
You can purchase premade ranchero sauce at the grocery store, or prepare your sauce at home.
To prepare your sauce, mix all the ingredients mentioned earlier puree them until they become smooth. Then heat the mixture until it becomes bubbly.
9. Hoisin Sauce
Hoisin sauce is a thick, dark, umami-flavored sauce. It is usually salty yet sweet.
This thick sauce contains fermented soybeans, chilly pepper, vinegar, sesame oil, fennel, five-spice powder, garlic, and sugar. It's a suitable Adobo sauce replacement in your recipe.
To reduce the saltiness of this sauce, add lemon juice, vinegar, oil, or good old water.
If you aim to enhance its flavor, add some tomatoes or onions.
Feel free to use hoisin sauce in your stir-fries and marinades. You can also enjoy its rich flavor when using it as a dipping sauce or a rub for your meat.
10. Adobo Seasoning
There is no better option for Adobo sauce than using Adobo seasoning.
Adobo seasoning contains the same ingredients as the sauce, but it's a dry alternative. If you prefer it as a liquid, you can add lemon juice, vinegar, or any liquid you desire.
Veggies, soups, marinades, rubs, and sauces work perfectly with Adobo seasoning.
11. Homemade Adobo Sauce
When you don't have any substitutes available, the best option is to make your homemade Adobo sauce.
This is a simple homemade Adobo sauce recipe you can recreate: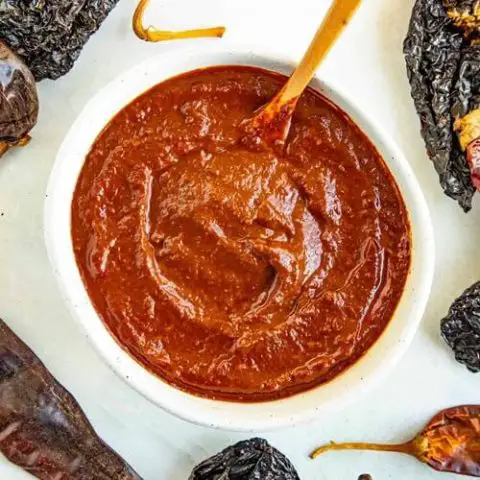 Homemade Adobo Sauce
Ingredients
1 tablespoon of vinegar
½ teaspoon of smoked paprika or use chili sauce
½ teaspoon of garlic powder
½ teaspoon of soy sauce
1 tablespoon of tomato paste
Oregano and Cumin
Instructions
Mix all ingredients and strain.
Pour the extract into a jar and refrigerate. Feel free to freeze and use this in future recipes.
Nutrition Information:
Yield:

1
Serving Size:

1
Amount Per Serving:
Calories:

42
Total Fat:

1g
Saturated Fat:

0g
Trans Fat:

0g
Unsaturated Fat:

1g
Cholesterol:

0mg
Sodium:

242mg
Carbohydrates:

8g
Fiber:

2g
Sugar:

3g
Protein:

2g
Once that is set, you are done. Enjoy your homemade Adobo sauce.
Chipotle Peppers in Adobo Sauce Substitute
Chipotle peppers in Adobo sauce are one of my favorite Mexican dishes. It is a smoky, spicy, and creamy dish that falls into the category of comfort food. I love it so much, and it's not easy to find around here, so this chipotle pepper substitute recipe is perfect for me!
It's simple to create with ingredients you probably already have on hand.
I used canned jalapeno peppers in Adobo sauce. They add a smoky, spicy kick to whatever you are cooking. I've used jalapeno peppers in Adobo sauce as a seasoning for meatballs, and I've also used it in a green smoothie.
Jalapeno peppers work perfectly to substitute chipotle peppers in Adobo sauce.
Further reading: 8 Easy-to-Get Chipotle Peppers in Adobo Sauce Substitutes
Final Words
Food pairs are always exciting. Sauces and dips make them even better. You don't have to pause your meal because a particular ingredient is unavailable.
Try out the Adobo sauce substitutes and discover the hidden treasures your kitchen hides.