Achiote paste, also known as Lombok, annatto paste, or bija paste, is a common ingredient in East Asian, Latin American, and Caribbean cuisines. It is bright red and has a tangy-sour flavor.
It can be used in various dishes such as stews, soups, fish, meat rubs, shrimp, rice, pickled vegetables, ceviche, chorizo, and other Mexican dishes.
If you do not find achiote paste while shopping, below are some great substitutes that work just as well. Read on;
What Can You Substitute for Achiote Paste
Below are nine substitutes you can use in place of achiote paste;
1. Harissa Paste
Harissa is a North African chili paste common in Moroccan, Tunisian, and Algerian cuisines.
It is perfect as a food ingredient or condiment. It can be used to flavor soups and stews, season meat and vegetables, and as a sandwich spread.
It is made from several chili peppers, including bell peppers. However, there are many different harissa variations depending on the country it comes from.
Some will use whole chilies instead of ground ones; some have additional spices such as caraway seeds and coriander, different types of peppers, and ingredients such as rose water. Despite the various combinations, harissa is quite flavorful and the perfect element to your dish.
To make it, combine garlic, chili peppers, cumin, olive oil, and salt in a food processor and blend till it is soft.
2. Sambal Oelek
This chili paste originates from Indonesia and is made by combining vinegar, red jalapeno chilies, sugar, and salt.
Sambal Oelek is pretty salty when compared to its other counterparts. This is because of the salt added to the mixture; hence, reducing the salt in your food is advised.
It is perfect for marinades and stir-fries. It will add an extra layer of heat and is an excellent substitute for achiote paste.
3. Guajillo Chili Powder
Guajillo chili powder hails from Mexico and is made from ground guajillo chilies.
Guajillo chilies are not that spicy, with a Scoville rating of 1500-2500, hence perfect for people who prefer foods with mild flavors.
It has a smoky and sweet taste and is ideal for fish and chicken marinades. It also pairs well with tomatoes, cumin, and garlic onions.
You can also make your own guajillo chili pepper at home by grinding dried guajillo peppers in a spice grinder.
4. Paprika Paste
Paprika is also a suitable substitute for achiote paste. However, it may not result in the same flavor, but it will add color and flavor to the dish.
It is made from dried and ground peppers, giving it its bright red color.
5. Tex Mex Paste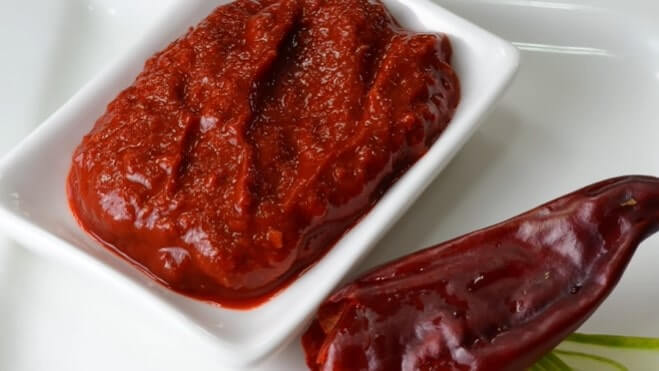 Tex Mex paste has similar ingredients and flavor to achiote paste. It is popular in Southwestern cuisine and made with cumin, garlic, ancho chili peppers, and other spices.
It is a great rub for meats and makes amazing taco filings.
6. Saffron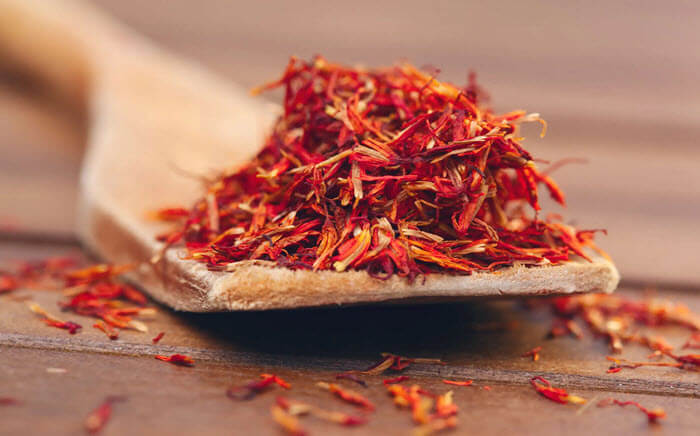 Saffron is an alternative to paprika powder and a substitute for achiote paste.
It adds a bright yellow color to your food and has a delicious flavor. However, it is more expensive than paprika; hence a small amount will save you money in the long run.
It is made from the crocus flower's dried stigmas, and a pinch or two is effective.
7. Sriracha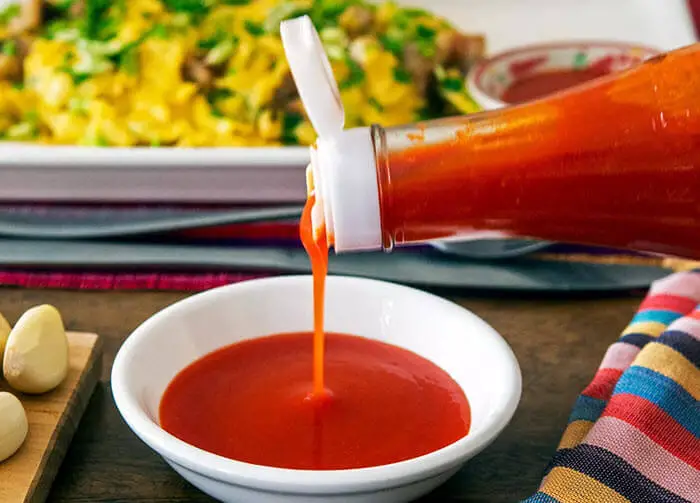 Sriracha is also an excellent achiote substitute. However, it does not have the smokiness or paste-like consistency as the achiote but is high on heat and quite thick.
8. Cumin and Cayenne Pepper
Cumin and cayenne pepper are a great substitute as they have the perfect heat and spicy flavor of achiote paste.
Cumin is mainly used in Mediterranean and Mexican cuisines and is perfect for marinades, stews, and soups due to its slightly bitter flavor.
9. Homemade Achiote Paste
You can also make your own homemade achiote paste to add an authentic flavor; it is much more fun and exciting.
When making this homemade achiote paste, we highly recommend that you do not do it in a hurry as it needs time to be prepped and ensure it is in perfect condition.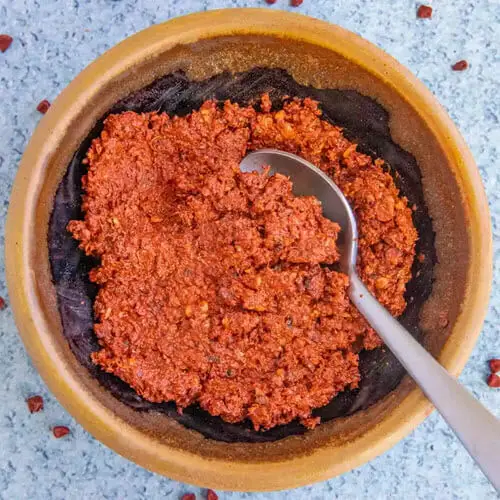 Homemade Achiote Paste
Your easiest homemade achiote paste recipe.
Ingredients
¼ cup of annatto seeds
1 teaspoon of cumin seeds
1 tablespoon of dried oregano
2 teaspoon of coriander seeds
1 teaspoon of black peppercorns
5 cloves of chopped garlic
2 whole cloves
½ cup of bitter orange juice
Kosher salt to taste
Instructions
1. Grind the annatto seeds, cloves, peppercorns, cumin, and coriander in a mortar and pestle.

2. Mix the ground spices with the salt, garlic, and bitter orange juice and let it blend until smooth.

3. Store the paste in an airtight container and put it in the fridge.

4. Use it as desired in place of achiote paste
Nutrition Information:
Yield:

1
Serving Size:

1
Amount Per Serving:
Calories:

124
Total Fat:

3g
Saturated Fat:

1g
Trans Fat:

0g
Unsaturated Fat:

2g
Cholesterol:

0mg
Sodium:

352mg
Carbohydrates:

28g
Fiber:

8g
Sugar:

11g
Protein:

3g
FAQs About Achiote Paste
Where to buy achiote paste?
You can buy achiote paste in most Latin American food markets or online. It is also available on Amazon.
What to do with achiote paste?
Achiote paste can be added to any dish to add flavor and color. It can be used as a marinade or rub for grilled meat, chicken and pork.
It also goes well in Mexican dishes such as stews, bean dishes, mole sauce, and tamales.
Can I use paprika instead of achiote?
Yes, paprika is a perfect substitute for achiote due to its peppery flavor and red color. It also adds heat to the food, which makes it a great option.
What is achiote paste made of?
Achiote paste comprises annatto seeds, bitter orange juice, garlic, chilies, and various seasonings. They are then ground and mixed to form a thick paste.
What does achiote paste taste like?
Achiote paste has an earthy taste, sweet, spicy, and smoky flavor. It complements dishes when used as a sauce, a rub, or marinade.
However, on its own, it has no perceptible taste.
Conclusion
Achiote paste is a popular ingredient in Latin American and Caribbean cuisines. However, getting it can be a hustle for some people, which is why you need substitutes.
The above options give you the perfect flavor and taste analogous to your achiote paste. Use any of the above substitutes and enjoy your recipe with no hassle.