From its inception in 1938, Old Bay has been a popular seasoning for seafood, vegetables, soups, and much more.
Old Bay started as a seasoning for crab and shrimp, but over the years, the brand expanded to include more varieties, which provide a grilled taste as if your food has been blackened over the fire. Old Bay even makes a Cocktail sauce, which provides that extra kick for your shrimp cocktail.
What should you do if you've run out of it?
Let's look at the top substitutes for old bay seasoning.
What is Old Bay Seasoning?
Old Bay Seasoning is a mix of over 20 herbs and spices, including paprika, celery salt, black pepper, and red pepper.
Old Bay Seasoning Ingredients
Ingredients
celery salt
paprika
black pepper
cayenne pepper
ground dry mustard
ground mace
ground cinnamon
ground cardamom
ground allspice
ground cloves
ground ginger
bay leaf powder
celery salt
dry mustard
ground black pepper
ground ginger
sweet paprika
white pepper
ground nutmeg
ground cloves
ground allspice
crushed red pepper flakes
ground mace
ground cardamom
ground cinnamon
The remaining spices are as top secret as KFC's 11 herbs and spices and are carefully guarded by McCormick, the brand's parent company.
One thing that Old Bay Seasoning does NOT include is MSG (monosodium glutamate). As for other dietary restrictions, it's kosher as well.
Top 9 Old Bay Seasoning Substitutes
If you are looking to tickle your tastebuds and you don't have any Old Bay Seasoning handy, no need to worry. Here are the top eight substitutes for Old Bay Seasoning that you can use.
1. Lawry's Seasoned Salt
Lawry's Seasoned Salt is a popular staple in many American households.
This seasoned salt contains a mix of various herbs and spices, one of which is paprika, a main ingredient in Old Bay Seasoning. This substitute for Old Bay seasoning is also kosher and has no MSG as well.
2. Cajun Seasoning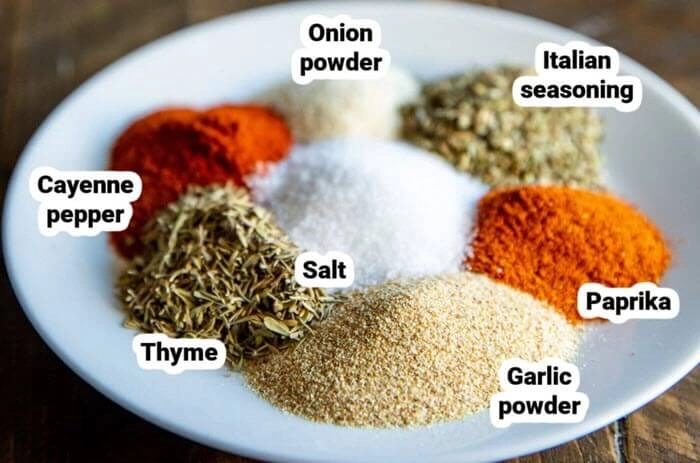 Can you use Cajun seasoning instead of Old Bay?
One of the closest substitutes for Bay Seasoning is Cajun seasoning, due to it containing similar spices, such as paprika and crushed red pepper.
There are many pre-made brands of Cajun seasoning on the market, but you can easily make a batch of your own by blending fresh herbs and spices.
There are many recipes online that you can choose from to create the blend that best suits your taste buds. Here is one of the best recipes for homemade Cajun seasoning.
3. Todd's DIRT Seasoning
Todd's DIRT Seasoning comes in many varieties that mimic the Chesapeake and Cajun themes.
Chesapeake DIRT is recommended for seafood, such as shrimp, scallops, and crabmea. It has many of the same spices that made Old Bay Seasoning famous, such as celery salt, paprika, and cayenne pepper.
Bayou DIRT is a bit more toned down, with parsley, rosemary, and oregano as a base. Its unusual name comes from the fact that the original seasoning looked like a handful of dirt that had been picked up from the ground.
4. J.O. Specialty Seasonings
J.O. is a family-owned spice company that has been around since 1945. This lesser-known company makes many spices geared towards seafood.
Popular ones are J.O. No. 1 Brand Seafood Seasoning and J.O. No. 2 Crab House Spice seasoning. One reviewer, who "grew up on Old Bay", gave the No. 2 Crab House Spice seasoning a five-star review on J.O.'s website.
5. Dash Seasoning
Formerly known as Mrs. Dash, Dash Seasoning might be an unexpected replacement for Old Bay Seasoning.
With similar ingredients, including mustard, cayenne pepper, and celery seed, Dash's original flavor is a great alternative.
This inexpensive seasoning is found in grocery stores all over the U.S. and is easy to purchase by almost anyone.
6. Pickling Spice
Pickling Spice is made for pickles, but it can also be a great alternative to Old Bay.
Red pepper and mustard seed provide that familiar flavor, while allspice and cloves lend a sweeter touch.
Pickling spice can be purchased pre-made, but it's also simple to make at home by blending a few ingredients.
7. Chinese Five Spice
This blend of herbs and spices gets its name from the traditional Chinese elements.
Chinese Five Spice has many variations, but common ingredients include Sichuan powder, cloves, and fennel.
This blend of ingredients creates a sweeter, less savory taste, but the combination works well for seafood, poultry, and other dishes.
Further reading: Top 12 Chinese Five Spice Powder Substitutes
8. French Four Spice
French Four Spice, also known by its original French name, Quatre Épices, combines the sweet with the savory.
It was developed in the 17th century during the Baroque era, and it combines white or black pepper with ginger, nutmeg, and cloves.
Although it is called Four Spice, other ingredients may be included, such as cinnamon, cardamom, or allspice.
9. Homemade Old Bay Seasoning
If you want to recreate the traditional Old Bay Seasoning flavor and these substitutes don't appeal to you, the easiest thing you can do is make your own.
There are many recipes online on how to make Old Bay Seasoning. But I prefer using my mom's recipe as below.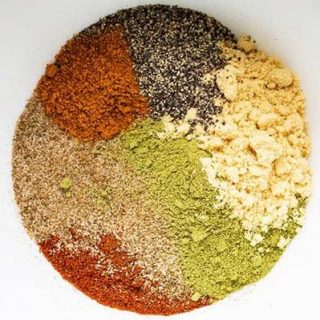 Hoe to Make Old Bay Seasoning
Your easiest homemade old bay seasoning recipe.
Ingredients
1 tbsp. Celery Salt
2 tsp. Ground Bay Leaves
2 tsp. Smoked Paprika
1 1/2 tsp. Ground Black Pepper
1 tsp. Ground Mustard
1/4 tsp. Allspice
1/4 tsp. Cayenne
1 pinch Ground Cinnamon
1 pinch Ground Nutmeg
1 pinch Ground Ginger
Instructions
All you have to do is combine the ingredients in a bowl and mix well.
Store your Bay Seasoning substitute in an airtight container to preserve freshness.
Nutrition Information:
Yield:

3
Serving Size:

1
Amount Per Serving:
Calories:

18
Total Fat:

1g
Saturated Fat:

0g
Trans Fat:

0g
Unsaturated Fat:

1g
Cholesterol:

0mg
Sodium:

1229mg
Carbohydrates:

3g
Fiber:

1g
Sugar:

0g
Protein:

1g
Why Do You Need a Substitute?
There are many reasons why you might need an Old Bay Seasoning substitute.
If you normally keep Old Bay Seasoning on hand at all times, you might be out of it at the moment, or maybe it's temporarily sold out at your local grocery store. Maybe Old Bay is not sold in your area.
Another big reason is food allergies, and with those top-secret ingredients, you may not want to take the chance.
Whatever your reason, there are many Bay Seasoning substitutes that you can either buy pre-made or make yourself to suit your own taste preferences or allergy requirements.
How to Boil Shrimp with Old Bay Seasoning?
This recipe will teach you how to boil shrimp with Old Bay seasoning. It's very simple and only takes about 15 minutes!
You can also use this recipe as an appetizer before dinner, or just serve it on its own. Give it a try the next time you're craving some fresh seafood!
Conclusion
If you search online, there are many variations of do-it-yourself substitutes for Old Bay Seasoning, but if you want to get creative, you can take some Chinese Five Spice and Pickling Spice and mix them together to see what you get!
Mix and match to create your masterpiece. Trial and error is the key. Who knows? You might even come up with a mix that you prefer better than the real thing!