Accent seasoning is popular but may not be a healthy option for cooking.
Luckily, there are several healthy substitutes for accent seasoning are available in the market that can bring your food to another level.
We have listed some most common & healthy replacements, so you can easily pick out the best one for your dish.
What Is Accent Seasoning?
Accent seasoning is an additive that can improve the flavor of certain foods. It's a brand name for monosodium glutamate (MSG), it also goes by other popular names, including "Seasoning and Enhancer" or simply "Flavor Enhancer."
Accent seasoning's physical appearance resembles salt or sugar. It tastes like broth and enhances the flavor of our regular fare, making it more appetizing.
Accent Seasoning Ingredients
As discussed above, MSG is the main ingredient in Accent seasoning, but it's not the only one.
Except for MSG, accent seasoning also contains salt, chili pepper, tricalcium phosphate, garlic powder, onion powder, black paper, oregano, and several other ingredients. The ingredients may differ from the brands.
What Is Accent Seasoning Used for
Accent seasoning is useful when you are trying to make food taste fresher or trying to bring out the natural flavors of the food which you're cooking.
It is usually added to soups, sauces, salad dressings, and other foods as a flavor enhancer or to improve the taste. What's more, accent can also be used in recipes for seasoning like meatballs, goulash, and seafood dishes.
Healthy Substitutes for Accent Seasoning
1. Spices and Herbs
People have been using spices and different natural herbs for thousands of years to cook tasty food.
Herbs like garlic, basil, parsley, oregano, pepper, rosemary, tarragon, and spices like cinnamon, turmeric, cumin, and cloves not only make your food more tasty and flavorful but also more healthy.
These herbs and spices are the perfect alternatives to accent seasoning. For savory and spicy food, lover use of herbs and spices decreases the risk of cancer, asthma, and respiratory diseases.
2. Fish Sauce
We can also use fish sauce instead of accent seasoning. It's prepared from fish that is first coated in salt and then fermented for two years.
Fish sauce gives a strong, rich, and umami flavor to your food. It's an excellent ingredient for pasta, rice, soup, and a wide range of seafood.
Fish sauce not only increases your appetite but is also prepared with the ability to keep your body warm. It is trendy among Southeast Asian people.
3. Bouillon
Bouillon simply means broth. Because of the latest technology, bouillon is available in cube, powder, and liquid forms. They are full of additives and an excellent alternative to accent seasoning.
Different types of bouillon are available so that you can pick the most suitable one according to your taste and need.
Vegetarian, non-vegetarian, fat-free beef, and chicken flavor bouillon are easily found in grocery stores. Bouillons make your food pleasing, and it is also a friendly ingredient for cooking lovers.
4. Dairy Concentrates
Accent seasoning substitutes also include a list of dairy products. Cheese, cream, butter, and yogurt make your food more healthy and tasty.
These dairy concentrates contain an almost negligible amount of MSG, so they're much healthier than accent seasoning.
Dairy products are an enriching source of fat, protein, and calcium. Using them enhances your food's flavor and gives a beautiful look to your dish.
5. Liquid Amino
Another option is liquid amino. Amino acid is the major component of liquid amino, it is the building block of protein. So in this way, liquid amines increase the portion of protein in your food. They are gluten-free and also prevent carving.
The taste of liquid amino acid is slightly sweet, making it the best choice for viscous fluid food like soups. Use of liquid amino acids in your daily meal help indigestion.
As liquid amino acid contains a low concentration of sodium chloride, so their taste is much similar to accent seasoning.
6. Lemon Juice
Another natural component that can be used as accent seasoning replacement is lemon juice. Its bitter-sweet taste combines perfectly with the variety of dishes.
Few drops of the lemon extract on meat, vegetables, salads, soups, chicken, and rice, make it more juicy and delicious. The use of lemon juice in your diet can make your immune system strong.
7. Salt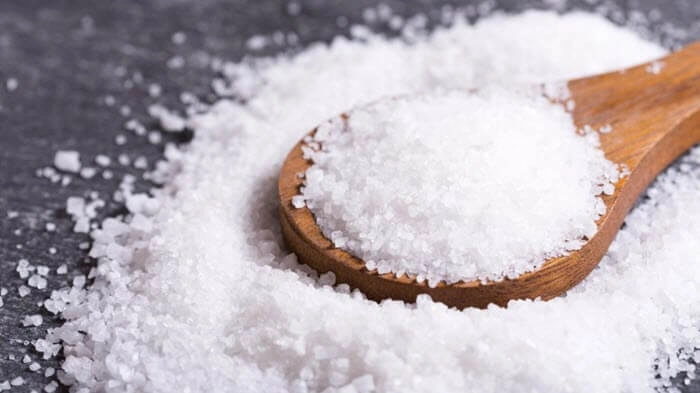 Salt is one of the most common kitchen ingredients, primarily available in homes. Among the list of alternatives of accent seasoning, salt is one of the best. When compared to accent seasoning, salt contains 60% more sodium.
Sea salt is the most favorable among its group. Some other verities of salt like Korean bamboo salt, sulfuric Indian black salt, china salt, and kosher salt, etc also make your foods tasty.
As salt contains a high percentage of sodium, which is not for a healthy heart condition, salt substitutes can also be an excellent replacement for accent seasoning.
8. Soy Sauce
Soy sauce also replaces Accent Seasoning in a good way. We frequently see bottles of soy sauce on restaurant tables.
Fermentation of soybeans, brine, roasted grain, and aspergillus sojae molds form it. It has a strong umami flavor and adds a deep savory flavor to meat, fish, rice, pasta, and vegetables. It helps in the digestion process.
9. Homemade Accent Seasoning
Besides these exclusive products, if you still need another level magical thing as an accent seasoning substitute, you can easily prepare one in your kitchen by following a few easy steps.
Here I am sharing a wonderful seasoning recipe with you that can give mouth-watering flavor to your dish. This recipe is for four people; you can increase or decrease the amount of ingredients as per your need.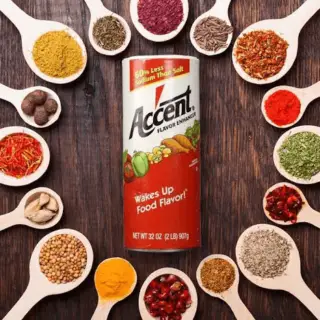 How to Make Accent Seasoning (MSG Free)
The easiest homemade accent seasoning recipe without MSG.
Ingredients
3 tablespoons of garlic powder
3 tablespoons of onion powder
1 tablespoon of thyme
2 tablespoons of table salt
3 tablespoons of chili powder
3 tablespoons of black paper
1 tablespoon of bay leaf
1 tablespoon of sweet basil
5 tablespoons of cayenne powder
Instructions
Carefully mix all the ingredients until they ultimately blend into each other and give a beautiful uniform color at a glance.
Nutrition Information:
Yield:

3
Serving Size:

1
Amount Per Serving:
Calories:

109
Total Fat:

3g
Saturated Fat:

1g
Trans Fat:

0g
Unsaturated Fat:

2g
Cholesterol:

0mg
Sodium:

51002mg
Carbohydrates:

22g
Fiber:

7g
Sugar:

2g
Protein:

5g
That's all you need to do. Your homemade seasoning is ready. This self-prepared seasoning is an excellent combo with veggies, salads, beans, sauce, meat, rice, casseroles, soup, and gravies.
FAQs About Accent Seasoning
Is accent MSG?
Accent or accent seasoning is a kind of MSG, which contains MSG as the primary ingredient. However, it also contains a lot of other ingredients mentioned above.
Is accent seasoning salt?
Accent seasoning is not a kind of salt, but it contains salt as one of its ingredients. It's a good substitute when your salt is running out.
Is accent bad for you?
Accent seasoning mainly contains an excessive amount of MSG which is not good for human health as it can cause numbness, dizziness, severe headache, nausea, skin rash, lethargy (sleepiness), and intense thirst.
Is accent seasoning gluten-free?
Yes, accent seasoning is gluten-free, but you'd better not use it too much because the MSG in it is not good for your health.
Conclusion
As health is wealth, we can't compromise on it. If we have some excellent options besides Accent seasoning, then why don't we go for them?
There are so many accent seasoning substitutes available in stores that make your food delicious and help you maintain good health. Just grab the one out of the box and enjoy it.
Related Posts