A tangy, zesty citrus seasoning can be an absolute addition to your daily meal. Lemon Pepper seasoning provides you with just the perfect touch of tanginess. A lively and fresh citrus flavor mixed with a hint of pepper flavor.
If you're out of lemon pepper seasoning, here are some lemon pepper substitutes that you should give a try.
What Is Lemon Pepper?
Lemon pepper is a seasoning that is usually made from cracked black peppercorns and granulated lemon zest. It is one versatile mix of spices used to season chicken, fish, meat, and also helps in seasoning other vegetarian meals.
You can also add spices like salt, garlic powder, celery, or onion powder as per your taste preference.
Lemon Pepper Seasoning Ingredients
Granulated lemon zest and cracked black peppercorns are the two main ingredients in lemon pepper seasoning.
However, there are also some kinds of lemon pepper include other ingredients such as sugar, salt, garlic, onion, citric acid, cayenne pepper, additional lemon flavor, and other spices.
What Does Lemon Pepper Taste Like?
Lemmon pepper combines the sharp, pungent flavor of peppercorn and the strong, sour citrus notes of lemon oil.
What Can You Substitute for Lemon Pepper
1. Lemon Thyme
Lemon thyme is also known as citrus thyme. The plant resembles English thyme in appearance, however, the two have distinct flavor and aroma. Lemon thyme is high in the citrus compounds limonene and thymol. It is a component of the mint family and has a lovely aroma.
It is thyme with a natural lemon flavor that makes it a perfect salt-free substitute for lemon pepper. Herbs add to the flavoring of the dish, and you can add as much as you would've added the lemon pepper.
To replace lemon pepper with lemon thyme, use double the quantity of lemon thyme called in your recipe. You can also add black pepper to the Lemon Thyme for creating a more lemon peppery taste.
It will, however, lack the acidity of lemon zest. Because it has thyme undertones, it is best utilized in luscious meals. Taste as you go as you add the thyme to the mixture. You won't end up with more than you require this way.
Tip: Because lemon pepper has a thyme flavour, it's best to use in savory dishes.
2. Shichimi Togarashi
Shichimi Togarashi (nana-iro tōgarashi) is a common Japanese spice that is a rub made of a mixture of nearly seven spices. It contains poppy seeds, crushed sanshō (Japanese pepper), roasted orange peel, black sesame seeds, white sesame seeds, hemp seeds, nori (seaweed), and other spices including such ground ginger, chilies, nori (seaweed), and poppy seeds.
The citrus flavor of the peppercorns and orange peels makes it an excellent replacement for lemon pepper spice.
The spice blend's lemony tones, along with the pepper punch, create a terrific balance to any dish. Noodles, shellfish, grilled meat, and soups all benefit from the addition of shichimi togarashi. You may use Shichimi Togarashi in the same way you would with lemon pepper.
3. Curry Powder with Lemon
Most of the curry powders consist of crushed pepper in them. Adding lemon zest to it can provide a resembling flavor of lemon pepper.
Lemon curry powder works well in stews, casseroles, soups, and even rubs when used in place of lemon pepper in a few recipes.
Because this curry powder contains Turmeric, it will affect the color of your meal. If the color of the dish is significant to you, while making this replacement, make sure to use equal amounts of lemon pepper spice and lemon curry powder.
4. Lemon Thyme with Minced Onion
Adding minced onion to your lemon thyme on your food can be a perfect mix to substitute for lemon pepper.
If finely minced onions are left to rest for about 5 minutes, they will have a somewhat peppery and spicy flavor that mimics black pepper. You can use either shallot onions or white onions as they provide much similar to those peppers.
Lemon thyme has a citrus flavor that can substitute lemon pepper. It smells like lemon and has flowery and citrus overtones.
5. Dry Mango Powder
In India, dry mango powder, also known as amchur powder, is a widely used spice. It's commonly used to add flavors to curries, marinades, soups, and other dishes.
Dry mango powder has a sour taste comparable to tamarind and tenderizing properties similar to lime juice. It gives barbequed food a wonderful taste.
With the addition of a pinch of pepper, it may be used as a great substitution for lemon pepper.
You may like: 12 Dried Mango Powder (Amchur) Substitutes
6. Fresh Lemon Juice
Fresh Lemon juice can also be used as a lemon pepper seasoning substitute since it has a similar citrus flavor. When using lemon juice in a marinade recipe, it works nicely as a replacement.
The juice acts as a source of juicy flavor while maintaining the taste that the lemon pepper spice provides. The disadvantage is that this substitute will best be suitable for liquid recipes. It will not work if there isn't enough area for the liquid. It can, however, also use this as a sauce foundation.
Although lemon juice can't be used to make lemon pepper seasoning, it can also make your food tasty.
Keep in mind that other citrus fruit extracts like oranges, limes, and mandarins can also be used for citrusy flavors.
7. Homemade Lemon Pepper Seasoning
Lemon Pepper is a hot sauce made with lemon zest, ground black peppercorns, and a dash of salt. Other spices, like garlic or celery seed, might be used to improve the flavor.
If you don't like the above options, then why not make your own lemon pepper seasoning?
To make your lemon pepper seasoning, combine 1/2 teaspoon dried lemon zest, 1/4 teaspoon salt, and 1/4 teaspoon black pepper.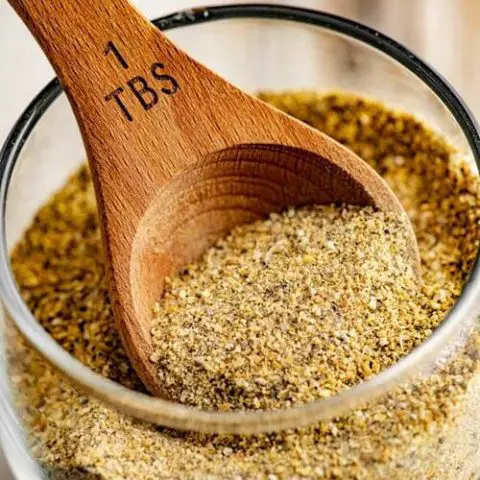 Homemade Lemon Pepper Seasoning
Your ultimate guide on how to make lemon pepper seasoning.
Ingredients
½ teaspoon dried lemon zest
¼ teaspoon salt
¼ teaspoon black pepper
Instructions
Start by taking a handful of black peppercorns and crushing them.
In a mixing bowl grate some lemon zest from 6-8 lemons.
Mix them and add salt as per your living enhancing flavor, adding extra spices of your choosing.
To achieve the desired flavor, use the precise amounts you would if you were using lemon pepper.
Nutrition Information:
Yield:

4
Serving Size:

1
Amount Per Serving:
Calories:

0
Total Fat:

0g
Saturated Fat:

0g
Trans Fat:

0g
Unsaturated Fat:

0g
Cholesterol:

0mg
Sodium:

132mg
Carbohydrates:

0g
Fiber:

0g
Sugar:

0g
Protein:

0g
Since it is created to your requirements, this alternative for lemon pepper spice works wonderfully.
You can increase the amount of lemon in your recipe if you want more lemon than pepper. You may use equal quantities of the DIY blend because it is so familiar.
Recipes with Lemon Pepper & Its Substitute
You can use any of the above substitutes to make the following dishes.
Lemon Pepper Wings
---
Lemon Pepper Chicken
---
Lemon Pepper Sauce
---
Conclusion
Lemon pepper is a versatile flavor that goes well with a variety of foods. When it is not available, you may use various replacements that have a similar flavor to the lemon pepper.
Lemon pepper is mainly made out of black pepper and dried lemon zest, with a few more components thrown in for good measure. You may make your seasoning, lemon thyme, or even lemon enriched curry powder to use in place of the original.
To find the perfect substitute for lemon pepper for the dish, you must focus on the type of dish you're preparing.
Posts About Seasoning