You may be used to thinking of potstickers (jiaozi [1] for you food purists out there) as something you wolf down before your sesame chicken or chow fun arrives.
But these hearty, meaty dumplings are more than filling enough to make the main course by themselves.
If you're gathering ideas for what to serve with potstickers at your next Asian-inspired dinner party, look no further than these scintillating sides.
What to Serve with Potstickers for Dinner/Launch?
The question of what to eat with potstickers is an infinitely open-ended one.
It's a bit like asking, "What should I do today?" or "How should I spend my tax refund?" A hundred people will give you a hundred different answers, and none of them, strictly speaking, will be wrong.
How on earth are you supposed to narrow the nearly endless possibilities?
To make things easier for you, we've come up with a diverse array of selections that could provide the finishing touches for your dumpling pièce de résistance.
Any one (or two, or five) of these dozen-plus delectable dishes is guaranteed to make an exquisite accompaniment for a piping hot platter of palate-pleasing potstickers.
So, take your pick from these good sides for potstickers:
1. Soup
When enjoyed correctly (read: by the truckload), potstickers are thoroughly satisfying.
A piping hot cup of egg drop or hot and sour soup may be just the thing you need to diversify your flavor profiles and fill in the empty space in your stomach without putting you too far over the top.
2. Egg Rolls
Potstickers and egg rolls are indeed a match made in heaven—or at least the starters menu of your favorite Chinese joint.
They're similar enough to play off one another perfectly yet still different enough to be distinct in taste and texture.
3. Spring Rolls
Spring rolls are a lighter, more vegetable-centric alternative to the almighty egg roll. It's a good side to eat with potstickers.
Spring rolls are meat-free, contain significantly fewer calories, and offer the crave-able crunch that your dumplings are missing.
They're also the most appetizing way imaginable to get more cabbage in your diet.
4. Fried Rice
Come on. Is there a more obvious pairing than potstickers and fried rice?
That fluffy mound of gussied-up grains serving as a pillow for those tantalizing pockets of minced pork and pungent scallions? We didn't think so. Best friends forever.
5. Lo Mein
In this blogger's humble opinion, there's almost literally nothing better than homecooked lo mein noodles fresh out of the wok—"almost" being the operative word.
Half a dozen or so dumplings definitely make it better. Dumplings always make everything better.
6. Edamame
Edamame goes well with potstickers. It's a tremendous choice for multiple reasons.
First, it's a cinch to steam up in a hurry. Secondly, it's highly nutritious, with loads of protein, fiber, and antioxidants packed into a single small serving. Lastly (and most importantly), it's tasty.
What more could you ask for from a side?
7. Vegetable Stir-Fry
Seeing as how there's already meat in the dumplings (assuming you're enjoying them the old-fashioned way), a lovely wok-seared vegetable medley will provide the balance your meal needs to go from merely great to "gadzooks!"
Yin and yang, if you will.
8. Asian Coleslaw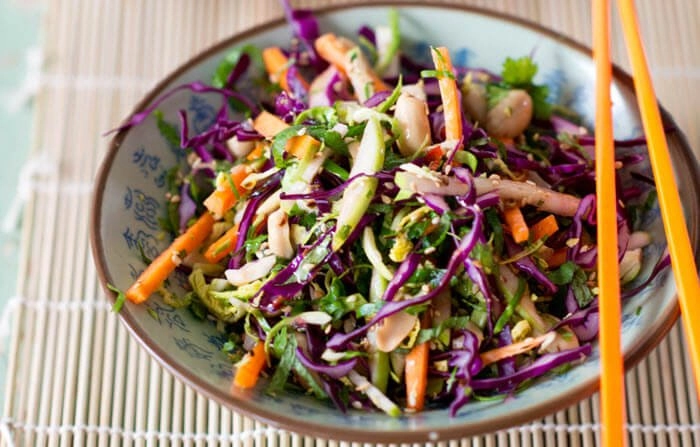 Speaking of yin and yang, this side dish is all about the harmonious interplay of opposites.
You get the warm, chewy bite of the dumplings and the cool, fresh crunch of the cabbage and other assorted add-ins mingling in a mouthful that's downright divine. Yeah, it's that good.
9. Tempura Green Beans
What happens when you take an already addictive veggie, then batter, deep-fry it, and serve it with a side of sweet chili sauce or homemade Sriracha mayo [2]?
Your taste buds burst faster than baozhu, and your mouth starts watering like the Yangtze. Don't say we didn't warn you.
10. Chinese Broccoli
What better way to complement a uniquely Chinese dish like potstickers than with a uniquely Chinese green?
Chinese broccoli is earthier and more delicate than its Western counterpart, but no less delicious when cooked properly and tossed with a sweet and savory dark sauce.
Eating your vegetables has never been this fun.
11. Chicken Wings
We're kidding, right? Actually, no. Everybody loves chicken wings, including, presumably, the inventors of the potsticker.
We're confident they would appreciate the handheld convenience, culinary artistry, and imminent edibility of a good drumstick.
12. Char Siu
Char siu is a traditional Chinese barbecue that calls for slow-roasted, premium cuts of meat, a sticky sweet glaze, and a liberal amount of five-spice powder.
But we just like to think of it as comfort food, plain and simple. We defy you to think of a pairing more comforting than potstickers and barbecue.
13. Chinese Spare Ribs
You thought this list was only going to include one type of barbecue? Think again.
The world's greatest spare ribs (sorry, St. Louis) are just begging to be brought together with potstickers as part of a Far East finger food extravaganza.
Just don't forget to put out plenty of napkins.
14. Steamed Custard Buns
Because you're going to need dessert, after all. If you've got any room left, Cantonese-style custard buns (nai wong bao) can cap off your dinner in the yummiest way possible.
They are popular to eat with potstickers in China.
These irresistible pastries start with starchy dough, filled with rich vanilla custard and steamed to melty perfection.
15. Fried Sesame Balls
Fried sesame balls, or jian dui, are a customary teatime snack in China, Taiwan, and other parts of East Asia. They also work nicely as a sweet post-dinner nibble.
If you're keen on making them yourself, keep in mind that you'll need a few specialty ingredients like glutinous rice flour and lotus paste.
How to Make Potstickers
Potstickers are a great way to enjoy a meal.
They come in all shapes and sizes, from the traditional dumplings that you can order at your favorite Chinese restaurant, to more modern versions with an updated twist.
Here is a video to show you about how to make potstickers from scratch so that they taste authentic!
FAQs About Potstickers
What is a potsticker?
Potstickers are a type of dumpling that is typically boiled or fried and served with a dipping sauce.
They can be made from an assortment of ingredients, but the most common ones include ground meat, cabbage, garlic chives, ginger root, scallions and soy sauce.
There are many different types of potstickers which vary in size as well as shape. Many people find that this dish is very similar to wontons because they have the same fillings as well as wrappers.
Potstickers are not perogies, the side dishes for potstickers may not be perfect for perogies. so you'd better check for the sides to serve with perogies separately.
Are Potstickers and dumplings the same?
Potstickers are a type of dumpling that is pan-fried or deep-fried.
They are traditionally filled with meat and vegetables, but can also be found filled with vegetarian options like tofu. Potstickers can vary in size from bite-sized to about the size of your palm.
Dumplings on the other hand are boiled or steamed instead of being cooked by frying oil. Dumplings usually have more dough than potstickers which makes them denser and sturdier.
Further reading: Steamed vs. Fried Dumplings: Differences to Know
What sauce to serve with potstickers?
Potstickers are a carb-filled, finger food favorite. They are easy to make and can be served with many different sauces or toppings.
What's the right sauce for potstickers?
It depends on how you plan on eating them! If you're eating them as part of an Asian-inspired meal, try soy sauce alongside ginger, garlic, rice wine vinegar and sesame oil.
Want to serve these little guys as appetizers? Try sweet chili sauce or hoisin sauce!
What to serve with pork potstickers?
The perfect meal to eat with pork potstickers is a side of rice, soy sauce, and hot chili oil.
The rice will sop up the delicious broth left on your plate by the dumplings and sauces like soy sauce or sriracha are great for adding that extra flavor.
If you're feeling adventurous, try mixing some of these ingredients together into a dipping sauce!
What goes well with chicken potstickers?
Chicken potstickers are popular in Asian cuisine.
Pair them with rice noodles, fried tofu or shrimp and you have a complete meal that is light, healthy, and absolutely delicious!
You can also serve this dish with steamed vegetables for a vegan option.
Conclusion
Clearly, you've got no shortage of options when it comes to figuring out what to serve with potstickers for dinner.
The neat thing about the dishes listed here is that they don't have to be an "either/or" proposition—you're free to mix, match, and munch as you please.
No matter what particular permutation you decide on, there's no way you're not going to end up with an epic meal.