Focaccia is a tasty flat Italian bread, typically flavored with herbs and olive oil.
The texture of the bread is slightly spongy and usually contains tons of little air pockets. Focaccia works for sandwiches and can even be your main course!
If you decide to have focaccia as your main course, you might be wondering what side dishes pair well with it. Let's look at some of these delicious options!
What to Eat with Focaccia?
If you don't want to eat focaccia by itself, there are plenty of tasty sides you can make to go with it. Most dishes are easy to make and require only a few ingredients.
Here are some of the best side dishes that go with focaccia.
1. Salad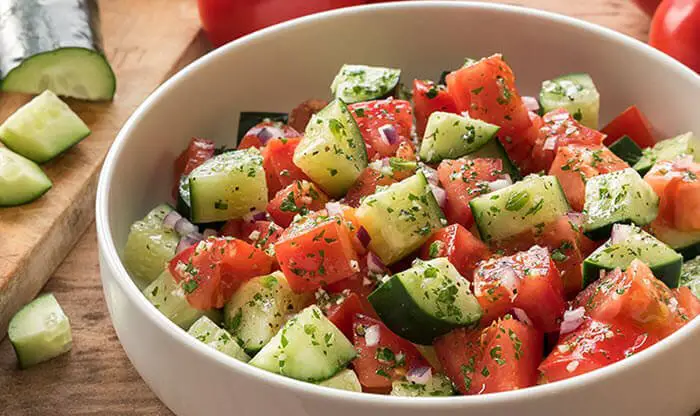 Adding some crunchy greens to your focaccia bread can make for a nice and refreshing snack. Fresh salad greens with a tangy vinaigrette go great with focaccia.
The best part is that you can make salads quickly because they require no cooking!
2. Hummus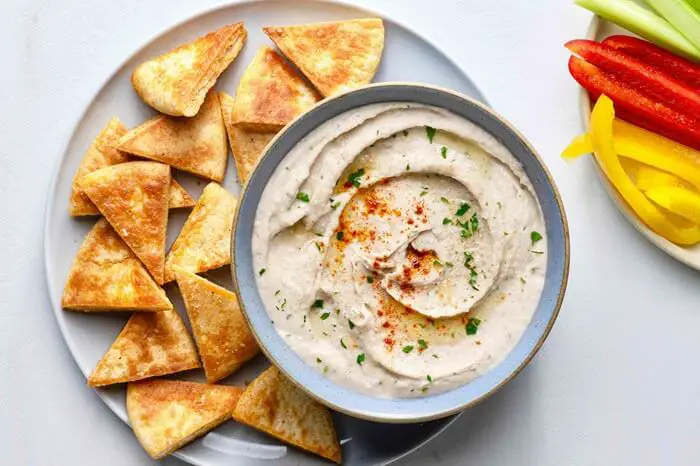 You can make your hummus with chickpeas, olive oil, garlic, and herbs. You can also go to your local grocery store and buy some.
Bread, in general, goes great with hummus. Since focaccia and hummus usually share common ingredients like olive oil and herbs, they go together even better.
3. Mashed Potatoes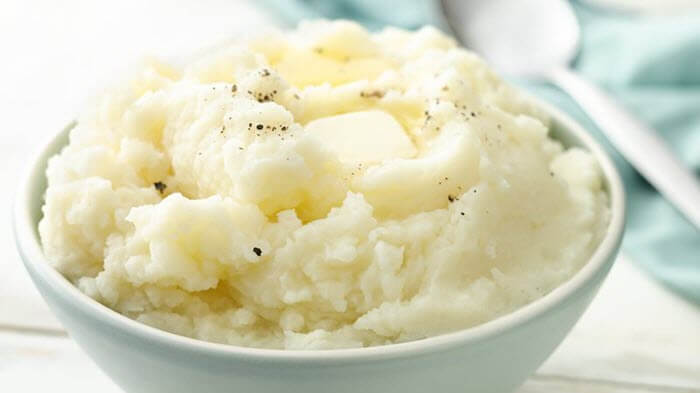 Many people love potatoes because they go with almost any meal. Focaccia tends to be a combination of both soft and crispy, so it contrasts with smooth mashed potatoes.
Spreading creamy mashed potatoes on the focaccia is the best way to enjoy it.
4. Sautéed Broccoli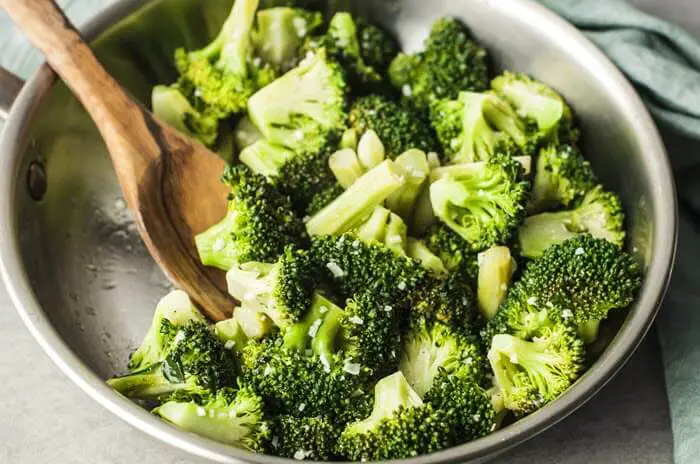 Eating sautéed broccoli with garlic and olive oil adds greens to your focaccia meal. Not only does sautéed broccoli taste great, but it's also healthy for you.
Keeping the broccoli a little crunchy is a nice textural change to the soft focaccia.
5. Fried Eggs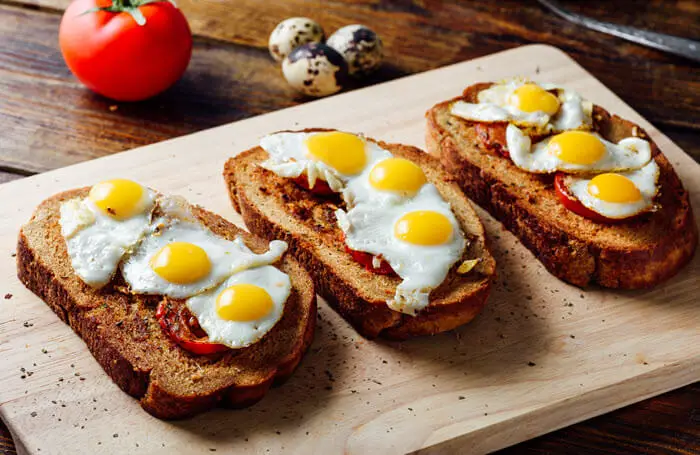 You can enjoy focaccia for breakfast. It's a useful substitute for toast and goes great with eggs.
You can cut the focaccia open and make a little egg sandwich to get both foods in one bite.
6. Charcuterie Board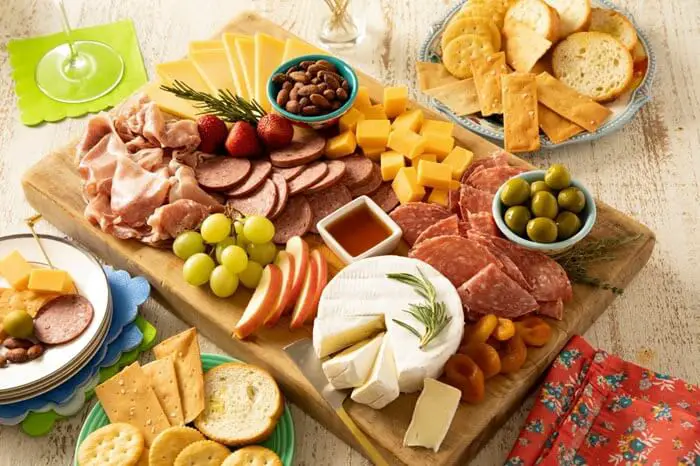 Meats and cheeses will always go perfectly with bread. Make a beautiful charcuterie board with cold cuts, cheeses, olives, nuts, and fruit to go with your focaccia.
If you're having this meal for dinner, enjoy a glass of wine.
7. Soup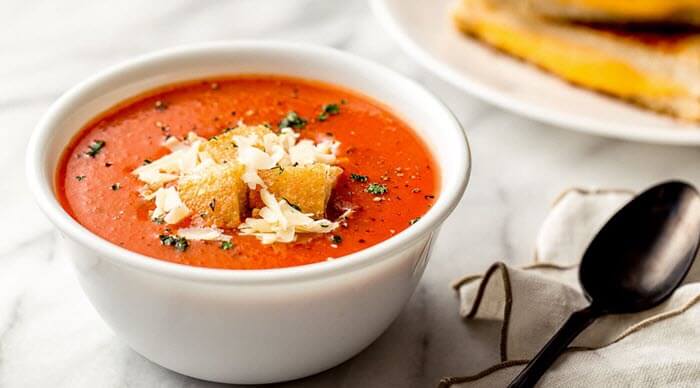 Bread and soup are popular pairings. Focaccia goes best with soups such as tomato bisque or french onion soup.
You can use the focaccia to make a melty grilled cheese or dip it in the soup to get a delicious bite.
8. Steamed Seafood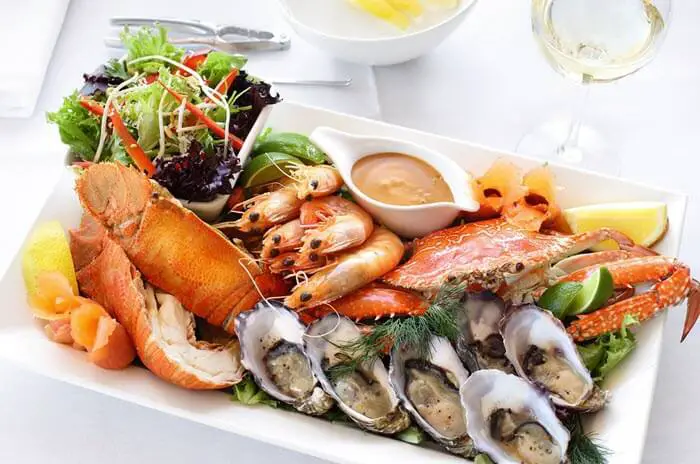 Steamed shellfish and shrimp taste delicious with focaccia bread.
Delicate shellfish like mussels and scallops taste great and don't overpower the subtle taste of the focaccia. The tastiest part is dipping the focaccia bread in the sauce or seafood juice to soak it up.
9. Caprese Salad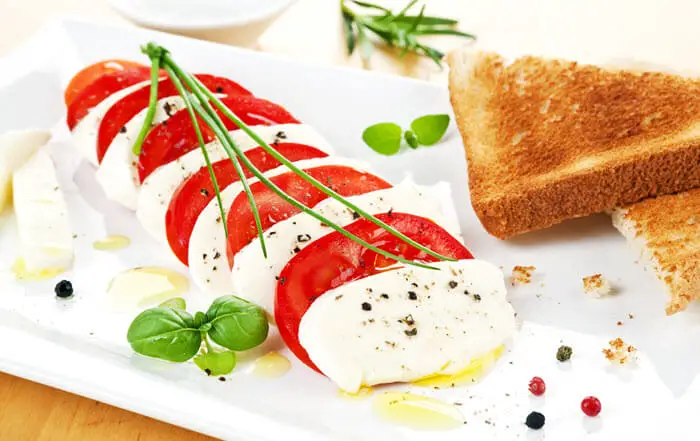 Again, you can't go wrong with cheese and bread! A Caprese salad with fresh mozzarella, tomatoes, and basil pairs well with focaccia.
Add a drizzle of olive oil, balsamic vinegar, salt, and pepper to your Caprese salad to make the dish extra flavorful.
10. Braised Greens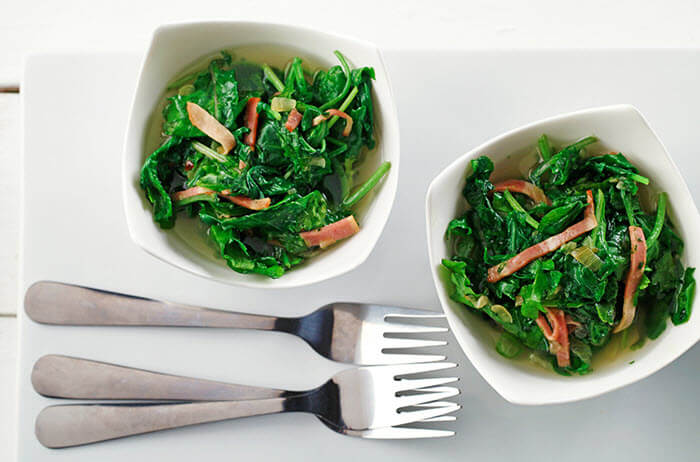 Braised greens such as spinach, collard greens, and kale with garlic and olive oil taste delectable with soft, herbed focaccia bread.
Braised greens are another delicious alternative if you're looking for something on the healthier side.
11. Olive Tapenade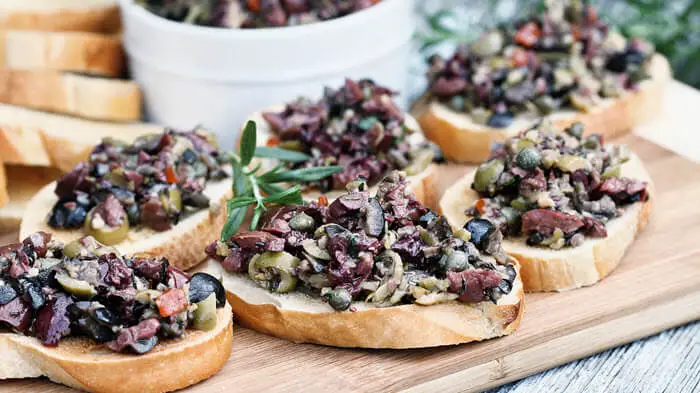 Focaccia is a great base to use along with other food. Spreading a little olive tapenade on top of your focaccia will add another yummy layer of flavor for your tastebuds.
Olive tapenades are usually easy to make with olives and capers.
12. Baked Feta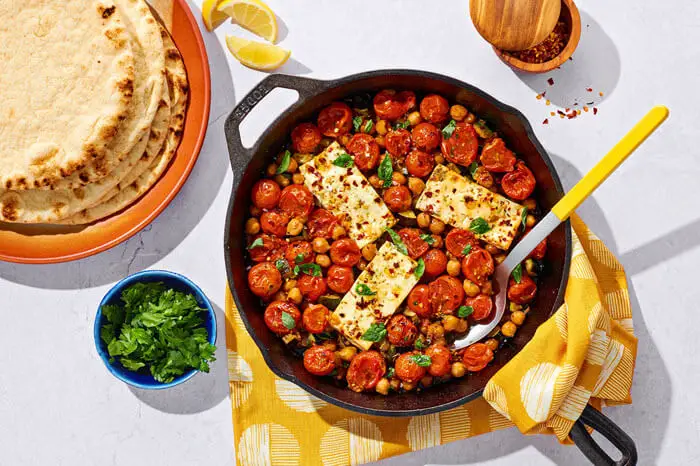 Baked feta is a delightfully creamy and delicious addition to your focaccia. You can bake the feta with some herbs or add tomatoes and garlic to it.
Feta is a flavorful cheese, adding tanginess to go along with your hearty focaccia.
13. White Bean Salad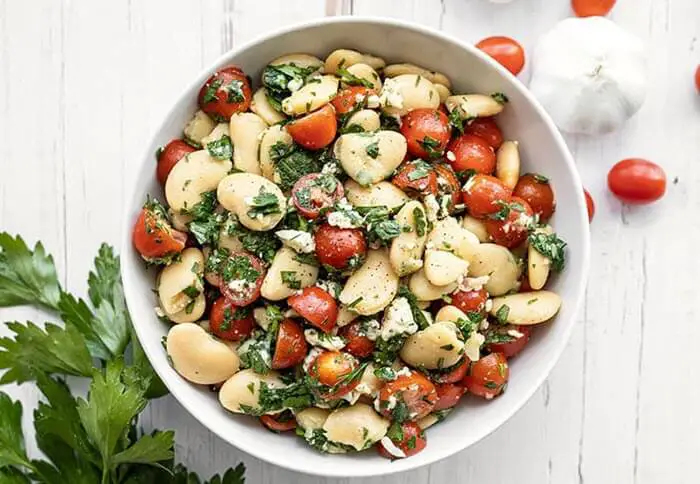 Beans are a great source of protein, making them a great addition to your meal. White beans have a whopping total of 17 grams of protein [1] per cup!
White bean salad is a light yet filling side dish you can eat alongside focaccia. Vinegar and olive oil usually make up the dressing, which is tasty for dipping your focaccia in.
Other Choices
14. Pasta puttanesca (pretty strong flavor)
15. Pan-seared steak (tasty & make you full feeling)
16. Olive oil and balsamic vinegar (2 parts olive oil with 1 part balsamic vinegar)
17. Cioppino (a popular midnight food)
18. Shakshuka (quick, easy, and healthy)
19. Roasted chicken (full of protein)
20. Short rib ragu (for a heavy main meal)
21. Tandoori meatballs (goes well with focaccia for launch)
22. Onion dip (ideal for parties)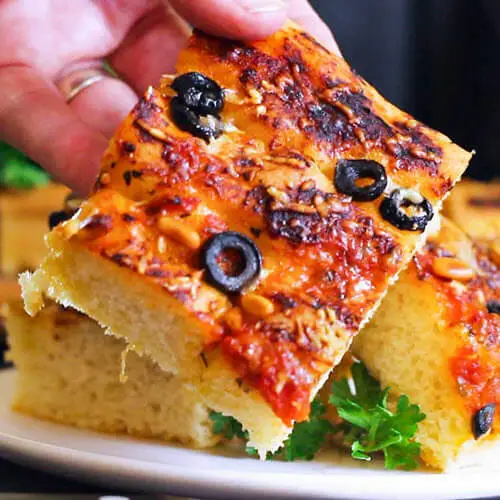 Homemade Focaccia Bread Recipe
Prep Time:
2 hours
25 minutes
Total Time:
2 hours
55 minutes
Your shockingly easy no-knead focaccia recipe!
Ingredients
1 package of yeast
1 ¾ cup of warm water
5 cups of flour
1 tablespoon of sugar
1 tablespoon of salt
1 cup of olive oil
Instructions
1. Mix the warm water and yeast, letting it rest and bubble for about 15 minutes.

2. In a separate bowl, combine the flour, salt, and half the olive oil. Add the yeast mixture to this bowl. Mix until you get a soft dough.

3. Knead the dough a few times on a floured surface.

4. Coat your bowl with olive oil, place the dough in the bowl, and cover it. Let it rise for about an hour.

5. Coat a rectangle pan with olive oil and press the dough onto the pan. Stretch and press it until it fills the volume of the pan. Let the dough rise for another hour.

6. Preheat your oven to 425º F.

7. Coat your focaccia dough with olive oil, salt, and other herbs.

8. Cook the focaccia for half an hour.
Nutrition Information:
Yield:

10
Serving Size:

1
Amount Per Serving:
Calories:

425
Total Fat:

22g
Saturated Fat:

3g
Trans Fat:

0g
Unsaturated Fat:

18g
Cholesterol:

0mg
Sodium:

638mg
Carbohydrates:

49g
Fiber:

2g
Sugar:

1g
Protein:

7g
FAQs About Focaccia
Here are some common questions people have relating to focaccia.
Can you eat focaccia with pasta?
Yes, you can eat focaccia with pasta. Dipping your focaccia in pasta sauce is delicious.
Should focaccia bread be served warm?
Focaccia tastes and smells best when it's warm. However, you can eat it at any temperature.
Should I keep focaccia in the fridge?
If your focaccia doesn't have any vegetables on top of it, you can store it at room temperature for a couple of days. Refrigeration can slow down molding and spoilage bacteria [2] growth.
How do you heat focaccia bread?
To heat your focaccia, you can pop it on a baking sheet and put it in the oven until it's at your desired temperature.
Conclusion
You now have side dish ideas and a tasty focaccia bread recipe to try.
All that's left to do is cook. Bake some focaccia and try a side dish or two to have a mouth-watering meal everyone is sure to enjoy!