Tomato soup is a hearty, classic dish that pairs well with a wide variety of dishes.
To help you find your favorite side dish that goes well with tomato soup, we've listed the top options for you!
Things About Tomato Soup You Should Know
Tomato soup delivers a classic pick-me-up for all ages. This traditional American meal officially became an essential part of pop culture with Andy Warhol's iconic Campbell's [1] soup collection in 1962.
About 85 million cans of Cambell's soup are sold annually [2] in America.
1) What are the original ingredients?
A basic recipe for tomato soup often includes diced tomatoes, water or broth, onion (and sometimes garlic), as well as spices such as cumin, oregano and thyme.
2) What can you do with it?
Tomato soup can be served hot or cold. When served hot, it's often served with crusty bread and good cheese. When serving it cold, the soup is often served with a garnish of chopped lettuce.
3) Is tomato soup versatile?
Yes. Tomato soup can be used to make a variety of soups depending on the ingredients used.
Other variations on the dish include adding meat, vegetables and herbs, as well as adding a creamy ingredient such as crème fraîche. It can also be made with chicken stock instead of water or broth.
Side Dishes to Serve with Tomato Soup
Many people have their childhood favorite pairings with this comforting dish. Here are the top familiar and fresh suggestions for what to eat with tomato soup.
1. Grilled Cheese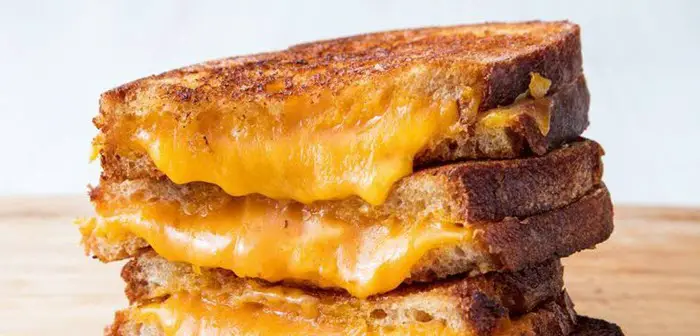 Like peanut butter and jelly, grilled cheese provides the beloved companion to tomato soup.
You can make grilled cheese on the stovetop by frying buttered pieces of bread with slices of cheese melting in between.
The most likely candidate for a grilled cheese sandwich is American cheese, but many cheese varieties like Monterey Jack, provolone, mozzarella, or cheddar also work well.
Many traditionalists eat grilled cheese without any additional ingredients. But we recommend adding delicious flavors that complement the gooey cheese. Avocado, bacon, or caramelized onions combine beautifully with grilled cheese.
2. Mozzarella Sticks
Mozzarella sticks are like the deep-fried cousin of grilled cheese. This added flavor and texture dimension adds a terrific complement to smooth, rich tomato soup.
You can pair mozzarella sticks with marinara sauce, so tomato soup provides a fresh alternative.
Deep-fried mozzarella sticks are a delicious treat. But there are healthier and easier ways to duplicate the flavor of mozzarella sticks at home.
Techniques like air-frying mozzarella sticks [3] deliver an unforgettable mozzarella stick flavor with reduced salt content.
3. Ceviche
Ceviche is a refreshing, South American seafood dish with lots of bright flavors. Cubed, fresh fish mixes with lemon or lime juice, gradually infusing citrus taste into the fish.
You can use varieties like halibut, mahi-mahi, or sushi-grade tuna for ceviche.
Additional raw elements like onions, diced mango or papaya, and herbs combine into a raw, fresh fish salad. This cold side dish provides a surprising and delightful flavor and temperature contrast when paired with tomato soup.
4. BLT
Bacon, lettuce, and tomato sandwiches appear on restaurant menus all across the United States.
The classic sandwich delivers a salty, creamy, and fresh bite that pairs perfectly with tomato soup.
5. Tuna Melt
Like the BLT, the famous tuna melt dominates lunch menus. If ceviche is a little too much fish for you, a tuna melt provides a friendlier way to combine robust tomato soup with savory fish flavor.
A tuna melt also delivers a lot of yummy, gooey cheese on this sandwich.
Consider a tuna melt as an alternative to the regular grilled cheese for another tasty choice for what to eat with tomato soup.
6. Entree Salad
Soup and salad offer a basic lunch option with almost unlimited combinations. Many different entree salads pair beautifully with tomato soup.
Consider a beet salad, featuring sweet, starchy beets paired with bitter arugula greens, funky feta cheese, and sweet mandarin oranges.
Such a salad provides a sweet pairing with acidic, savory tomato soup.
7. Baked Potato
A loaded baked potato and bowl of tomato soup satisfy appetites with this light lunch.
Additions for a baked potato vary, but we recommend bacon pieces, shredded cheddar cheese, chives, and sour cream.
8. Quiche
You probably associate quiches with breakfasts or brunches, but this savory egg dish delivers a delicious side dish any time.
Popular quiche recipes integrate ingredients like asparagus, ham, cheese, and onions.
Quiche can be a dense, savory meal. Tomato soup delivers much-needed acidity and freshness to this rich egg pie. Consider combining tomato soup and quiche for your next lunch.
9. Savory Scones
Scones aren't just for tea time! Swap lemon curd and whipped cream for tomato soup when you make savory scones. Scones deliver similar flavors as grilled cheese, quiche, or an entree salad.
You can pair these tastes in an adorable, bite-sized package for a fun choice of what to eat with tomato soup.
10. Potato Chips
Let tomato soup shine with the simple side dish of potato chips. There are dozens of varieties to try at your local grocery store with countless flavors available.
Today's unique, international chip flavors like ketchup or shrimp are everywhere in the United States, giving you even more combinations to try with tomato soup.
11. Roasted Vegetables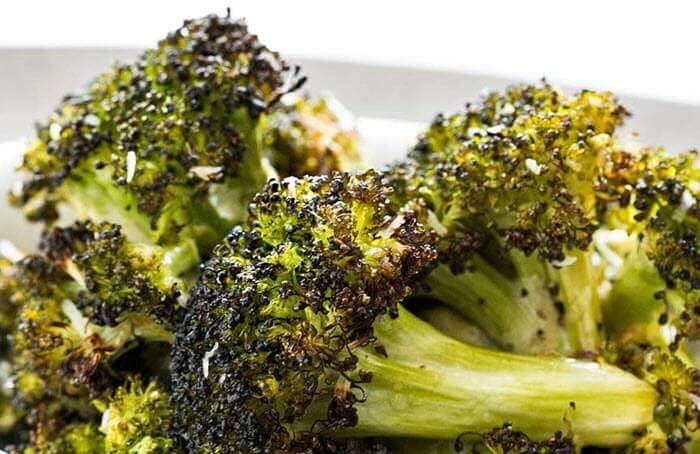 Enhance the deep flavors of tomato soup with slow-roasted vegetables like Brussel sprouts, broccoli, or carrots.
The hearty vegetables bring out the richness of tomato soup, especially if you're eating a roasted tomato soup variety.
12. Soft Pretzel
Balance rich tomato soup with a salty, briny pretzel for delicious flavor contrast. The irresistible twists of a soft pretzel are simply begging to be dipped.
Instead of bread or cheese, try dunking a pretzel into tomato soup.
Experiment with garlic or cheese-topped pretzels for even more dimensions of flavor.
13. Macaroni and Cheese
As the list demonstrates, nothing is better than gooey cheese and flavorful tomato soup.
If you're seeking a new way to try this combination, choose macaroni and cheese as your side dish.
The cheese sauce is simple to make at home using only milk, flour, and cheese, so homemade mac and cheese is an easier dish than you may think.
Other Side Dishes for You
14.
Shrimp avocado salad (a light refreshing side dish)
15. Greek salad (light and crispy)
16. Vegan grilled cheese sandwich (for vegans)
17. Hawaiian Grilled Cheese (for fans of pineapple on pizza)
18. Sausages
19. Salad and Corn (healthy & tasty)
Toppings for Tomato Soup
Tomato soup is very comforting and filling on cold days, but lacking in some flavor. Here are a few toppings to improve the flavor of your favorite soup.
Crunchy Toppings
Pretzels
Pumpkin Seeds
Tortilla Strips
Croutons
Creamy Toppings
Cheese
Sour Cream
Avocado
Toppings with High Protein
FAQs About Tomato Soup
Still, considering what to eat with tomato soup? Read on to learn more.
What meat goes best with tomato soup?
Bacon is frequently suggested as a delicious pairing with tomato soup, whether it is included in a loaded baked potato or sandwiches like grilled cheese or BLT.
Is tomato soup unhealthy?
Condensed tomato soup manufactured in cans delivers a large amount of salt with one serving. Too much salt in your diet can lead to heart disease or stroke.
Homemade tomato soup offers more opportunities for you to customize salt levels and other flavorings for a healthier alternative.
Can you freeze tomato soup?
Yes! Like many soups, it is very easy to freeze and reheat tomato soup. For best results, eat the frozen tomato soup within six months of freezing.
If your tomato soup recipe requires dairy, leave the dairy portion out when freezing. Add the milk or other dairy product while reheating and getting ready to serve.
Conclusion
Many people enjoy the taste of tomato soup but are at a loss for what to eat with it. To give you some ideas, we've compiled a list of different foods that go well with tomato soup
Now that you've had a chance to look at this list, you should be ready to start using it at your own dinner table!
Tomato Soup
You're going to love this tasty tomato soup recipe!
Ingredients
1 tablespoon butter, divided
1 1/2 tablespoons all-purpose flour
2 cups milk
2 tablespoons chopped parsley
1 pinch nutmeg, optional (gives it a nice flavor)
3 cups finely chopped tomato (peeled and seeded) or 2 beefsteak tomatoes, cubed (try to use Roma for the best flavor)
4 slices dark bread (about 1/3 inch thick each), quartered and toasted until golden brown and dried out
1 cup water (optional)
Salt to taste
Ground black pepper to taste
Instructions
1. Preheat the oven to 450 degrees.
2. Heat 1 teaspoon of the butter in a large saucepan over high heat, then add flour and stir constantly until bubbly and smooth.
3. Add milk and cook until thickened, stirring all of the time.
4. Add tomato, water, remaining butter, salt and pepper; simmer 15 minutes.
5. Serve with buttered bread on top.
Nutrition Information:
Yield:

4
Serving Size:

1
Amount Per Serving:
Calories:

198
Total Fat:

7g
Saturated Fat:

4g
Trans Fat:

0g
Unsaturated Fat:

2g
Cholesterol:

17mg
Sodium:

386mg
Carbohydrates:

28g
Fiber:

2g
Sugar:

10g
Protein:

8g