Jambalaya is a delicious southern dish that's a complete meal on its own.
But whether you're dining alone or serving a crowd, sometimes you want a little something more–after all, the right side dish can make a meal even more complete.
Are you not sure what goes with jambalaya?
Whether you're looking for something filling or light, there are plenty of delicious dishes that will pair well with this tasty dish.
42 Best Side Dishes for Jambalaya
What is traditionally served with jambalaya?
From hearty cheddar biscuits to refreshing cucumber salad, there's sure to be a side for jambalaya that'll satisfy your tastebuds.
Here are some of the best side dishes for jambalaya!
1. Corn Bread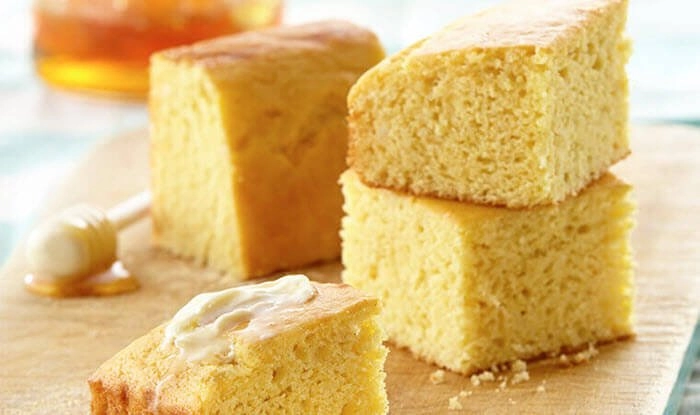 What bread goes well with jambalaya? It must be cornbread.
Whether you purchase it in a box or make it from scratch [1], some buttery cornbread and jambalaya can make a flavorful, traditional southern meal.
Mix in some toppings like jalapenos and bacon to make it even more delicious!
You may like: What to eat with cornbread?
2. Hush Puppies
These deep-fried cornmeal bites [2] are a classic side dish for jambalaya. Hush puppies are a great choice for when you're in a hurry, too; they're quick, easy to prepare, and full of flavor.
3. Cheddar Biscuits
Cheddar biscuits aren't a quick or easy dish, but they can make an excellent side if you have the time and effort to make them [3].
The mild and starchy flavor of these biscuits creates a perfect balance with the spices in the jambalaya.
4. Black Beans
Whether regular or refried, a serving of black beans can make a filling and nutrient-dense side dish.
You can top them with some sour cream or cheddar cheese to make them nice and creamy, or even mix them into the jambalaya!
5. Garlic Bread
It may seem like an odd combination, but some fresh garlic bread pairs surprisingly well with a dish of jambalaya.
You can serve the jambalaya on top of your garlic bread slices or use the bread to soak up the sauce.
6. Potatoes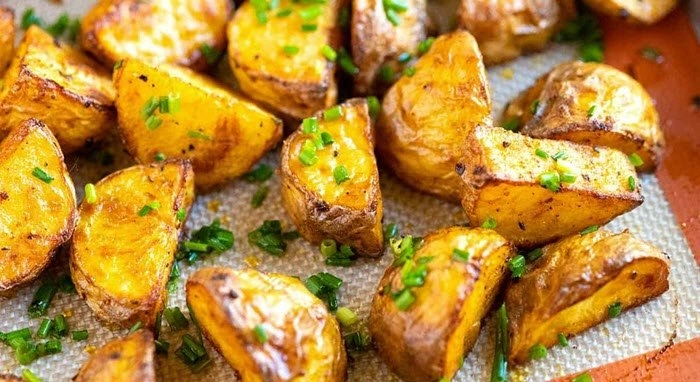 Baked potatoes, mashed potatoes, scalloped potatoes–no matter how you serve them, they can make your jambalaya meal super filling and delicious.
You can eat them on the side or even use your jambalaya as a baked potato topping!
7. Fresh Tossed Salad
Want something light to go with your jambalaya?
A freshly tossed salad with your favorite vegetables and some dressing can give your meal the perfect balance of freshness it needs.
8. Cucumber Tomato Salad
If you're not a fan of lettuce but still want the freshness of a tossed salad, consider a cucumber tomato salad instead.
Making it is pretty simple; just toss together some sliced cucumbers, red onions, and tomatoes with some olive oil or dressing, and it's all set to eat.
It's a good side dish for jambalaya especially for dinner.
9. Corn on the Cob
Corn and jambalaya are a pair of foods that go together perfectly.
To bring out all of the flavors of your corn on the cob, consider cooking it on the grill until the kernels are just slightly blackened.
Be sure to cover with plenty of butter and a dash of cajun seasoning, too!
10. Mexican Street Corn
Don't like the hassle of eating corn on the cob? You may want to try some Mexican street corn instead.
It's pretty easy to make, full of flavor, and most of all, it will go perfectly with your jambalaya.
11. Collard Greens
Like jambalaya, collard greens are a popular southern dish, so it should come as no surprise that these two go together perfectly.
In addition, these greens are full of nutrients like Vitamin C and fiber, so adding them to your jambalaya can make your meal even more complete.
12. Okra
Also known as lady's fingers, this vegetable is very nutritious. These two dishes are very popular:
Air fryer okra
Roasted cajun okra
It's most common to eat them chopped and deep-fried, but if you're looking for a healthier option, you could simply season and bake them instead.
13. Zucchini
Zucchinis are pretty abundant during the summer.
To put them to use, consider roasting or frying them and serving them as a tasty jambalaya side dish! They're full of nutrients, too–especially fiber and Vitamin C.
14. Green Beans
Some juicy, flavorful green beans can make an excellent side dish.
Season them lightly to keep it healthy, or mix in some pork or bacon to make it even more delicious.
They're pretty easy to make, too–on the stovetop or in the microwave is the quickest, but if you have the time, you can also prepare them in the slow cooker for a softer, tastier result.
15. Creamed Spinach
Many people turn their noses up at spinach, but creamed spinach [4] is another story.
With its soft and cheesy texture, picky eaters may forget they're eating vegetables.
The creaminess can also provide a perfect balance of flavor if your jambalaya tends to be spicy.
16. Roasted Eggplant
While it doesn't have a reputation for its strong flavor, some oven-roasted eggplant can add some texture and nutritional value to your meal.
You can cut it up into slices or simply dice it before roasting–just make sure you season it well!
17. Sweet Potatoes
Some mashed or roasted sweet potatoes can add a sweet and creamy touch to your meal.
If you're looking for an extra-sweet side dish, consider topping them with some honey, brown sugar, or even mini marshmallows.
18. Corn Maque Choux
This Louisiana dish [5] is one of the more common side dishes for jambalaya.
It has a delicious combination of flavors with corn, peppers, onions, cream, and plenty of seasoning.
You can make it sweet, spicy, or something in between. And no matter how you make it, it tends to be quick and straightforward.
19. Fruit Salad
Looking for a refreshing, dessert-like side dish for your jambalaya? A freshly tossed fruit salad might be what you're looking for.
The sweetness will balance out the spicy and savory of the jambalaya, and it'll add a boost of nutrients, too!
Other Side Dishes
Still haven't found your favorite side dish for jambalaya? Then consider the following options:
20. Crab balls
21. Roasted jicama
22. Cheesy Grits Fritters
23. Spicy roasted cauliflower
24. Air fryer brussels sprouts
25. Instant Pot Collard Greens
26. Spicy zucchini chips
27. Instant pot cajun corn on the cob
28. Roasted sweet potatoes and apples
29. Jalapeno and cheddar cornmeal biscuits
30. Cauliflower mac and cheese
31. String bean casserole with candied bacon
And some types of cornbread are also a good choice:
32. Easy Mexican cornbread
33. Cheddar sage cornbread
34. Crawfish jalapeno cornbread
35. Buttermilk cornbread muffins
36. Paleo cornbread
37. Vegan cornbread
38. Skillet cornbread
39. Cornbread salad
40. Gluten-free cornbread
41. Savory cornbread pudding with jalapeno and white cheddar
42. Gluten-free cornbread muffin bites
FAQs About Jambalaya
What wine to serve with jambalaya?
Pairing jambalaya with wine brings a heavenly combination to the table. Here are the 7 best wines to serve with jambalaya:
Chardonnay
Chenin Blanc
Rosé Wine
Prosecco
Rioja
Zinfandel
Shiraz
What salad to serve with jambalaya?
Fresh tossed salad and cucumber tomato salad serve well with jambalaya. They are very simple to make and will bring you a memorable experience.
What vegetable to serve with jambalaya?
Green vegetables can be good sides for jambalaya. Some of the most popular vegetables are:
Roasted Jicama
Creamed Spinach
Instant Pot Collard Green
Air Fryer Okra
Broccoli Salad
Spicy Zucchini Chips
What type of shrimp to serve with jambalaya?
Garlic butter shrimp can be a perfect side dish to any main dish. And it especially pairs incredibly well with jambalaya.
What appetizer goes with jambalaya?
A seafood appetizer such as shrimp goes perfectly with jambalaya. Grilled shrimps will be the best way to make your jambalaya have a summery feel.
Final Thoughts
Jambalaya is a filling and delicious dish on its own, but a tasty side can make it even better.
If you're unsure what to serve with jambalaya, there are plenty of delicious options to choose from.
Whether you want something starchy or refreshing, sweet or spicy, there's something out there that will complete your jambalaya meal!
Resources