Torte and tart sound alike and have similar purposes in the culinary industry but are very different.
Both are delicious desserts with unique tastes that can be sweet or savory. However, they differ in how they look, taste, and bake.
Let's look at how they differ, on what occasions they are appropriate, and the delicious recipes they create.
What Is a Torte
Torte is a multi-layered cake that is richer in flavor, consisting of various fillings, such as creams, jams, fruit, mousses, or icing.
In Germany, tortes are cakes. Italians refer to tortes as round cakes or bread.
One of the oldest desserts in European cuisine, this delicious dessert was created when sugar became widely available. Originally it was used for banquets because of its luxurious ingredients like almonds, chocolate, and whipping cream.
In the 20th century, it was brought to America, and it gained popularity. Since then, it has become a National Pastry of France.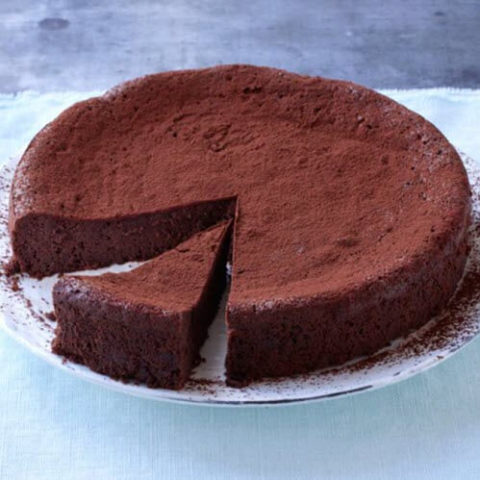 Flourless Chocolate Torte
Total Time:
1 hour
5 minutes
Are you a chocolate lover? This flourless chocolate torte will hit the spot.
Ingredients
1 1/2 sticks, or 12 tablespoons of unsalted butter, cut into small pieces, plus more for the pan
12 ounces of chopped bittersweet chocolate
Six large eggs
1/2 cup of sugar
A pinch of kosher salt
Unsweetened cocoa powder for dusting
Instructions
350-degrees is all this dessert needs to bake.
Prepare a springform pan with butter. In a heat-proof container, mix the chocolate and butter.
Simmer some water on the stove, place the chocolate/butter mix above the water in the saucepan, and stir until it melts and combines. Set the bowl aside and let the mixture cool slightly.
Beat the eggs, sugar, and salt in a large bowl for about five to eight minutes or until the ingredients thicken and look pale.
Gently combine half of the melted chocolate mixture with the latter, then the remaining portion. Pour the batter into the buttered pan and bake for about 35-45 minutes or until the top is soft but no longer shiny, barely jiggles, and dry inside.
Remove the pan from the oven and allow the torte to cool completely. Remove the springform ring, transfer the dessert to a platter, and dust with cocoa powder.
Now you are ready to serve your torte to guests or enjoy your chocolate fix by yourself.
Nutrition Information:
Yield:

9
Serving Size:

1
Amount Per Serving:
Calories:

471
Total Fat:

38g
Saturated Fat:

23g
Trans Fat:

0g
Unsaturated Fat:

14g
Cholesterol:

165mg
Sodium:

67mg
Carbohydrates:

22g
Fiber:

6g
Sugar:

12g
Protein:

10g
What Is a Tart
A tart is a type of raw fruit pie or dessert that has a thick layer of sweetened fruit "filling" and a thin layer of fine-textured, usually crisp, cookie crust.
The fruit filling can be made with berries, whipped cream, apples, and vanilla ice cream.
If you like pies, tarts are very similar, except they have lighter crusts and are usually smaller, about one inch high.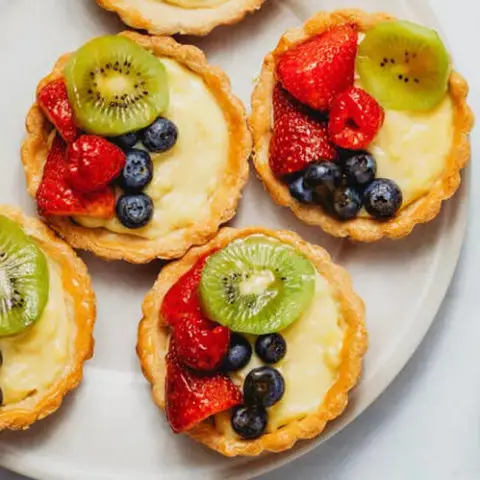 Fruit Tart With Pastry Cream Filling
Prep Time:
1 hour
25 minutes
Total Time:
1 hour
40 minutes
This recipe creates delicious mini fruit tarts that are light on the waist and tasty to the palate.
Ingredients
¾-pound (half a batch) of short-crust pastry dough (see below)
½-cup apricot or peach jam or red currant jelly
2 cups of pastry cream
3cups of fresh fruit
Instructions
These tarts bake at 400 degrees. While preheating the oven, make the pastry cream and crust.
For the crust, mix these ingredients until creamy: ½-cup unsalted butter and three ounces of cream cheese.
Gradually add one cup of all-purpose flour until a firm dough forms. Roll the dough into a ball, wrap it in plastic, and refrigerate for 15 minutes.
Use a rolling pin to smooth the pastry dough into an even ¼-inch thick sheet without overdoing it.
If using 4-inch tart pans, cut the dough about a ½ inch in diameter wider than the tins.
Press the dough into the bottoms and sides of the tins as tight as possible, then trim the excess dough with a rolling pin.
Line the filled tins with wax paper and place something heavy, such as dry rice or beans, on top to prevent the pastry from swelling in the oven.
Bake the shells for 15 minutes or until they are golden brown.
After removing the weights and allowing the pastry to cool, you should be ready to fill the shells.
To save time, consider preparing your glaze while the tart shells cool. Cook the jam and one tablespoon of water in a saucepan until it liquified.
Strain the fruit pieces from the glaze and set them aside. Fill the tarts halfway with pastry cream, pile the fruit on top, then brush your glaze over the fruit.
Chill them until you are ready to indulge.
Notes
Any fresh fruit will work well in this recipe. Perfect examples include strawberries, blueberries, kiwi, bananas, raspberries, and blackberries.

Applying a glaze over the fruit adds extra flavor and preserves the fruit. Red currant jelly creates a reddish glaze that goes well with the red fruit.
Nutrition Information:
Yield:

6
Serving Size:

1
Amount Per Serving:
Calories:

469
Total Fat:

19g
Saturated Fat:

8g
Trans Fat:

0g
Unsaturated Fat:

8g
Cholesterol:

70mg
Sodium:

466mg
Carbohydrates:

70g
Fiber:

4g
Sugar:

28g
Protein:

8g
Differences Between Torte and Tart
Tortes have sponge-cake layers while tarts do not. Several other characteristics set them apart.
| | | |
| --- | --- | --- |
| | | |
| | Made with little or no flour | |
| | Creams, jellies, frostings, fruits, and more | |
| | Top crusts with ground nuts, almonds, breadcrumbs, or meringue | |
| | | Pan with a removable bottom |
Flour
Torte is often a flourless dessert, while the pastry in tarts consists of traditional ingredients, including flour, butter, sugar, and water.
Fillings
Dessert tortes include layers with creams, jellies, puddings, frostings, and fruits. For a savory treat, tortes consist of crepes with cheese, meat combinations, or roasted vegetable fillings.
Sweet tarts consist of one filling of fruit or custard. Like their counterparts, savory includes meat, cheese, and vegetables.
Crust
In tortes, you will find ground nuts, almonds, breadcrumbs, or meringue instead of self-rising flour, making the dessert a heavier texture.
In comparison, tarts have bottom crusts, shallow sides, and are open at the top.
Baking Pan
Tortes bake in a springform pan.
Since the pastry of a tart is fragile, it should bake in a pastry ring or pan with a removable bottom.
Frequently Asked Questions
These questions may help clear up the confusion between the two.
What Makes a Torte Different From a Cake?
Tortes are unlike traditional cakes in their size and shape. They are flatter and shorter (two to four inches) since they do not consist of ingredients that make them rise.
Is Cheesecake a Torte?
No. Because it has no top crust or layers, it resembles a tart.
Is Tart a Dessert?
Tarts that are sweet are desserts, while savory versions make great appetizers.
Is Tart a Pie?
A tart is similar to a pie by looks, tastes, and baking. However, the pie crust is thin and crispy.
Most pies have a top crust layer, while tarts have a bottom crust with shallow sides and are left open at the top.
Final Thoughts
Now that you know the difference between torte and tart, you can explore each of these desserts with confidence. Enjoy!