This post will show you what the clean-cut pizza is and how you can make your own clean-cut pizza.
What Is Clean-Cut Pizza?
Clean-cut pizza is guaranteed to be cut with a freshly washed pizza cutter. This means there is less risk of cross-contamination from other pizzas, which could be important for people for religious, hygienic, or allergen-related reasons.
While a pizza may be clean-cut whether you ask for it or not, the standard expectation is that restaurants do not necessarily wash the pizza cutter between pizzas.
Background
North America consumes more pizza than any other region in the world.
The North American pizza industry was reportedly worth $56.5 billion [1] in 2021. Western Europe came in at a relatively close $49.3 billion, while no other region in the world seems to care much for pizza in comparison.
Pizza has continued to be a wildly popular fast food for Americans, regardless of the pandemic. But the resulting hygienic concerns have spurred an interest in so-called clean-cut pizza; Google Trends shows a spike in searches [2] for clean-cut pizza around Jun 2019.
Customers appreciate the idea that their pizza isn't in contact with countless others. For those aware that clean-cut is not the standard practice for most pizza restaurants, the request seems rather natural.
Why Choose a Clean-Cut Pizza?
The Pandemic and Hygiene
The pandemic and our recent preoccupation with hygiene are only one reason why you might choose a clean-cut pizza. Below are a few more possible reasons.
Food Allergies and Sensitivities
Another reason for clean-cut pizza is that someone may require their food prepared without contact with gluten or dairy.
Food allergies can be so severe in some cases that even indirect contact with the offending allergen can cause a reaction in the allergy sufferer.
Though people with severe food allergies should be careful regardless of clean-cut claims and research an allergen list [3] as needed, there is a wide variation in sensitivity to ingredients. Clean-cut pizza might be a sufficient precaution.
Diet Preferences
Similarly, those who eat vegetarian- or vegan-only diets might want a clean-cut pizza to avoid contact with meat or dairy products found on other pizzas.
These self-imposed moral restrictions are no less worth honoring.
A vegan person might become physically ill upon learning they had inadvertently consumed meat via a contaminated pizza, for instance.
Religious Reasons
For example, in religions like Judaism and Isam, individuals don't eat pork, so they wouldn't want a cutter that had touched pepperoni to slice their pizza, as that would render it non-kosher and non-halal.
One way to ensure there is no cross-contamination is to clean-cut the pizza. However, most religious people would likely order their pizza from a restaurant that was specifically kosher or halal.
Of course, one way to ensure your pizza is either kosher or halal (and clean-cut!) is to make it yourself.
---
If you want your own clean-cut pizza, why not make it at home? That may be the only way to be sure that your pizza has not been cut with a previously used pizza cutter.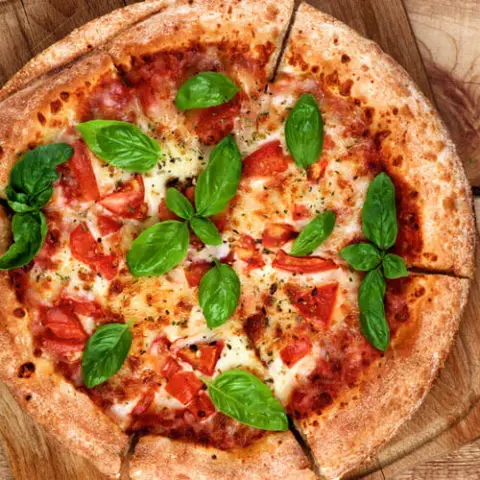 Make Your Own Clean-Cut Pizza
Make your own clean cut-cut pizza at home!
Ingredients
Cust
2 1/2 cup flour
1 tsp salt
1/2 tsp sugar
1 tbsp quick-rise yeast
1 cup water
1 tbsp neutral or olive oil
Sauce
1/4 cup tomato sauce or crushed tomatoes
1/4 tsp oregano
1/4 tsp thyme
1/4 tsp rosemary
1/4 tsp basil or a handful of fresh basil
1/2 tsp garlic powder
Salt and pepper to taste
Topping
2 cup mozzarella
4 tbsp grated parmesan
Instructions
1. Mix the dry ingredients for the crust in a large mixing bowl.
2. Slowly, add the water and oil. Knead the mixture for several minutes.
3. Next, put your dough into a greased bowl. Cover with a towel or buttered cling film to rise for 15-20 minutes.

4. Once the dough has risen, punch the air out. Spread the dough out onto a greased pizza pan, pushing it out into a circle.

5. Mix the sauce ingredients together. For additional flavor, you can simmer the sauce for a few minutes to meld the flavors. Otherwise, spread the sauce onto the dough.

6. Apply the cheese evenly over the top.

7. Bake your pizza at 400 F for about 20 minutes, or until the cheese is bubbly and the crust is golden.
Nutrition Information:
Yield:

4
Serving Size:

1
Amount Per Serving:
Calories:

534
Total Fat:

19g
Saturated Fat:

9g
Trans Fat:

0g
Unsaturated Fat:

8g
Cholesterol:

49mg
Sodium:

1232mg
Carbohydrates:

67g
Fiber:

4g
Sugar:

3g
Protein:

24g
This is a relatively simple article with only a few ingredients. You can absolutely swap out ingredients for what you have on hand, or use this as a base and expand by adding toppings like sausage or sliced red onions.
Other Pizza Recipes
Easy Pizza: Try this recipe for a fast and easy pizza. This is a great way to make your own pies, especially if you lack experience or time. The total time to prepare and cook is about 45 minutes.
Chicago-style Pizza: Perhaps you are more a fan of Chicago-style, deep-dish pizza. In that case, King Arthur serves up a mean pie recipe found here.
This one will take about 2 ½ hours to have ready, but there is no substitute for a quality deep dish.
Gluten-Free Pizza: If you have a gluten sensitivity or allergy, the BBC's gluten-free pizza recipe has excellent ratings and only takes about one hour.
Vegan Pizza: The vegetarians and vegans amongst us will love this vegan pizza recipe. It skips a few steps with premade dough, bringing the total cooking time down to about 40 minutes.
How to Slice Your Pizza
Though clean-cut doesn't refer to the preciseness of the cut but rather its hygiene, if you're making your own pizza, there are some key recommendations to ensure you're getting that perfect clean cut.
Most professional chefs suggest not only using a very sharp wheel, but cutting the pizza soon after it's done.
The more adventurous among us could alternatively try a chef's knife or even kitchen scissors [4], though in both cases, professionals recommend you let the pizza cool down a bit first.
FAQs About Clean-Cut Pizza
Below we've collected some of the most common frequently asked questions about clean-cut pizza.
What is Papa John's clean-cut pizza?
Papa John's clean-cut pizza has been cut with a cutter that has been cleaned right before its use to cut the pizza.
This is not always the norm in restaurants, where it's much faster to go straight from pizza to pizza when several come out of the oven at the same time.
What is the difference between a normal-cut and a clean-cut pizza?
Normal cut pizza runs the risk of being contaminated by other pizzas because the cutter isn't guaranteed to be cleaned right before use.
Most people may not need a clean-cut pizza, but some do because of severe food allergies.
What is a Chicago-cut pizza?
Chicago-cut pizza is cut into squares rather than the standard pie slice cut.
The square pieces might be easier to share with a large group of people, which is why this cut is sometimes called a "party"-cut.
Do pizza restaurants usually do a clean-cut?
In short, no.
It's more likely that a pizza restaurant would have several pizzas needing to be sliced at the same time, and the typical and more efficient method would be to cut multiple pizzas in a row.
Final Thoughts
You might want to try a clean-cut pizza for a variety of reasons. In the end, it's just as delicious as normal-cut pizza but offers unique positives for people with various dietary preferences.
Related Posts