As the old adage goes, the kitchen is the heart of the home. It's the place where guests gather, food is prepared, and memories are made.
If you're looking for a way to make memories with your loved ones, then consider trying your hand at making pizzas. After all, it's hard to beat the smell of baking pizzas piled sky-high with cheese and toppings.
Easily customizable, you can add different toppings or get creative by changing the sauces. From pesto to a ranch to chimichurri sauce, you can choose from plenty of pizza sauce substitutes.
Read on for everything you need to know for your pizza night.
Bonus: If you're interested in finding the best pizza sauce, here is an in-depth review for you.
What Can You Substitute for Pizza Sauce
Whether you have an allergy or are looking for a creative spin on your pizza, there are plenty of substitutes that you can try instead of traditional pizza sauce. Here's a look into some of the most popular pizza sauce alternatives.
1. Olive Oil and Garlic Sauce
Looking for something sweet and simple? Then consider going with the classic combination of olive oil and garlic.
Finely minced garlic and spread it out on your pizza crust, sprinkling gently with olive oil and salt before adding on your toppings.
2. Ranch Dressing
Known for its creamy texture, ranch dressing can make a great substitute for pizza sauce – plus, it's one that the kids are sure to love.
Spread ranch dressing to the crust and finish with toppings of your choice.
3. Pesto
One of the most accessible alternatives to pizza sauce is pesto. This topping consists of pine nuts, olive oil, garlic, fresh basil, and black pepper.
You can grab a jar of this at your local store or make it yourself if you're feeling adventurous.
4. Barbecue Sauce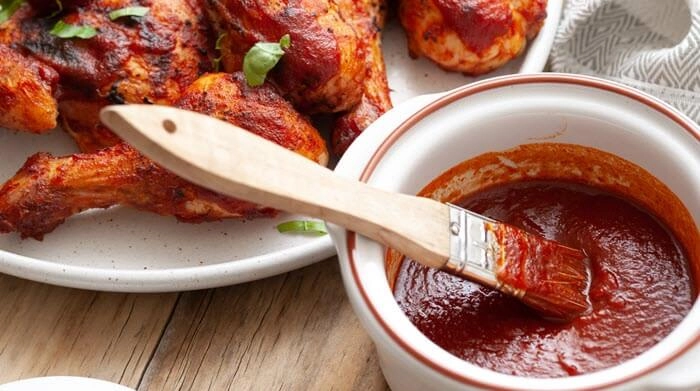 Calling all BBQ chicken pizza enthusiasts, we've got the perfect option for you. Subbing BBQ sauce is a great way to switch up your regular pizza routine.
You can find BBQ sauce at your local grocery store or, if you have more time, opt for making it at home.
Some popular options for this sauce include chicken breasts, smoked gouda cheese, and red onions.
5. Chimichurri Sauce
Known for its well-rounded and bold flavors, chimichurri sauce is made of parsley, oregano, garlic, and olive oil.
It's traditionally used on meats, but this delicious sauce will make a great substitute for regular pizza sauce.
6. Alfredo Sauce
If you're someone who loves creamy sauces, then there's a good chance that you'll like alfredo sauce as an alternative.
Alfredo is made with heavy cream and parmesan instead of milk.
Spread this mixture on the pizza and sprinkle with your choice of toppings. The result is a thick, rich, and creamy sauce.
7. Ricotta Cheese
Ricotta cheese is a popular staple in Italian dishes, and it makes a great addition to pizzas, as well.
To substitute for pizza sauce, try to spread a thin layer of ricotta cheese on your pizza crust with a squeeze of lemon and some basil.
You can add other toppings of your choice, whether that's chopped tomatoes or grilled vegetables.
For those who don't have an idea on how to choose the proper ricotta cheese, we've reviewed the 5 best ricotta cheese options for reference.
8. Salsa
Spice up your pizza night by swamping out pizza sauce with salsa. It's best to go with a tomato-based salsa if you want to keep close to the taste of a traditional pizza sauce.
This will taste especially great with Latin-influenced toppings, such as beans, corn, and chorizo.
Please note that salsa and picante sauce is not the same thing, but you can also use picante sauce as a pizza sauce replacement.
9. Zaatar
Known as a tangy Middle Eastern spice blend, zaatar serves as an optimal pizza sauce substitute.
This Mediterranean staple blends sumac and thyme and can easily be mixed with olive oil for a delicious pizza.
It'll make a delicious appetizer or turn into a main dish for a meal.
10. Soy-miso Sauce
If you believe that pineapple belongs on pizza, then be sure to try this soy-miso sauce.
You can easily make this with two tablespoons of white miso, one tablespoon of soy sauce, and one tablespoon of brown sugar.
Use soy-miso sauce as a base for the pizza and top with cheese, ham, and pineapple – or whatever toppings you prefer!
11. Balsamic Glaze
Balsamic glaze is known for its sweet and tangy taste, making it a great substitute for tomato-based pizza sauce.
Balsamic glaze is easy to make and consists of balsamic vinegar and brown sugar. This option will taste especially good with cheese, mushrooms, onions, sausage, and more.
12. Homemade Pizza Sauce
Despite many creative alternatives, it can be hard to beat the tried-and-true traditional pizza sauce.
A traditional pizza sauce is made with a base of tomatoes and a handful of spices to give it the well-rounded flavor we all know and love.
An authentic sauce is made with the freshest homemade ingredients, from start to finish. The tanginess of the sauce is perfectly complemented by the fats and cheese on top of the pizza, resulting in a perfect pairing.
If you're ready to try your hand at pizza sauce for your next homemade pizza night, here's the inside scoop on how to make the sauce.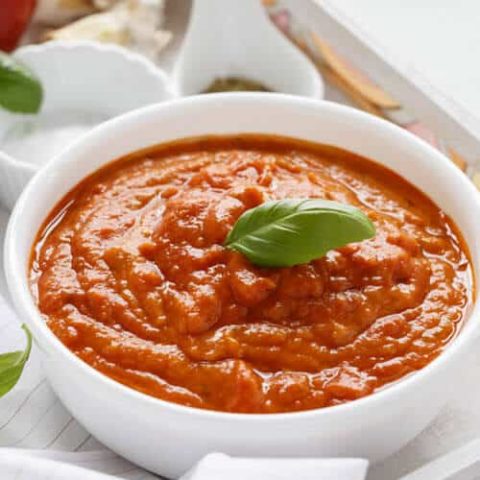 How to Make Pizza Sauce
Perfect for those making it for the first time
Ingredients
1 ½ cups water
1 can tomato paste (6 ounces)
⅓ cup extra virgin olive oil
2 cloves garlic, minced
½ tablespoon dried oregano
½ tablespoon dried basil
½ teaspoon dried rosemary
Salt and ground black pepper to taste
Instructions
1. Start by combining the first three ingredients in a large bowl, mixing together the water, tomato paste, and olive oil.

2. After these ingredients have been thoroughly stirred together, the next step is adding the seasonings – garlic, oregano, basil, rosemary, salt, and pepper.
Notes
Tip 1. Stand for 3 Hours
Upon combining, it's best to let the sauce stand for several hours. Doing this will enable the flavors to blend together, resulting in a more savory finished product.

If you're short on time, you can simply let the sauce marinate for a few minutes before adding it to the crust. No cooking is required with this recipe
Tip 2. Customize Herb Options
While most recipes for pizza sauce call for dried herbs, you can always switch those out for fresh herbs if you prefer.

For those who like their sauce with a little less flavor, consider starting with less herbs and adding more to your liking.

Oregano, rosemary, and basil are routinely used in pizza sauce but you can always be creative and try other herbs, as well. For instance, you might like garlic powder, onion flakes, thyme, fennel, or paprika.
Tip 3. Stay for Longer

If you have extra pizza sauce leftover, you can easily store it in a glass jar with a lid for up to two weeks in the refrigerator or up to three months in the freezer.
Once you're ready to use, let the sauce come to room temperature before applying it to your pizza dough.
Nutrition Information:
Yield:

8
Serving Size:

1
Amount Per Serving:
Calories:

99
Total Fat:

9g
Saturated Fat:

1g
Trans Fat:

0g
Unsaturated Fat:

8g
Cholesterol:

0mg
Sodium:

88mg
Carbohydrates:

5g
Fiber:

1g
Sugar:

3g
Protein:

1g
FAQs About Pizza Sauce
If it's your first time making pizza, then there's a good chance you have some questions on what you can expect.
Read on to learn about some frequently asked questions so you can learn the tips and tricks of making this saucy deliciousness.
What sauce is the closest to pizza sauce?
Marinara sauce is the closest sauce to pizza sauce, although these two sauces still have defining differences.
Pizza sauce is thicker in consistency and is usually cooked on a pizza crust, while marinara sauce is served with a dip or topping.
Can I use tomato sauce instead of pizza sauce?
In short, yes! But there are differences between these two sauces.
As the name suggests, tomato sauce's main ingredient is tomato sauce. It's known for its pure red and has a thin texture.
Pizza sauce has a thinner, occasionally creamy texture and is orange in color.
Is spaghetti sauce the same as pizza sauce?
While you might be tempted to substitute pizza sauce for spaghetti sauce, it's worth mentioning that these sauces aren't quite the same.
Pizza sauce has a lower water content than spaghetti sauce, giving it a thinner consistency. While this makes it great for pasta, the texture can be tricky when working with pizzas.
What's the difference between pizza sauce and pasta sauce?
Pizza sauce and pasta sauce have similar ingredients, but they different slightly.
Pizza sauce is prepared with uncooked pureed tomatoes while spaghetti sauce, and other pasta sauces are cooked with blended tomatoes and garlic, herbs, and spices.
Conclusion
With so many options to choose from, you'll have fun branching out from good ol' pizza sauce.
Spice up your pizza with one of these flavorful alternatives, whether it be soy-miso sauce or zaatar. Changing up the sauce is a surefire way to change the flavor of your pizza entirely and let the flavors shine.
No matter what sauce you choose, you'll be rewarded with a mouth-wateringly delicious pizza and a satisfied appetite.
You May Like