Bringing happiness to lives is what desserts are all about! One of such desserts is cake; everyone loves a yummy cake treat.
This article will give information on all you need to know about half sheet cake.
Questions like: what is half sheet cake? What are its benefits? What are its measurements? We will answer more in this article, first of all, introductions.
15-Second Summary
A half-sheet cake is half the size of a full-sheet cake.
The typical size for a half sheet cake pan is 18 by 13 inches, and it can serve about 40 people. Depending on the size of the cake portion, it can serve more people.
What is a Half Sheet Cake?
As the name implies, a half sheet cake is half of a whole sheet cake. So, what is a full sheet cake?
A sheet cake, also known as a slab cake, is a large rectangular cake baked for special occasions.
A half sheet can be single or double layered, and it comes in various flavors.
So, what's all the fuss? What are the benefits of baking a half sheet cake?
Benefits of Half (½) Sheet Cake
The benefits of half sheet cake are:
For parties and gatherings, half sheet cakes are perfect. They are wide and large. Everyone gets a sizable and equal portion.
Half Sheet cakes are baked quickly. Their slices are neater and pretty easy to serve well.
Since it's a rectangle, the half-sheet cake has enough space for decorations and customized texts.
Since a half sheet cake is ideal for parties and gatherings, how many people can a half sheet cake feed?
How Many People Can a Half Sheet Cake Feed?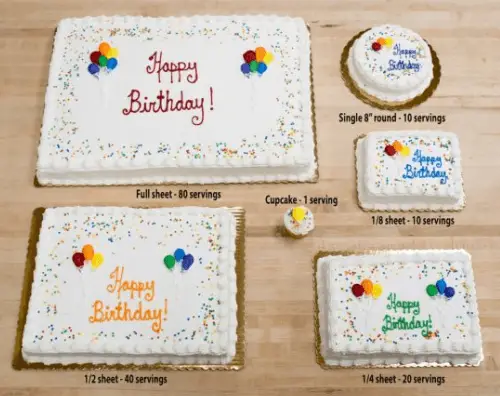 A typical homemade 13-inch by 9-inch cake will serve about 18 guests. A bakery-sized half sheet cake can feed approximately 18 to 40 guests. However, this figure depends on the size of the slices.
Can this measurement be altered? If it can, how?
What Are the Pan Sizes and Dimensions for a Half Sheet Cake?
The pan sizes of ½ Sheet Cake:
A half sheet cake pan usually measures 18 by 13 inches.
A quarter sheet pan measures nine by 13 inches.
A full sheet cake pan measures 26 by 28 inches. Thus size is usually too big for homes, but it's the perfect industry size.
The dimension of your cake can also increase the number of slices you get.
So a half sheet cake with the following dimensions will give approximately the following servings:
These cake pan dimensions can be used for various cake sizes, depending on your preference. So in case, you wonder how big a half sheet cake is, these dimensions will give you a clue.
We have curated a recipe for preparing a 2-layer half sheet cake.
This recipe is for a 2-layer half sheet vanilla cake with whipped buttercream frosting. It's prepared by the reverse creaming method.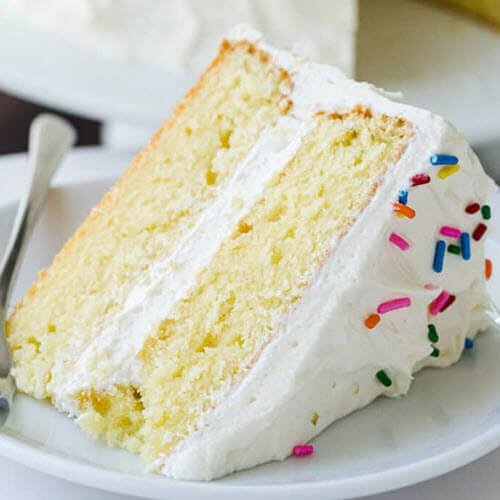 How to Make a 2-Layer Half Sheet Cake
Total Time:
1 hour
40 minutes
Fun & easy recipe for a 2-layer half sheet cake.
Ingredients
Ingredients for Cake
3 cups of cake flour
1 teaspoon of baking powder
½ teaspoon of baking soda
1½ cup of granulated sugar
1 cup of unsalted butter
½ teaspoon of salt
1 cup of whole milk
⅓ cup of sour cream
1 tablespoon of pure vanilla extract
3 large eggs
Ingredients for Buttercream Frosting
4½ cup of confectioners sugar
1 cup of unsalted butter
2 teaspoons of pure vanilla extract
⅓ cup of heavy cream
Sprinkles to garnish (optional)
Salt to taste
Instructions
Directions for cake

Prepare your oven by preheating it at 117°C. Grease your half sheet cake pan generously.

Sieve your flour, baking powder, baking soda, sugar, and salt into a bowl. Then beat these dry ingredients on low speed in your mixer for seconds.

To the dry ingredients, add ½ cup of milk, butter, and vanilla. Mix all for about 1 minute until the mixture becomes a thick dough.

Whisk the rest of the milk, egg, and sour cream together in a different bowl at medium speed. Then add the egg mixture and whisk for about 15 seconds. Little lumps in the batter are okay, don't overmix.

Once your batter is set, spread on the pan and bake for about 35 minutes. Allow to cool properly, then place on a wire rack. Don't frost a cake while it's hot.
Directions For Buttercream
With a mixer, beat your butter until it becomes creamy. Do this at a medium speed.

Add the heavy cream, confectioners sugar, and vanilla extract to the butter, and beat on low speed for 30 seconds.

Increase to medium speed and beat for 4 minutes.

Then spread the frosting on the cake with a spatula or a piping tip. Use Sprinkles to garnish, cut the cake and serve.
Notes
*When preparing your frost, add more confectioners sugar if it's too thin.

*If the frost is too thick, add more cream, and if it's too sweet, a dash of salt will do the trick.
Nutrition Information:
Yield:

16
Serving Size:

1
Amount Per Serving:
Calories:

543
Total Fat:

27g
Saturated Fat:

17g
Trans Fat:

0g
Unsaturated Fat:

9g
Cholesterol:

106mg
Sodium:

199mg
Carbohydrates:

71g
Fiber:

0g
Sugar:

50g
Protein:

4g
After the celebrations, if there are any leftovers, place them in an airtight container and store them in the fridge. It can stay fresh for about 5 days.
So, how do you decorate your half sheet cake for your party? How do you slice so everyone gets a significant portion of its yumminess? Let's find out.
Half Sheet Cake Decorating Ideas
The beautiful quality of a half sheet cake is its rectangular shape that gives you "decor space."
The wide top means you can play around with
colorful inscriptions
Frost flowers, wafers, buttercream, etc.
Edible figures, images
Frost borders, and more.
Decoration ideas for your half sheet cake are endless; by all means, try out any ideas you might have in your head. Check out this video if you like white cakes.
Now, after baking and decorating, how do you serve?
How to Cut a Half Sheet Cake-Cutting Guide
The steps to cut a half sheet cake is straightforward:
Use a sharp knife with a thin edge or tip. Lightly mark how large you want the sizes.
Once you have that, cut through the thin lines down to the cake board. With a small spatula, lift each piece off.
Use a hot napkin to clean your knife with each cut as you cut each piece.
Watch this video to see how you can cut your cake correctly.
If you might still have a couple of questions about a half-sheet cake, check out these FAQs.
FAQs About Half Sheet Cake
How many cake mixes make a half sheet cake?
To make one layer of half-sheet cake, you need one cake mix. However, if you want a double-layer cake, you must use two cake mixes.
Where can I buy a half sheet cake?
You can get a yummy half-sheet cake at the supermarket or bakery. Make sure to buy a fresh one!
How do I make a pan selection for my sheet cake?
The best way to select is based on the cake layers you want. So, if you wish for a single-layered cake, a deep pan is better.
However, for double-layered sheet cakes, you have two choices:
use a shallow pan for baking two thin cakes and layering them up after cooling
use a deep pan for baking a tall cake and slicing the cake into two after cooling.
Related Posts
Final Words
Half sheet cakes are beautiful cake hybrids; they offer you an opportunity to bring out your fun side, especially with the decorations.
We are confident you have gotten excellent information about half sheet cakes. So, why the delay? Get baking!
References

https://www.webstaurantstore.com/article/291/sheet-cake-sizes.html
https://sallysbakingaddiction.com/vanilla-sheet-cake/
https://aclassictwist.com/how-to-decorate-a-sheet-cake/