As someone on a plant-based diet, I've learned how to navigate my way around a kitchen without using eggs.
Eggs are common in baking, but you do not need to be dismayed if every cornbread recipe you come across contains eggs.
I've compiled a list of the best egg substitutes for cornbread that are less likely to mess with the flavor and texture you know and love.
What Role Do Eggs Play in Cornbread?
When it comes to baking cornbread, eggs help create a light and fluffy texture.
Make Cornbread Fluffy
As you'll see in many recipes, the eggs should be whipped.
Whipped eggs help to trap air, which ends up leaving your cornbread fluffy. The cornbread will likely come out of the oven dense and chewy without this step.
Serve as Binder
Eggs are also important in baking for helping the ingredients bind together and maintain structure. Without them, baked goods like cornbread could end up crumbling after one bite.
8 Egg Substitutes In Cornbread
When determining how to make cornbread without eggs, it's imperative to choose ingredients that provide the same functions without drastically altering the taste and texture of the eggless cornbread.
Here are the 8 substitutes that are closest to eggs in cornbread.
#1 Applesauce
Applesauce works well as a substitute for eggs in cornbread because it contains pectin.
Pectin [1] is a naturally occurring substance in plants that can help ingredients fuse together and remain stable.
As mentioned earlier, eggs help to bind ingredients together; pectin can also perform this function. Plus, the applesauce will prevent your cornbread from becoming too dry.
How to Substitute
A quarter cup of applesauce is the equivalent of one egg when baking.
#2 Ground Chia Seeds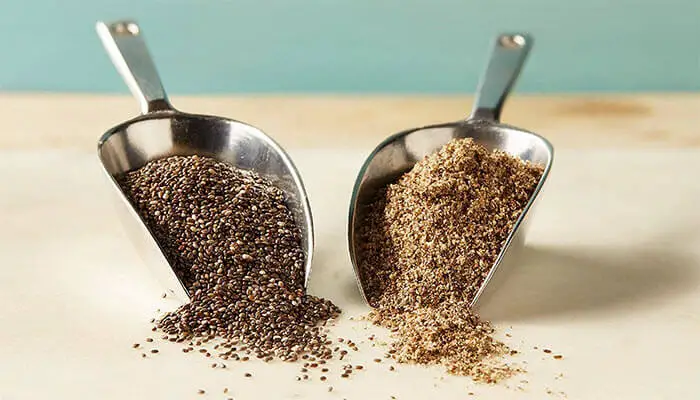 You may have already heard of a chia egg; a chai egg is simply water and chia seeds mixed together.
Chia seeds expand in water until they form a gelatinous substance similar to that of an egg. It takes around 10 to 15 minutes for the soaked chia seeds to clump together properly. Like regular eggs, they help bind ingredients together.
These small seeds will be visible in your cornbread, but they are so small, that they should not drastically alter the texture.
How to Substitute
The ratio to replace one egg is one tablespoon of chia seeds to two and a half tablespoons of water.
You will need to mix the chia seeds with the water before anything else. Allow the mixture to stand for a few minutes until the liquid turns into a gel.
#3 Mashed Banana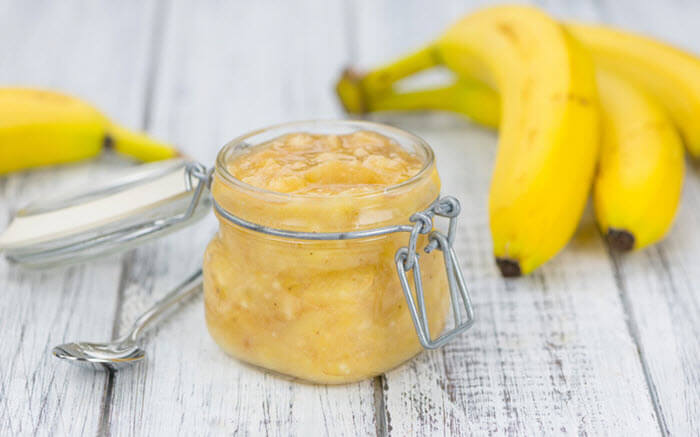 When baking, bananas can help ingredients stick together and add moisture to your cornbread.
Bananas are an easily accessible ingredient for making cornbread without eggs. However, bear in mind that the banana will slightly impact the flavor.
Opt for a fairly ripe banana and mash it before adding it to your wet ingredients. A green banana will be too hard to mix into the batter thoroughly.
How to Substitute
Half a medium banana is the equivalent of one egg.
#4 Silken Tofu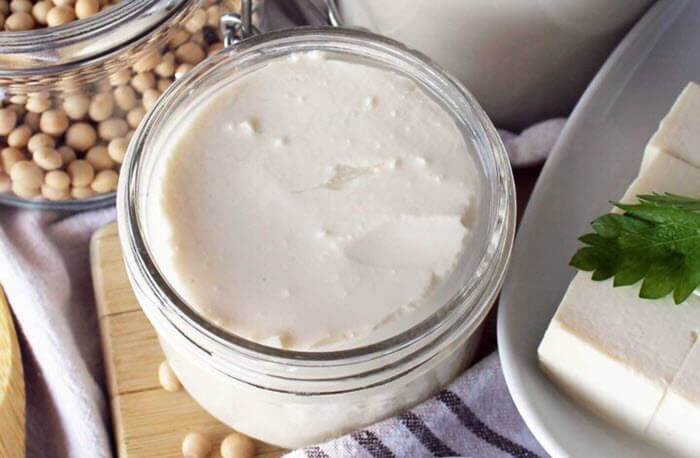 Silken tofu is great for baking as it has a neutral taste. Check the label before purchasing, as it's common to find marinated tofu in grocery stores. You need to choose something unseasoned in its purest form.
It's imperative to use soft, silken tofu when baking cornbread or other baked goods. Firm tofu is too hard to dissolve into recipes like this.
How to Substitute
A quarter cup of pureed silken tofu is the equivalent of one egg when baking.
Keep in mind that using silken tofu as a replacement for eggs in cornbread could leave your loaf feeling slightly heavier or denser than normal.
#5 Sour Cream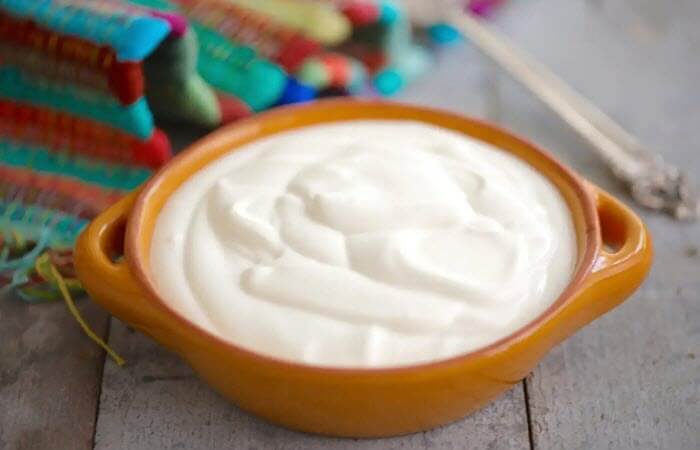 Believe it or not, sour cream is one of the best eggs alternatives because it contributes to cornbread's iconic sour flavor. It will also help the ingredients stick together and become fluffy as the loaf bake.
Remember that sour cream is not suitable for vegans. Some people use mayonnaise as an egg substitute instead, but this is not suitable for vegans or those with an egg allergy.
Sour cream may not be the best egg substitute for jiffy cornbread, as some recipes suggest adding eggs and sour cream. If this is the case, choose a different recipe or another egg alternative.
How to Substitute
A quarter cup of sour cream can replace one egg. If using sour cream, you might need to add a dash of baking powder to the mix to ensure your cornbread rises.
#6 Ground Flaxseeds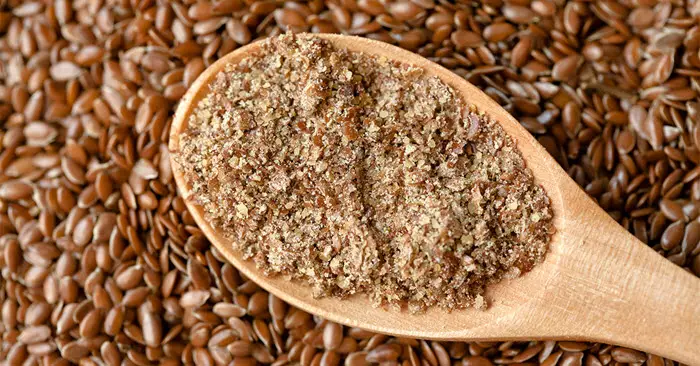 Flaxseeds are similar to chia seeds when it comes to replacing eggs.
Like chia seeds, you need to give the flaxseeds and water time to bind together first before proceeding with the rest of the recipe, this should take between 10 and 15 minutes.
The only difference is flax eggs are made from ground flaxseeds and water, while chia seeds typically do not need to be ground up.
How to Substitute
For one egg, use one tablespoon of ground flaxseeds combined with three tablespoons of water.
Unlike chia seeds, if you replace eggs with flax eggs when baking cornbread, the seeds will mix more seamlessly into the batter and not impact the texture.
#7 Greek Yogurt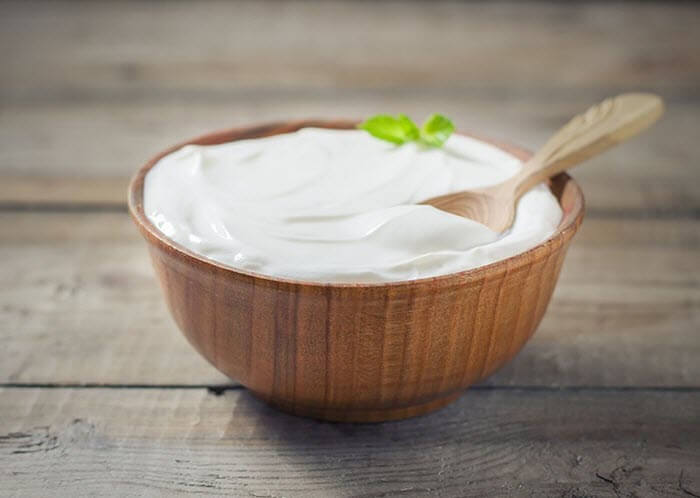 Greek yogurt also helps to maintain the sour flavor associated with cornbread if you're using it as an egg replacement.
While regular yogurt may achieve the right texture, it could negatively impact the taste and leave your loaf too sweet. Stick to unflavored Greek yogurt with minimal sugar.
Cornbread without eggs made with greek yogurt is not suitable for vegans.
How to Substitute
Simply add one-quarter cup of yogurt to the eggless cornbread.
#8 Apple Cider Vinegar & Baking Soda
Apple cider vinegar can also maintain cornbread's sour flavor. If you don't have apple cider vinegar, regular vinegar is fine.
How to Substitute
To make cornbread without eggs, substitute one teaspoon of vinegar and one teaspoon of baking soda per egg.
---
Now that you know the substitutes for eggs in cornbread, it's easy for you to make cornbread without eggs.
The egg substitutes for jiffy cornbread in this recipe rely on flaxseeds.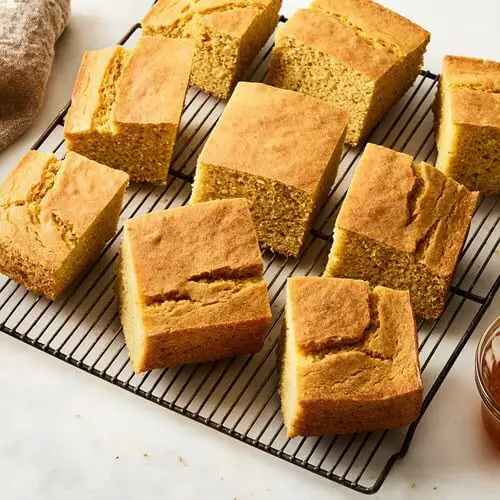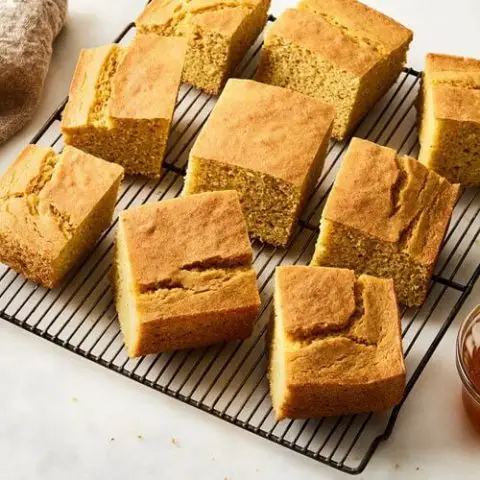 How To Make Cornbread Without Eggs
Your easiest eggless cornbread recipe.
Ingredients
2 boxes of Jiffy corn muffin mix
2 tablespoons of ground flaxseed
6 tablespoons of warm water
⅔ cup of milk
Instructions
1. All you need to do is allow your flaxseeds and water to mix together and form a flax egg before mixing it with the remaining ingredients.

2. Then you bake at 350°F for 15 to 20 minutes.
Nutrition Information:
Yield:

10
Serving Size:

1
Amount Per Serving:
Calories:

50
Total Fat:

2g
Saturated Fat:

0g
Trans Fat:

0g
Unsaturated Fat:

1g
Cholesterol:

4mg
Sodium:

61mg
Carbohydrates:

7g
Fiber:

1g
Sugar:

3g
Protein:

1g
Final Word
No matter why you are opting to make eggless cornbread, these eight egg substitutes may already be in your pantry, so get baking!
You May Like