Through the years, macaroni salad had been our favorite. From a simple family meal, to a small gathering.
But there are times that we cooked a bunch of mac salad and we have leftovers.
Because we don't want to throw it in the garbage, we want to keep its shelf life by freezing it to get something to eat when we crave for it in the middle of the night.
But can you freeze the macaroni salad? Keep reading;
Can You Freeze Macaroni Salad?
Absolutely yes! We can freeze our macaroni salad. But we should expect that it's taste would be a little different from the freshly made.
After freezing, the macaroni will be a little softer, that's why if the macaroni pasta was overcooked, it's texture became a little mushy when preheat.
Since we don't want to waste any moment, we will make a solution and remedy not to waste our all time favorite.
How to Freeze Macaroni Salad?
When preparing macaroni salad, we usually add different kinds of ingredients.
It's either meat, eggs, vegetables or fruits that we think suits best in our preference. Aside from mayonnaise, we can put all purpose cream or condensed milk.
As I've said, it depends on our preferences.
But there are some ingredients in our mac salad that will cause it to spoil, and when it happens it affects the rest of the salad like in its texture or even in its taste.
Now, let's proceed to some steps on how to freeze the macaroni salad. I encouraged you to remember these steps below:
Step 1: Look for a glass or plastic container or a ziploc bag perhaps, where you can store the macaroni salad.
Step 2: Put the macaroni salad inside and make sure that if it's in the container, the lid is carefully sealed. And when it's in the Ziploc, it should be properly sealed.
Step 3: You can even put a note outside the container or Ziploc, that indicates the date.
Tips:
When you use dairy products such as: milk, eggs and mayo. The salad should be stored for 3-5days only. But it can store 1-2 weeks without dairy products.
Make sure that the plastic has no air passage, because it has a tendency of becoming burned because of temperature, at the same time it will keep the salad away from any odor coming from the fridge.
To make sure that you will like the frozen mac salad, try to put a small portion first into the Ziploc for trial.
Now, after reading simple tips on how to freeze macaroni salad. Let's proceed to the next possible question that might come out of your mind.
How to Defrost Macaroni Salad?
The best way to defrost or thaw your macaroni salad is to place it in a cool compartment of your fridge.
Yes, it may take longer, but it is better because it will retain the salad's quality.
Notes
When you put the salad onto a pot, or a bowl of hot water, it will surely change the dressing's quality.
It might become watery, and a bacteria has a chance to enter our food.
Reminder: once you thaw your macaroni salad, don't think of putting it back in the fridge . Actually, it applies to any kind of food. Because different kinds of bacteria might get present that can lead our food to spoilage.
Tips
When cooking pasta, make it "al dente", an Italian word for "to the bite" or "to the tooth," the pasta is firm when you bite into it, but still tender.
Pasta made with whole wheat flour, bean flour, and regular white flour is more suggestive.
Have you tried making different macaroni salads? Can you name what kind of salad you've eaten these past few years?
Some easy to cook or a 10-15 minute salad variations are:
Classic Macaroni Salad
Sweet Macaroni Salad
Hawaiian Macaroni Salad
Southern Tuna Macaroni Salad
This time, I'll give you a macaroni salad recipe that can be categorized as a sweet Macaroni salad.
I know that people are very conscious when it comes to sweets, but you can try this one. You can control its sweetness, depending on your preference.
Okay! Let's start making the Philippines's Style Macaroni Salad.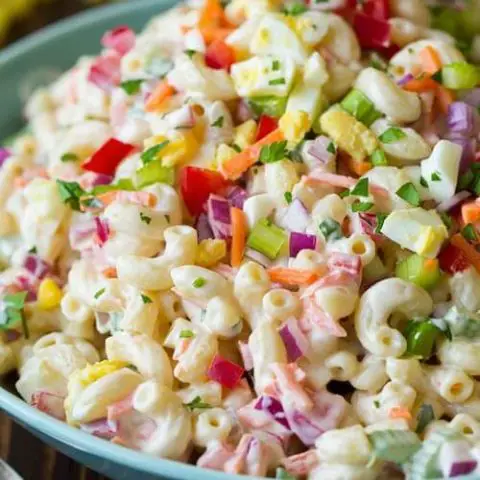 Philippines Style Macaroni Fruit Salad
Make a Philippines-style macaroni fruit salad at home!
Ingredients
400 grams macaroni pasta (cooked according to package)
3 medium-sized apple (cut into diced)
1 can fruit cocktail
2 can pineapple chunks (fresh sweet pineapple is better)
1 cup all-purpose cream
1 can condensed milk(370ml)
1 cup cheddar cheese(cut into small cubes)
1 ½ cup mayonnaise
Instructions
1. In a bowl, put the cooked macaroni pasta

2. Toss the mayonnaise, all purpose cream and condensed milk (you can add or lessen the condensed milk)

3. Add the fruit cocktail

4. Add diced apple and pineapple chunks

5. Toss the cheddar cheese

6. Mixed well until blended

7. Put in a chiller, one hour before serving
Nutrition Information:
Yield:

15
Serving Size:

1
Amount Per Serving:
Calories:

338
Total Fat:

25g
Saturated Fat:

8g
Trans Fat:

0g
Unsaturated Fat:

16g
Cholesterol:

36mg
Sodium:

202mg
Carbohydrates:

24g
Fiber:

2g
Sugar:

14g
Protein:

5g
How to Reheat Macaroni Salad?
Before we proceed to FAQ, here are some proper ways to reheat your macaroni salad.
Just keep in mind that each method has its pros and cons. But you can try it, to choose which method is suitable to you.
Using Microwave
It's an easier and more convenient way. Nowadays, people think that microwaves are the best way of defrosting anything. As in anything.
Take the salad from the fridge and divide into smaller portion(it is quicker to reheat this way)
Put in a bowl, or any container that can be used in the microwave.
Add some milk before reheating to keep the salad from burning, but it will make pasta softer. It adds a little moisture to the dish
Around 60 seconds for a small portion, in a low power and reheat slowly.
Add your favorite toppings
Using pan
If there's no available microwave, a regular pan will do. It may take more time, but it's still delicious
Put the macaroni salad in a pan and stir well, you can drain the excess liquid before eating.
You may even add some olive oil to enhance the food taste.
FAQ About Macaroni Salad
Here are some Frequently Asked Questions that we should know. This may help you with every question in mind.
Can I freeze macaroni Salad with mayonnaise?
Yes you can, but since mayonnaise was made with eggs, oil and some spices, its consistency didn't remain the same.
How long can you keep the macaroni salad in the refrigerator?
You can keep it for 1 week to 2 weeks, if stored properly. But between 3-5 days is better than waiting for more than a week before you consume it.
Please remember that when a macaroni salad has a weird smell, looks slimy and brownish, there's a possibility that it is spoiled already and you have to dispose of it.
How long can a macaroni salad be frozen?
It can be frozen for around 1 week, because the longer it stays inside the fridge, the bigger the chance of spoilage.
Final Thoughts
Now that the question "can you freeze the macaroni salad" has been answered. I know that you can do the same in your next macaroni salad dish.
And we found out that it's not that difficult. We may have experienced thawing the macaroni salad and it didn't go the way we wanted because of some wrong procedures.
It's okay, you can make it right this time.
Don't just expect that it will remain the same as freshly made salad.
All in all, the macaroni salad will remain one of our favorite comfort foods.
You May Like