Stuffed bell peppers are a great dish to serve when you're hosting guests. It's an easy dish that has a lot of flavors.
In this blog post, I'm going to be discussing what you can eat with stuffed bell peppers.
What Sides Go Well with Stuffed Peppers
An authentic Greek salad is the ideal choice when you're deciding what to serve with stuffed peppers.
This fantastic dish features fresh olives, tomatoes, cucumbers, bell peppers, feta cheese, and red onions.
It's a perfect side with homemade vinaigrette, which is included in this recipe, and it's an easy salad to prepare and serve quickly.
If you have a few potatoes in your pantry, you'll find this tasty side ideal as far as what goes with stuffed peppers.
This crispy dish of baked potatoes is quickly tossed in a blend of savory seasoning and salt to create the perfect option to enjoy with your main serving.
You can serve this side with homemade ketchup, sour cream, or creamy garlic sauce.
One of the most delicious sides of stuffed peppers during the colder months is butternut squash soup. This rich and flavorful soup is perfect for preparing when squash is in season.
If you prefer another variety of squash, you can substitute it with acorn, spaghetti squash, or roasted pumpkin.
Crispy, tender eggplant is a fantastic side dish to prepare alongside stuffed bell peppers.
It's excellent as a vegetarian side, or you can sprinkle or coat with freshly grated parmesan cheese and black pepper. It's also a great dish to grill with Portobello mushrooms or zucchini.
Brussels Sprouts are a tasty, textured vegetable that provides a unique flavor to compliment your main dish.
This side dish is easy to create by tossing a large serving of brussels sprouts with salt, olive oil, and black pepper. You can also sprinkle a bit of paprika or coat in parmesan cheese.
Creating a cheese plate is fun and adds distinct flavors to your meal. You can serve a custom assortment of your favorite artisan bread, deli meats, cheese, crackers, and olives.
Start with a large platter or charcuterie board, and add a few bowls for dips, olives, and fruit. The best part of this dish is how versatile and appealing it is for guests.
Bruschetta is a beautiful appetizer and a great side to eat with stuffed bell peppers. It's a great treat to serve on freshly baked baguettes or French bread.
This recipe is easy to prepare, with sharp flavors and seasoning you'll enjoy with your meal.
If you're looking for warm and tasty comfort food, you'll enjoy a plate of corn fritters served with your main dish.
The batter combines a few common ingredients you'll find in your pantry with a handful of corn kernels. It's a great dish you can prepare with leftover roast corn or frozen kernels.
Whether you harvest green beans from your garden or purchase them at the local farmer's market, you'll find they make an ideal side dish with many entrees.
This recipe is prepared with a blend of crushed garlic, sea salt, onion salt, and olive oil. A dash of black pepper is a good option, and you can toss a topping of dry-roasted almonds on top for texture.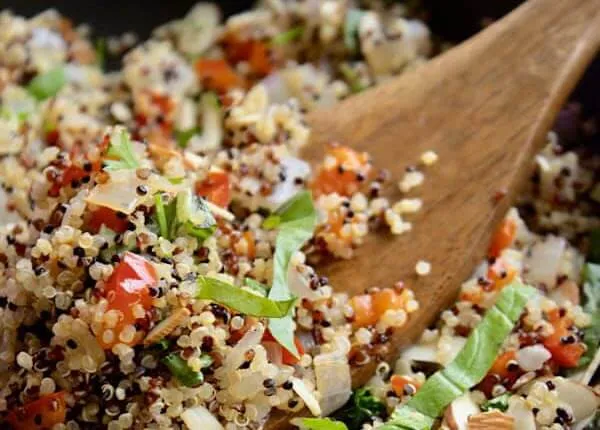 This versatile dish is a fantastic alternative to rice pilaf and offers many ingredient options, including leftover bell peppers, onions, and seasoning used to prepare the stuffed peppers.
It's the perfect dish you can create in a skillet while baking your main dish in the oven.
If you're a fan of something sweet to contrast your main dish, you'll love honey-glazed carrots.
This recipe is ideal for preparing with just a few ingredients and a handful of carrots from your local market or grocery store. Choose rainbow carrots for a pleasant appearance and impress your family and guests.
Fried cabbage is a quick and easy dish to prepare with a few staple ingredients. It's a practical side to toss into the skillet that doesn't require lots of preparation.
This dish blends sauteed onions, cabbage, bacon, and spices that work well as a light meal on its own or a terrific side.
You can easily customize this dish to include any variety of shredded vegetables, spices, and seasoning you prefer.
This salad is a refreshing, light dish that's served with a vinaigrette and parmesan. It's one of the best sides for stuffed peppers.
You'll love the medley of textures and flavors in this beautiful salad that's perfect during the summer and fall when apples are in season.
If you're looking to add dark, leafy greens to your meal, this salad will give you a generous serving of spinach and apples tossed with red onions, feta cheese, dried cranberries, and homemade vinaigrette.
The salad is topped with crushed walnuts or toasted pecans.
This fragrant dish is ideal if you're craving mushrooms. The mushrooms are caramelized to create a rich taste that enhances your main entrée.
It's an easy dish to prepare in a skillet while the stuffed bell peppers bake in the oven. You can customize this dish with the type of oil and flavors you add to the pan.
Sweet potato fries offer delicate sweetness with savory spices and seasoning and a crispy texture. This dish is an excellent alternative to standard pan-fried potatoes or home fries.
The mix of spices includes paprika, salt, black pepper, and garlic powder. You can add a dash of chili powder or Cajun spice blend for enhanced flavor.
Cauliflower is a delicious vegetable that absorbs seasoning and spices well. You'll find this recipe ideal for preparing as a side dish or a light snack.
It's perfect for serving with a dip and a fragrant serving with your main dish. It's also the perfect side for kids, and you can customize your seasoning to add a bit of spice.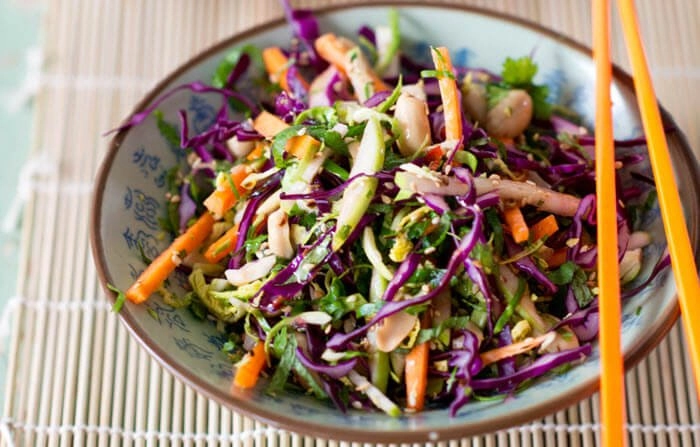 Coleslaw is a favorite staple for family parties and functions. It's a tasty side salad to enjoy with stuffed peppers and offers a tangy, crunchy texture.
This is one of the easiest recipes to prepare and keeps in the refrigerator for one week if you have leftovers.
Final Thoughts
The stuffed bell peppers are delicious and healthy. They make a great lunch or dinner option, but like most dishes, they can be made more decadent with the above side dishes.
Now that you know what to eat with stuffed bell peppers, are you ready for a delicious dinner?
What Goes with Stuffed Bell Peppers
Find your best side to serve with stuffed bell peppers.
Ingredients
Traditional Greek Salad
Oven Baked Potato Wedges
Butternut Squash Soup
Grilled Eggplant
Baked Brussels Sprouts
Cheese Platter
Bruschetta Bread
Corn Fritters
Sauteed Green Beans
Quinoa Pilaf
Honey Glazed Carrots
Fried Cabbage
Tangy Celery and Apple Salad
Apple Spinach Salad
Sauteed Mushrooms and Garlic
Sweet Potato Fries
Pan-Fried Cauliflower
Homemade Coleslaw
Instructions
Select your preferred recipe
Follow the instructions to make it
Enjoy it with stuffed peppers
Nutrition Information:
Yield:

1
Serving Size:

1
Amount Per Serving:
Calories:

2972
Total Fat:

178g
Saturated Fat:

61g
Trans Fat:

2g
Unsaturated Fat:

102g
Cholesterol:

370mg
Sodium:

5580mg
Carbohydrates:

269g
Fiber:

46g
Sugar:

116g
Protein:

97g