Are you craving some teriyaki chicken, but you've run out of teriyaki sauce?
Whether you're cooking dinner for yourself on a rainy night or grilling some hot dogs on a sunny Sunday afternoon, nothing beats that sweet teriyaki flavor.
If you've run out of sauce, however, several other substitutes taste just as good.
Here are the top 12 substitutes for teriyaki sauce to use in recipes that call for it.
Top 12 Substitutes for Teriyaki Sauce
What is a good substitute for teriyaki sauce?
It's easier to find some of these sauces than others. However, all of them contain some ingredients similar to those in teriyaki sauce.
1. BBQ Sauce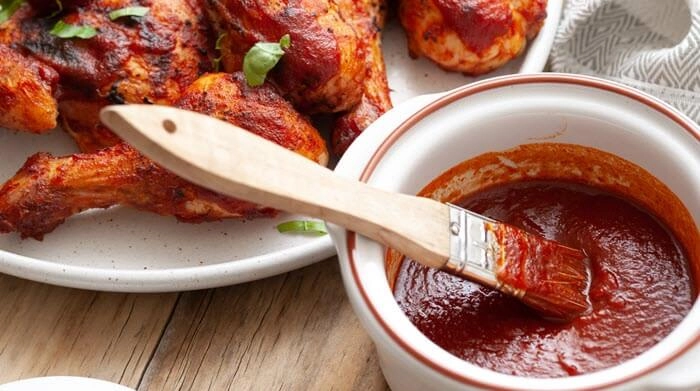 BBQ sauce and teriyaki sauce are not the same. Nevertheless, in Japan, chefs use teriyaki sauce for the same things we use BBQ sauce for in the US, such as grilling meat.
Therefore, I'm including it as the #1 substitute for teriyaki sauce because it's usually the easiest to find, even in the United States.
2. Korean BBQ Sauce
Korean BBQ sauce is a bit closer to teriyaki sauce than American BBQ sauce. However, it might be a bit harder to find, depending on where you live.
Like teriyaki sauce, it has soy sauce and a lot of sugar, and it's very sweet.
Remember, teriyaki sauce is originally from Japan, and Korean BBQ sauce is the Korean equivalent.
3. Oyster Sauce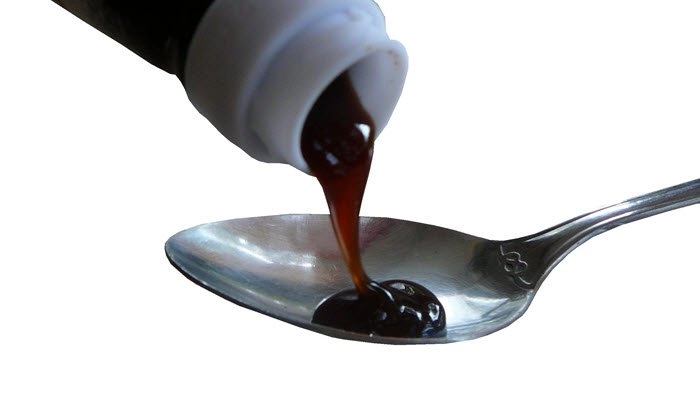 Another teriyaki sauce substitute worth considering is oyster sauce.
If you are a vegetarian, you can't use it, as oyster sauce has oyster juices. However, it is pretty sweet, as it has sugar, and it has a somewhat similar profile to teriyaki sauce.
Many won't even realize the difference, especially if you mix it with some soy sauce, the main ingredient in teriyaki sauce.
Oyster sauce is very popular in China and Thailand for stir-fry dishes — you'll find it all over Thailand in street food stalls.
4. Sweet Soy Sauce
Coming from Indonesia, sweet soy sauce is thicker and much sweeter than your standard soy sauce.
Usually, it has palm sugar, which is what gives it its thick consistency. However, you can use brown sugar as well.
In Indonesia, it's known as kecap manis.
5. Tianmian Sauce
Tianmian sauce [1] originated in China, and it tastes pretty similar to Indonesia's sweet soy sauce.
It's not gluten-free, as it is made with wheat flour. This sauce is extremely thick, so much so that it may seem more like a paste than a sauce.
Nevertheless, it's perfect for glazing meat; if you've ever eaten Peking duck, you've likely tasted Tianmian sauce.
In your local supermarket, it may be called something like sweet bean sauce, sweet wheat sauce, sweet wheat paste, or some variety of the above, as it is made with both soybeans and wheat.
6. Worcestershire Sauce
A sauce you can find pretty much anywhere in the United States is Worcestershire sauce [2].
If you're familiar mainly with Americanized versions of teriyaki sauce, including the Hawaiian version of teriyaki sauce, you'll find Worcestershire sauce even more similar.
That's because, in the US, teriyaki sauce often contains additional ingredients, such as garlic.
Worcestershire sauce contains garlic and rice vinegar, salt, and other ingredients usually found in teriyaki sauce.
While it's not the closest alternative, it's almost always within reach, even if you live in a rural area where it is hard to find Asian spices and sauces.
If you have some soy sauce in your pantry as well, I'd suggest mixing some soy sauce with your Worcestershire sauce for a more authentic feel.
Again, experiment with different amounts until you find the formula that works best for you.
Further reading: 11 Worcestershire Sauce Substitutes
7. Hoisin Sauce
Can I substitute hoisin sauce for teriyaki sauce?
If you'd like to try a sauce with a bit more spice than your standard teriyaki, hoisin sauce is a fantastic choice.
It's not only sweet and sour, but it's spicy, too! That's because it usually contains some amount of chili pepper. Like teriyaki sauce, it's made with soybeans, and it contains similar ingredients, like vinegar and sugar.
Hoisin sauce is thick and used for glazing, but you can also use it to dip wings or other food items in. It can also be served as a dark soy souce substitute.
8. Tamari Sauce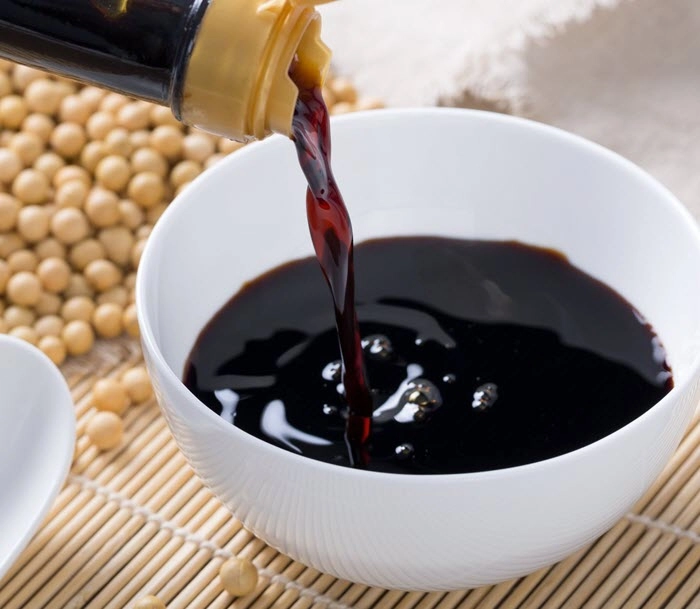 If you're searching for a gluten-free alternative to teriyaki, Tamari might be a good choice.
Made from fermented soybeans, it does not contain any wheat. It doesn't contain any oyster juices either, so it's perfect for vegans too.
Despite its thickness, it's not exactly like teriyaki sauce unless you add some sugar or honey. Add a pinch of salt or some other components like umami or garlic to spice things up.
If you can't find it, using one of the tamari substitutes is also a good idea.
9. Ponzu Shoyu Sauce
Ponzu Shoyu sauce is a very tangy soy sauce.
Based on the juice of sudachi (a citrus fruit) and with soy sauce added, it can be a great alternative to teriyaki.
Some ingredients it shares with teriyaki sauce include sugar, salt, and mirin.
10. Any Stir-Fry Sauce
Head to the spices or Asian section of your local grocery and find any stir-fry sauce.
They will often contain soy sauce, some sugar, and perhaps some garlic, though you can look at the ingredients to verify them.
11. Coconut Aminos
Do you need an easy substitute for teriyaki sauce due to allergy?
Coconut aminos will be your best choice! It's the best soy-free teriyaki sauce substitute made from fermented coconut palm sap.
It has been shown to be less salty than teriyaki sauce which can help you stay within dietary guidelines in some cases!
12. Homemade Teriyaki Sauce
You can make your own teriyaki sauce at home!
Teriyaki sauce is quite simple. At its core, it contains just soy sauce, mirin, and sugar.
Use the 2:2:1 ratio of soy sauce:mirin:sugar to get the right balance. Then, you can add a pinch of salt or some garlic. Of course, if you like it sweeter, you can always add more sugar.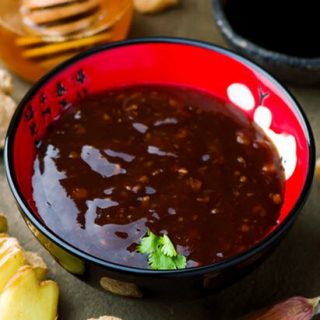 Homemade Teriyaki Sauce
An easy homemade teriyaki sauce recipe.
Ingredients
1 cup soy sauce
1/2 cup brown sugar
6 tablespoons mirin
2 tablespoon honey
2 teaspoon sesame oil
3 teaspoons fresh ginger (minced)
2 teaspoon garlic (minced)
1/2 cup water mixed with 6 teaspoons cornstarch
Instructions
Combine all the above ingredients in a small saucepan.
Set over medium heat to bring to a boil.
Heat until it thickens to your desired thickness.
Set low heat and simmer for about four minutes. Then let it cool.
Notes
Add more water to thin the sauce if it becomes too thick.
If you don't have mirin, you can use sake or rice wine, or vinegar from your local market.
Instead of brown sugar, you can also try experimenting with regular sugar or honey. The consistency of the sauce will be different if you use honey, but you may enjoy the taste better.
Nutrition Information:
Yield:

24
Serving Size:

1
Amount Per Serving:
Calories:

41
Total Fat:

0g
Saturated Fat:

0g
Trans Fat:

0g
Unsaturated Fat:

0g
Cholesterol:

0mg
Sodium:

585mg
Carbohydrates:

8g
Fiber:

0g
Sugar:

7g
Protein:

1g
Make Teriyaki Chicken with Teriyaki Substitute
You can also make teriyaki chicken without teriyaki sauce by using one of the above substitutes, here is how:
FAQs About Teriyaki Sauce Alternative
Can you substitute soy sauce for teriyaki sauce?
Soy sauce can be used to substitute teriyaki sauce, but its flavor is much different than teriyaki. You can use it instead and enjoy some of its unique flavors!
What can you substitute for teriyaki sauce in stir fry?
If you're not able to find teriyaki sauce for your stir-fry, don't worry!
You can always substitute it with stir-fry sauce or barbecue sauce. Other suitable substitutes include soy sauce mixed together with sugar, Korean galbi sauces, and oyster sauce.
What can you substitute for honey in teriyaki sauce?
Maple syrup is a wonderful substitute for honey in teriyaki sauce, it'll act similarly to honey even if it changes the flavor of the sauce slightly.
Final Thoughts
The teriyaki in the US is not always the same as the teriyaki sauce in Japan. So in the US, especially in Hawaii, chefs started adding other ingredients, such as ground ginger.
In a pinch, you can always take regular soy sauce and mix it with plain sugar to get a rough substitute for teriyaki sauce. Without the mirin, it won't feel exactly right, but it's close enough when you've got a starving crowd to feed.
Reference