Cooking spray is an essential part of many recipes.
More of a tool and less of an ingredient, cooking spray makes it significantly easier to serve many dishes and, in some cases, even helps them cook better.
However, if you run out of store-bought spray, there are some alternatives you can use.
Here's everything you need to find a quick substitute for cooking spray.
What is a Good Substitute for Nonstick Cooking Spray
These are the 8 best options if you need to substitute for cooking spray in your kitchen.
1. Butter
Perhaps the most widely-used nonstick cooking spray substitute, butter is a classic option because it works.
It effectively lubricates most pans and is especially useful in low-temperature cooking when there's little chance the butter will scorch.
Butter is also affordable and available in most fridges, making it a likely option if you don't have time for an impromptu trip to the grocery store.
Butter also adds an excellent depth of flavor to most recipes, especially when baking.
2. Flour
Flour is the classic choice for home bakers and is a common ingredient in cooking sprays designed for cakes, cookies, and other sweet treats.
Before pouring your cake batter into the pan, rub a thin layer of shortening around the inside, then dust with flour. Give the tin a few shakes to ensure it's evenly dispersed, and discard any excess.
This substitute for cooking spray can burn if the oven is too hot, so it's not a good choice for higher-temperature needs.
3. Lard
Lard is a flavorful, fatty nonstick cooking spray substitute that is soft, easy to spread, and has a flavor that works well with many savory recipes.
Lard is particularly heavy in oleic acid [1], which you can also find in olive oil. Oleic acid has a strong association with reducing cholesterol and heart disease.
Lard's other advantage is that it's entirely non-dairy, making it an excellent option for those with milk allergies.
Many people have a hard time choosing between butter and lard, but both are standout options as a substitute for cooking spray for baking or pan-frying.
If you don't have lard on hand, you can also use one of its substitutes.
4. Olive Oil
Not to be confused with vegetable oil, olive oil is a reasonably high-temperature cooking oil that does well when greasing pans.
Olive oil is relatively healthy [2] but has a much stronger flavor than most of the other options on this list.
That can be negative in some recipes, so it's better to consider this nonstick cooking spray substitute viable only on a case-by-case basis instead of making it your first choice.
Be wary of using extra virgin olive oil, though. While it's typically what we keep in our pantries because of its lighter flavor, regular olive oil does better for cooking because it has some extra ingredients.
5. Parchment Paper
The only non-oily option on this list, parchment paper, abandons the concept of greasing the pan in favor of an entirely different approach.
This cooking spray substitute for oven-based recipes is essentially silicone-coated fibers. Parchment paper does not add any oil to your food, so this is the healthiest option on our list.
It's also a perfect cooking spray substitute for air fryer chefs, and you can find it pre-punched with holes for easy cooking.
Most parchment paper works up to about 500 degrees, although this can vary somewhat by the manufacturer.
Don't confuse parchment paper for standard wax paper, which melts at considerably lower temperatures.
6. Vegetable Oil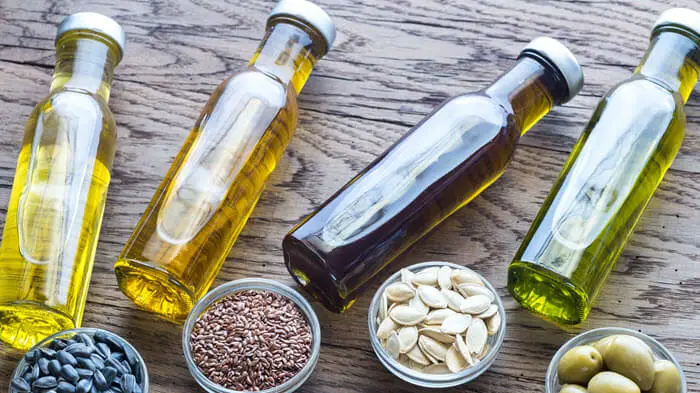 Despite the qualities of the other options on this list, vegetable oil is perhaps the best substitute for cooking spray for a simple reason: it is cooking spray.
Or, more accurately, cooking spray is usually a canned version of vegetable oil mixed with a few other ingredients to ensure it sprays well.
Since they're almost the same product, you're not going to go wrong using this pantry staple. You can even water it down for a homemade spray, as we'll discuss in our recipe section below.
As a bonus, most serious cooks already have vegetable oil because it's affordable, available in large quantities, and lasts a long time at room temperature.
The arguable downside is that vegetable oil doesn't have much flavor, but that might be a good thing if you want to avoid changing the taste of your ingredients.
7. Vegetable Shortening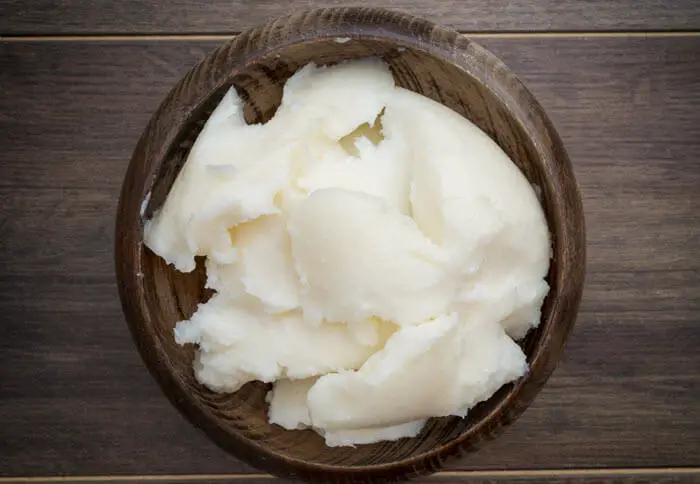 Vegetable shortening is part of a broader collection of culinary ingredients [3].
Essentially solidified oil, shortening usually liquifies somewhat when baking and therefore helps keep things from sticking to the side of a pan.
Most vegetable shortening is soft and has little or no odor.
However, it can be greasy, so the best way to apply it is usually with a paper towel that you can dispose of after.
Specialty shortenings are available, but they aren't necessary if all you want is a substitute for cooking spray.
8. Homemade Cooking Spray
Need to whip up an emergency batch of cooking spray? You can make your own cooking spray! It's very easy and only requires two ingredients.
Homemade Cooking Spray
Make your own cooking spray!
Ingredients
1 cup purified, room temperature water
1/4 cup oil of choice (olive or vegetable is a good starting point)
Instructions
Mix the two ingredients and put them in a spray bottle.
Notes
You can adjust the ingredient ratio as you prefer. More oil means more calories but also more effectiveness.
Nutrition Information:
Yield:

2
Serving Size:

1
Amount Per Serving:
Calories:

248
Total Fat:

28g
Saturated Fat:

2g
Trans Fat:

0g
Unsaturated Fat:

25g
Cholesterol:

0mg
Sodium:

5mg
Carbohydrates:

0g
Fiber:

0g
Sugar:

0g
Protein:

0g
FAQs About Cooking Spray
Here are some common questions people have about this topic.
What is cooking spray?
Cooking spray is a canned version of oil, with a propellant, an emulsifier, and a few other ingredients for stability. Its primary purpose is to prevent baked goods from sticking to a pan.
Is cooking spray bad for you?
Cooking sprays vary in healthiness. They're often healthier than spreading an oil directly because you don't need as much to coat a surface.
How to grease a pan without spray
The best way to grease a pan without spray is to choose a substitute, then apply it evenly.
Some people use brushes or paper towels to help reach the corners of a pan. You only need a thin layer, so don't add too much.
Can you use cooking spray on cast iron?
Yes. Cast iron usually needs lubrication with oil before you cook on it. Cooking sprays, and most substitutes, work fine.
Remember that cast iron can reach very high temperatures, so sprays that hold up under the heat work much better.