Nothing is worse than getting ready to prepare a batch of your family-favorite pancakes on a Sunday morning only to discover that you are missing a crucial ingredient, milk.
But hold on. There is still hope, so don't give up and get a box of depressing bran flakes before you cancel your pancake plans!
In many cases, you can substitute the regular kitchen staple with several options. So, we're going to show you the top substitutes for milk in pancakes.
Can You Make Pancakes Without Milk?
Yes, you can make pancakes without milk.
However, pancakes will be fluffier if you use milk as a primary element. If your milk isn't accessible, you can use coconut milk, water, soy milk, or any other milk alternative.
In this article, let's explore eight milk substitutes for pancakes.
Before we begin, let's look into making pancakes without milk.
Many pancake recipes use dairy-free milk instead of ordinary dairy milk, like soy milk. These handmade pancakes are made without any milk and with only water.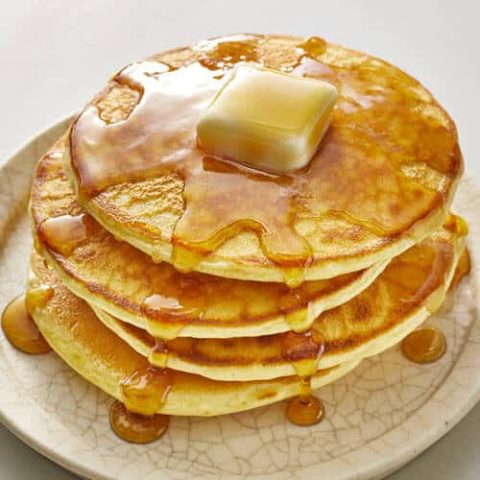 Make Pancakes from Scratch Without Milk
Make pancakes without milk!
Ingredients
1 ½ cups all-purpose flour
3 ½ teaspoons baking powder
½ teaspoon salt
1 ¼ cup of water
1 ½ tablespoons sugar
1 egg
1 teaspoon vanilla extract
Instructions
1. In a large bowl, whisk together the wet ingredients first (water, eggs, oil, and vanilla). Next, start adding the flour, baking soda sugar, and salt into the mixing bowl.

2. Stir the mixture after adding the dry ingredients to the wet. Remember to not completely mix the lumps. Although lumps are unwanted, some medium-sized lumps are fine. Over-mixing will result in tough pancakes.

3. On medium heat, apply butter to the pan.

4. Pour the pancake mix into the center and spread evenly in the pan. If desired, shape into a more circular shape using a spoon.

5. When the pancake begins to set and starts to become brown, turn it to the other side and cook.

6. Cool or serve hot according to your preference and required toppings.
Nutrition Information:
Yield:

10
Serving Size:

1
Amount Per Serving:
Calories:

85
Total Fat:

1g
Saturated Fat:

0g
Trans Fat:

0g
Unsaturated Fat:

0g
Cholesterol:

19mg
Sodium:

285mg
Carbohydrates:

17g
Fiber:

1g
Sugar:

2g
Protein:

3g
What Can You Substitute for Milk in Pancakes
1. Coconut Milk
Coconut milk is a go-to milk substitutes for pancakes in general. It is smooth, healthier, and aromatic with low calorie count.
When substituting for milk, you won't notice any apparent difference.
If you have time to space, you can get fresh coconut milk at home by grinding the coconut flesh and squeezing to get the first milk. Compared to packet coconut milk, it is richer and fresh.
2. Heavy Cream
Since heavy cream contains a lot more fat than milk, you may use it to make incredibly moist pancakes if you have any on hand.
Because of this, you can anticipate a vivid and "creamier" pancake when using heavy cream.
However, since heavy cream has more fat than milk, you'll probably need to use less of it.
It is advised to gently whisk as you gradually add a small amount of heavy cream at a time until the batter is the proper consistency. Or, thin it out by adding some water.
3. Water
This may sound obvious, but water is a great way to make pancakes. As previously said, milk is used in pancakes to give taste and, more significantly, to dissolve all of the basic ingredients.
Therefore, water is a decent substitute if you don't have any milk.
Be aware that water lacks flavor. Therefore, if you want your pancakes prepared with water to taste better, add extra flavorings like lemon juice, vanilla, flavor syrup, or extra butter.
4. Sour Cream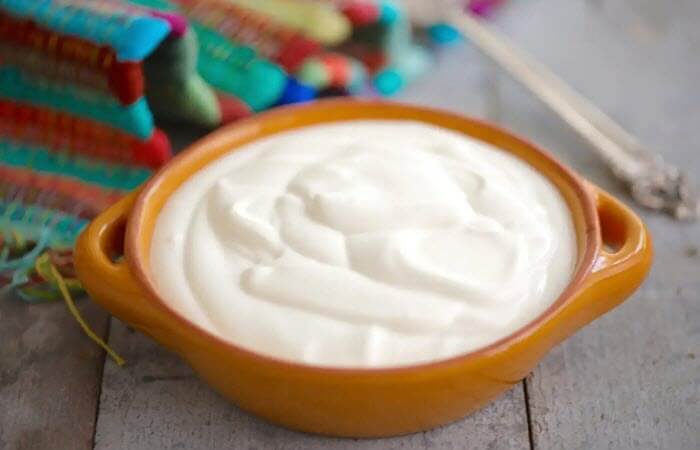 Sour cream is heavier than milk and will result in slightly denser and fuller pancakes. Even so, it's not always a terrible thing. Some folks favor pancakes with more substance.
Or, to resemble milk and counteract this impact, simply combine a little water with the sour cream to thin it down.
Also bear in mind that adding sour cream will give your pancakes a little different flavor and give them a little more bite.
5. Soy Milk
Soy milk is another great substitute and is also healthier. It contains a lot of protein, along with other vitamins and minerals.
It's also among the least expensive options that are readily available on the market. It serves as an alternate component for pancakes and other baked goods even if it isn't quite as thick as milk.
Soy milk is not as fragrant as coconut milk. Therefore, you still need to add some vanilla essence to get those traditional pancakes that smell sweet.
6. Plain Yogurt
In fact, plain yogurt might be the best dairy alternative to milk. Even with a little zip, it gives your pancakes a little bit more moisture than milk.
You can add additional water to the batter to make it less thick. But be careful; too much might lead to dry pancakes. When cooking, keep in mind to utilize lower heat.
Use yogurt or yogurt with water for milk in a 1cup to 1cup ratio.
7. Oat Milk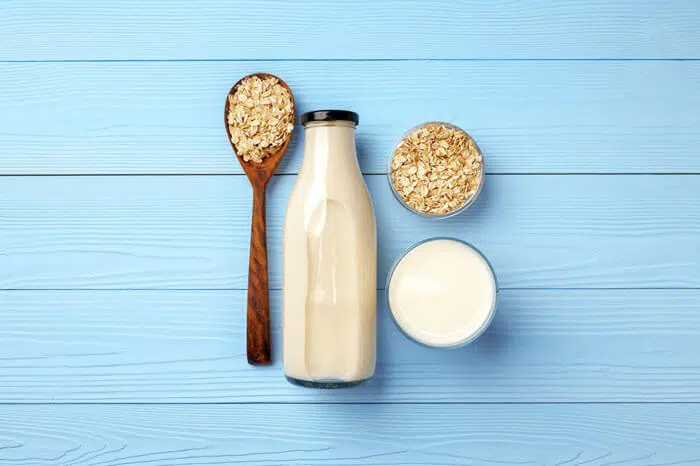 Another excellent milk alternative is oat milk. A group of vegans and health-conscious individuals who favored a more wholesome diet helped it gain popularity.
Oat milk is surprisingly high in calcium and is bursting with fiber. Contrary to popular assumption, calcium is not only found in milk made from animals. Such nutrients can also be supplied by milk made from plants.
You can use 1 cup of oat milk for 1 cup of whole milk.
8. Buttermilk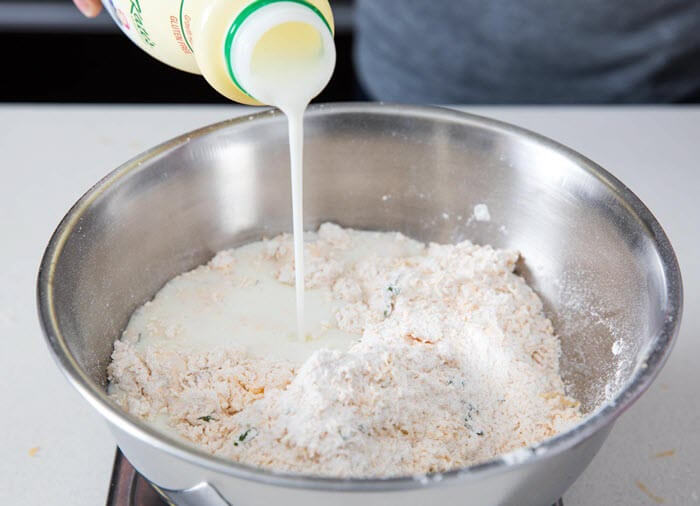 Buttermilk is also a great alternative. The pleasant, slightly tangy flavor of buttermilk pancakes will leave you wondering what exactly is in them.
Otherwise, you will appreciate the incredibly thick and fluffy pancakes that the buttermilk will provide.
Use a 1:1 ratio when substituting buttermilk.
Tips To Make Pancakes
Always add Dry Ingredients Later
Always begin by whisking the liquid components together until bubbles start to form. The dry ingredients are then added.
This accomplishes several crucial things: It lessens over-mixing and emulsifies the fat and water in the batter.
Airing
To give the flour a decent airing, sift the salt and flour into a sizable bowl from a good height.
Make a hole in the middle to add your beaten eggs, and then drizzle in the milk gradually. As you whisk, any lumps will dissolve.
When Flipping Pancakes, Be Timely
The pancake rises when the batter touches the hot griddle, and the structure of the small bubbles solidifies. So when flipping, don't be in a hurry.
Be patient; flipping too soon will prevent the pancake from rising all the way and will prevent the structure from setting.
Sparkling Water
Your batter will become crisp and light, just like a Japanese tempura batter, if you add sparkling water to it.
The bubbles form air pockets that, as they heat up and expand, give the surface a lighter feel.
FAQs About Milk in Pancakes
Can You Substitute Water for Milk in Pancakes?
Yes, you may substitute water or an equal amount of just about any other liquid for milk for making pancakes.
Water is the simplest substitute, but we feel that water based pancakes don't have enough taste and creaminess.
Are Pancakes Made Better with Milk or Water?
Milk not only enhances flavor but also provides the fat that pancakes need to be soft and moist.
Plain water simply won't produce the same outcomes. For heaviness, using milk is the best option.
Can You Substitute Yogurt for Milk in Pancakes?
Yes, even with a little zip, it gives your pancakes more moisture than milk.
To make the mixture less thick, you can also add a little water. But keep it in check; too much can result in dry pancakes.
You May Like