What is a good substitute for gochujang?
You're lucky enough to see this post, because the following substitutes are recommended by my Korean friend Sarah. All of the following options will make your Korean dishes just like gochujang do.
Let's get started.
Bonus: If you simply want to know which Gochujang is the best, then check out our latest research on the 8 best Gochujang in the market.
What is Gochujang?
Gochujang is not gochugaru, they are different.
Gochujang is a red chili paste made up of chilies which have been fermented with glutinous rice, fermented soybeans, and salt while gochugaru is a chili powder.
Gochujang is an extremely versatile condiment/ingredient and can be used in many different ways. Whether it's eaten as a spread, added to stews or soups, mixed with sesame oil for a dipping sauce, or even used as a marinade. It's one of the staples in Korean cooking.
Where to buy gochujang?
If you don't have an Asian market nearby, you might have to purchase gochujang online.
Most small grocery stores don't have it, but large stores might have it in the aisle with Asian foods or in the refrigerated case next to the kimchi, which is Korean fermented and spiced cabbage.
What Can You Substitute for Gochujang?
1. Miso Paste
Authentic gochujang and miso paste both use fermented soy as a flavor base. That means miso paste works well as a substitute for gochujang in many recipes.
You won't want to use miso paste alone, however. Add chili powder and paprika to provide the heat and flavor of the hot peppers. If you have Korean chili powder (gochugaru), use that, but cayenne powder or flakes will work, too.
Add an equivalent amount of miso to the recipe, and start with a dash or two of paprika and chili powder. Taste, and add more as needed.
2. Sriracha
Sriracha is a hot pepper sauce that gets its heat from jalapeños, while gochujang gets heat from Korean chili peppers, so the flavor profile is slightly different. However, it still makes a tasty, spicy substitute for gochujang.
Start by adding half as much as the recipe calls for and add more as needed. Sriracha is thin instead of a paste, so you may prefer a different Korean chili paste substitute if you need something with more texture.
3. Sambal Oelek
This thin Asian chili paste is usually available at most large grocery stores in the Asian aisle with sweet chili sauce and soy sauce. Sambal oelek brings a lot of heat and some acidity to dishes, though it lacks the complexity of flavors fermentation adds to foods like miso or gochujang.
This replacement for gochujang is spicier, so use about half as much as you would gochujang. Taste the dish before adding more. You might also want to add some sweetener since sambal oelek lacks the sweetness of most other substitutes.
4. Thai Chili Paste
If you can find Thai chili paste at your grocery store and the dish you're making can handle a heavy garlic flavor, this paste works as a gochujang substitute. The heat and sweetness will help create the necessary taste in your recipe.
Add about half the amount you would gochujang and taste before adding more.
Also, if your recipe calls for garlic, don't add it until you've added this substitute and tasted the dish. The paste may provide enough garlic flavor that you won't want to add more.
5. Cayenne Pepper
Your spice bottle might say cayenne pepper, red pepper flakes, or red pepper powder. In the United States, all these come from hot cayenne peppers.
You can add the pepper alone for heat, but you can also use a paste from red pepper flakes and soy sauce. The paste consistency makes it a better gochujang substitute.
To make a paste, mix one-part cayenne pepper with half that amount of soy sauce and a pinch of sugar, then use it in an equal amount in the recipe.
6. Harissa Paste
Harissa paste makes a suitable Korean chili paste alternative in dishes where gochujang adds a surprising hit of spice rather than an authentic Korean recipe.
Harissa is a smoky African spice blend. Its flavor profile is nothing like Korean spices, except heat and slight sweetness.
Use Harissa paste in an equal amount in dishes like noodles with a creamy sauce that gets a punch from gochujang or recipes that add spice paste to punch up foods like gochujang macaroni and cheese.
Harissa paste is usually less spicy than gochujang, so you may need to taste and adjust the amount.
7. Tomato Paste
Canned or tube tomato paste offers the right texture to recipes but lacks the necessary flavor. If tomato paste is your only option, it's better than nothing.
Use tomato paste as a gochujang replacement in an equivalent amount. Add cayenne pepper, a little soy sauce, and a dash or two of sugar to your dish for a better flavor profile.
8. Spiced Date Paste
If you have dates and hot pepper flakes, you can blend them into a spicy paste that works as a gochujang substitute in most dishes.
If you can find date paste at your store, use that. If not, pit and boil 5-6 Medjool dates or 10-12 Deglet Noor dates for about ten minutes in a small amount of water to soften them.
Blend the dates with a few teaspoons of cayenne pepper, a few tablespoons of water, and a tablespoon of apple cider vinegar. Add a few dashes of garlic powder to taste, then use the paste as you would gochujang.
9. Gochugaru
Gochugaru and gochujang are interchangeable. Gochugaru is a Korean chili powder which is made from red chili peppers. It has the same spiciness as gochujang without the fermented flavor that some people don't like.
Use 2 teaspoon of gochugaru for every 1 teaspoon of gochujang. Taste and add more if required.This is an easy way to add spice to your dishes while still staying true to Korean food culture!
10. Homemade Gochujang
Fortunately, you can make a gochujang paste that tastes as good as those with only a handful of ingredients.
For the heat, use Korean chili powder if you can find it, but a smaller amount of cayenne pepper flakes or chipotle powder will work. The salt and umami flavor can come from soy sauce, tamari, liquid aminos, or coconut aminos, whichever you prefer.
The fermented taste comes from miso paste. White miso has the mildest flavor, and red miso gives the recipe a deeper flavor. You can use whichever one you can find or the one you like best.
The sweet element can be any sugar or sweetener you prefer, but maple syrup or date syrup blends better than granulated sugars or sugar alternatives.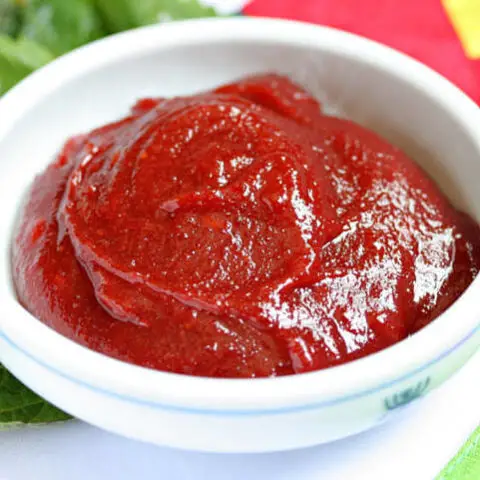 Homemade Gochujang Recipe
Your easiest homemade gochujang recipe!
Ingredients
½ cup miso paste
½ cup hot pepper flakes
¼ cup soy sauce
¼ cup maple syrup
3 tablespoons of tomato paste, to taste
3 cloves of garlic, minced
1 ½ teaspoon of onion powder, to taste
Instructions
1. Add all ingredients to a food processor or blender and process to the desired consistency. You may need to add a few tablespoons of water a little at a time to help thin the paste.
2. Adjust the ingredients to suit your taste. If you don't have miso paste, you can substitute apple cider vinegar, but start with one or two tablespoons and adjust as needed.
Notes
You can store this in an airtight container in the refrigerator for up to two weeks and freeze whatever you won't use in that time for a couple of months.
Nutrition Information:
Yield:

4
Serving Size:

1
Amount Per Serving:
Calories:

155
Total Fat:

3g
Saturated Fat:

0g
Trans Fat:

0g
Unsaturated Fat:

2g
Cholesterol:

0mg
Sodium:

2173mg
Carbohydrates:

29g
Fiber:

3g
Sugar:

17g
Protein:

7g
Recipes with Gochujang
Kimchi Udon
---
Kimchi Jjigae
---
Crispy Korean Fried Chicken
---
Gochujang Marinated Korean Beef
---
FAQs About Gochujang
Is hot pepper paste same as gochujang?
No. The flavor profiles are different. Gochujang has a more complex taste with layers of flavors you can't get from hot pepper paste.
But if you're looking for something to spice up some dishes or add a little bit of heat, then go ahead and use either one!
Is Gochujang paste and sauce the same?
They are different. Gochujang paste is made of Korean chili peppers, water, fermented soybeans, and salt. It's a staple in Korean cooking that can be used to make sauces or condiments for meat dishes.
The gochujang sauce is made of gochujang and other ingredients, such as onions, garlic to create the perfect balance of sweet and spicy flavors.
While they are both delicious to any meal, you'll want to use them differently depending on what dish you're preparing.
Final Thoughts
The gochujang substitutes we've provided in this blog post should be able to help you make your favorite Korean dishes at home. If you have any other replacements in mind that we may not have included, let us know.