Before going into the details of substitutes for white pepper, it's essential to understand why we use white pepper?
White pepper is used primarily for adding flavor and spice to light-colored dishes, creams, and white sauces. If you're out of white pepper, then what will you do?
Don't worry; you can use the white pepper alternatives below if you don't have white pepper in the kitchen. So, are you ready to know the best substitutes for white pepper?
13 Best White Pepper Substitute Everyone Should Know
We use white pepper for cooking cream pasta, soups, and dips. Don't worry if you run out of it because there is no need to go outside to get it. You can use any of the following replacements for white pepper.
Ground Ginger
Ground ginger is almost present in every kitchen every time.
You can use it to replace white pepper if you're cooking creamy sauces and white soups. It doesn't have too strong spice, but it is enough to add tang to a recipe.
Due to its unique flavor notes, ground ginger is often used in Thai cuisine. When adding it to the recipe, use only a small quantity.
You can also use fresh ginger because it also smells good and can make the dish spicy. Visit any local grocery store to get ground ginger. It should be in your kitchen so that you can use it as a white pepper substitute.
Ground Mustard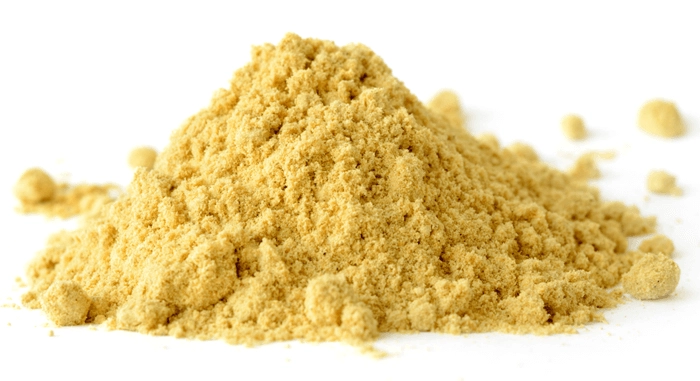 Ground mustard appears mild yellow, but still, you can use it in white sauces. It provides a mildly hot taste due to its sharp flavor.
Ground mustard gives you the flavor notes of white pepper, and leaves a spicy taste. What's more, it's an excellent emulsifier that keeps the oil and egg together.
You can use ground mustard for ingredients like butter, cheese, and beef. Although it can turn your dish yellow, its smell is head-clearing, so don't worry about it.
If you don't have white pepper, use a pinch as a substitute, and you can add more to get the desired taste.
BTW, this option can also be a good substitute for mustard seed.
Pink Peppercorns
Due to the resinous taste, sweetness, and aroma, pink peppercorns can be one of the best substitutes for white pepper. It's light in color, but still, it tastes the same as white pepper.
With a less sharp aroma but a milder spice taste, it's mostly used in vinegar, fish, and wine recipes.
You can add the same quantity of pink peppercorns to get the hot and mild taste because it has a flavor and spice level similar to white pepper.
Black Pepper
Can you substitute black pepper for white pepper?
Black pepper comes from the same plant from where you get the white pepper. Although it has a sharp aroma and strong hot taste, you can use it in a small quantity to get the desired flavor in a dish.
Be careful when using it as a substitute for white pepper because adding a slightly more amount can lead to a very sharp taste. You can use powdery pepper for white sauces and soups. Stir well to get the desired taste.
My advice: add only the half amount compared to white pepper to get the desired spice and flavor.
Green Peppercorn
Green peppercorn is also an excellent replacement for white pepper. You can get it from the same plant where you get the white pepper.
The only difference is the harvesting time. You can get green pepper in pickle form, but don't get surprised if you see it in dried form.
When comparing tastes, the white and green peppercorns are different. Green peppercorns taste mild, and you need to use them more as compared to white pepper.
If you feel that black pepper can ruin the appearance of your dish, then you can use it. Just simply add a small amount and increase the quantity according to your taste.
Ground Cumin
This alternative will be surprising for many of you, but you can use it as a ground white pepper substitute for many reasons.
Ground cumin helps you get tart, aromatic, and spicy flavor. If you were adding 1 tsp of white pepper in a dish, you could only add half of the ground cumin to get the same results. Just increase the quantity if you feel you didn't get the desired taste.
Flavored Pepper Mix
As the name indicates, it's a flavored mix of pepper. This white pepper substitute won't take you lots of time to prepare the dish because it provides two flavors in one go.
If you're finding white pepper boring and plain on the plate, it's a good option to add colors to your dish.
Flavored pepper mix can be bought from any store, and the best thing is they're available in multiple options, such as slated pepper, lemon pepper, garlic pepper, Old Bay, and Cajun mix. Just choose the flavor according to your taste.
It's the best white paper substitute, especially for white sauces and soups. use this alternative if the color isn't important for you.
Turmeric Powder
You can use turmeric powder not only for getting the desired taste but also for enjoying health benefits.
Turmeric powder has a unique and different taste than white pepper. Therefore, you need to ensure that it works fine with other ingredients before using it.
The best thing about this white pepper substitute is you don't need to grand anything because you'll get a ready-made powder from the market.
Paprika
It's an excellent substitute for white pepper that can add more spice to any dish. Want to make your dish spicier? Use paprika since it's mildly hot.
You can get some dried paprika and grind it to enjoy the freshness. Otherwise, bring a ready-to-buy powder from the grocery store.
Note that if you don't want to change the appearance of a dish, then avoid using it because it gives a light red hue to the dish. If extra spice and color don't irritate you, just add a pinch.
Cayenne Powder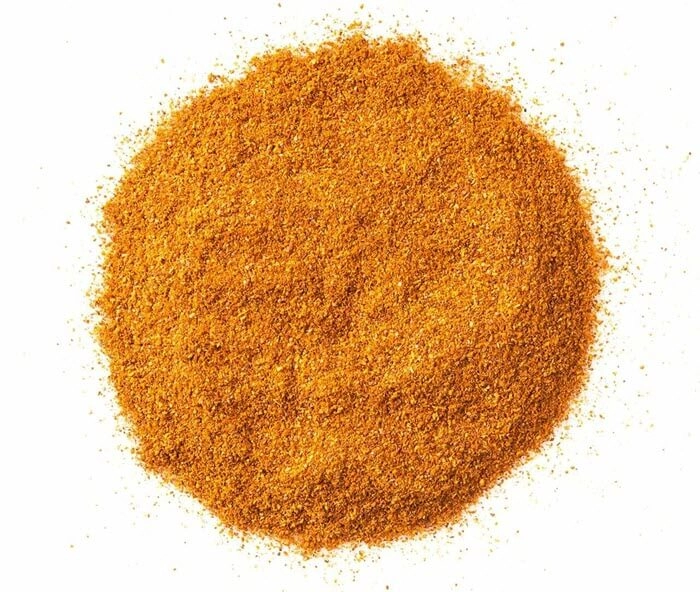 If the spicy nature of paprika irritates you, but you still want to use it, then add some cayenne powder to your dish. The best thing about this powder is that it's available in different variants. You can find some mildest to spiciest flavors.
Cayenne powder might be a new thing for you, so start with a bit of quantity and keep adding until you're comfortable with the taste. It can adjust and goes well with almost every dish. This makes cayenne powder to be widely used with stir-fried and stews dishes.
Due to its red color, it can change the look of your dish.
Garlic Pepper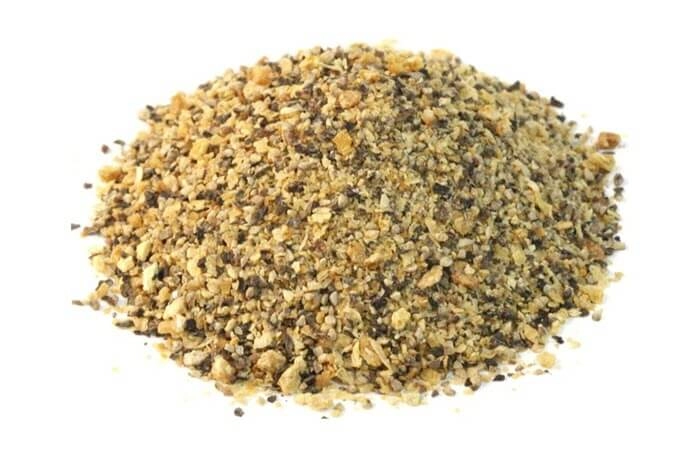 You might be wondering how garlic pepper can be a substitute for white pepper.
Don't be surprised because it's easy to prepare, and everyone can make it at home by mixing three ingredients, such as parsley flakes, black pepper, and garlic powder.
It's a perfect mild substitute, and since it's a blend of three ingredients, it adds more dimensions to dishes.
Green Chiles
There are lots of green chilies substitutes and varieties out there, each of them can be a substitute for white pepper.
Comparing with white pepper, green chilies are lower in calories, higher in fiber, and packed with other nutrients. It can help you maintain a healthy body weight.
DIY Spice Mix
It's the most adventurous alternative to white pepper. As the name indicates, one can easily make the desired blend at home. If you have some flavors at home and want to create a unique spice blend, do it now.
When creating a mix, ensure that you add all spices together and in the same quantity. Store this spice mixture in an airtight jar, so that you can use it in the future.
Before adding it to any dish, it's wise to taste the blend. It can change the overall taste of your dish, and you might not like it.
My Favorite Ingredients:
½ tsp cayenne pepper
1 tbsp of paprika
1 tbsp of parsley
2 tbsp onion powder
2 tbsp garlic powder
I've tested all the substitutes white pepper, they are safe and add flavor to dishes.
FAQs About White Pepper Substitute
What's the difference between white and black pepper?
Although they comes from the same pepper plant, they are different in how they're picked and processed.
White pepper is a berry that has been picked at peak ripeness, then soaked in water, and finally removed outer layer.
Black pepper is an unripe berry, then dried, making the skin blacken.
What does white pepper taste like?
White pepper tastes more earthy and musty while black pepper is spicier.
What is white pepper good for?
White pepper is full of a chemical called piperine which can improve breathing, reduce pain and inflammation.
Conclusion
Finding the best white pepper substitute is not difficult because you already have so many alternatives in your kitchen. You might not be aware of these alternatives before reading this post.
If you don't know what taste and flavor you will get by using any of the substitutes mentioned above, add a small quantity and see how it goes. All these substitutes for white pepper are safe, so don't hesitate to use them if you're short of white pepper.