"You will catch more flies with honey than with vinegar."
True, vinegar isn't honey, but it plays an essential role in your kitchen and meals.
Tarragon vinegar is essential; sometimes, it might be unavailable. So, what can you do?
This article will give 12 substitutes for tarragon vinegar and a homemade recipe you can try.
15-Seconds Summary
General substitutes for Tarragon vinegar are champagne vinegar, White wine vinegar.
Sauce substitutes include rice vinegar, sherry vinegar
Fruit vinegar makes a good marinade substitute while lemon juice is great for fish recipes.
Champagne Vinegar

White Wine Vinegar

Rice Vinegar

Sherry Vinegar

Balsamic vinegar

Apple Cider Vinegar

Cranberry Vinegar
Best Tarragon Vinegar Substitutes
1. Champagne Vinegar
Champagne vinegar is made from Pinot Gris and Pinot Meunier grapes blend. The grapes are left for about three weeks to seven months after fermentation. The result is acetic acid, with champagne flavor and sourness.
How to Use
Champagne vinegar has a mild smell and a lighter texture. Its light texture makes it a perfect glaze for veggies, roasted meat, tomato sauce, etc. When substituting, use a 1:1 ratio.
As expected, champagne vinegar is a little expensive, so it might not be the first choice for chefs on a budget. But trust us when we say the exotic taste it gives your meal is worth it.
2. White Wine Vinegar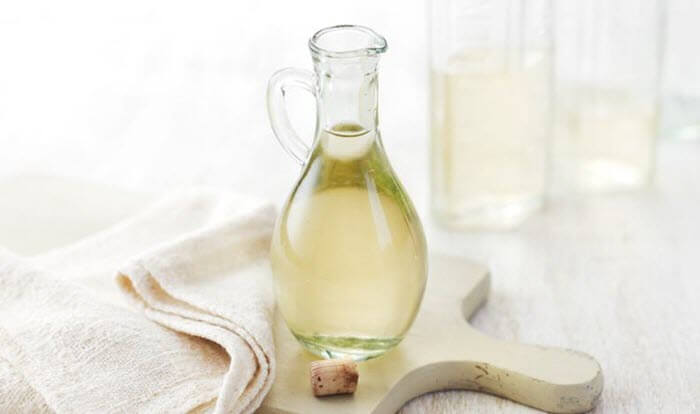 White wine vinegar is another fantastic substitute for tarragon vinegar. It's simple and easy to find in any store.
With white wine vinegar as a tarragon vinegar substitute, you get the same acidic taste but no added flavor. You can add dry or fresh tarragon leaves [1] if you need the flavor.
How to Use
Since there is almost no difference between both vinegar options, substitute white wine vinegar for tarragon in a one to one ratio.
Note: white wine vinegar is not white vinegar, they are different in acetic acid, color, smell, price, and usage.
Click here
to learn more details.
Tarragon Vinegar Substitutes for Sauces
3. Rice Vinegar
Asians are well known for their vast paddy fields and their products made with rice. So rice vinegar is a popular spice in most Asian homes.
In Japanese cooking, rice vinegar is used to prepare sushi rice and other dipping sauces. Due to the mix of the sweet and sour taste of rice vinegar, it blends easily with many flavors.
How to Use
Feel free to use rice vinegar as a replacement for tarragon vinegar in chicken salad, soups, pickles, vegetable, or meat meals.
For a more refreshing and delicious meal, add herbs to your vinegar.
4. Sherry Vinegar
As the name suggests, Sherry vinegar is made from the Spanish wine Sherry. The vinegar has a darker hue because of its longer fermentation time.
Sherry vinegar is sweeter and smoother than regular white wine vinegar. It also has caramel undertones, making it a blend of smoothness and flavor.
How to Use
As a tarragon vinegar substitute, sherry vinegar can be used in sauces, marinades, and to deglaze frying pans. One tablespoon is a perfect substitute for one tablespoon of tarragon vinegar.
Tarragon Vinegar Substitute for Marinades
5. Fruit Vinegar
We recommend fruit vinegar here because it has an excellent strong flavor that can seep into your meal quickly, thus giving it a pungent taste.
Tomato, Plum, Berry, or Pear vinegar are typical examples of vinegar options. Due to the different flavors, the flavor of fruit vinegar is a mixture of sour, sweet and fruity.
How to Use
As we have said, it's an excellent option for marinades, but it can also work for other dishes. Use a 1:1 substitute ratio. Or 2:1 if you want a more pronounced flavor.
Tarragon Vinegar Replacements for Fish Juices
6. Malt Vinegar
Malt vinegar originates from Britain and is made from dry barley grains.
In producing this vinegar, dry barley is soaked in water until it softens. During this period, fermentation takes place, and active enzymes are released.
Active enzymes break down the starch in the fermented barley and turn it into maltose. The vinegar is then aged in oak barrels for months; this gives it a distinct taste and flavor.
Malt vinegar is simply the beer left to ferment and turn sour. It also changes color to a lighter shade of brown, which indicates that it's ready to be used as vinegar.
How to Use
Malt vinegar has a sweeter, milder, yet more acidic taste when compared to tarragon. However, it's a perfect topping for fish in the UK. It can also be used in grilled vegetables and meat recipes.
When substituting for tarragon, use malt vinegar in a 2:1 ratio. But for emulsifying, use a one-for-one percentage.
Further reading: 13 Best Malt Vinegar Substitutes
7. Lemon Juice
This list will be incomplete without the supreme lemon juice as a tarragon substitution in fish recipes.
How to Use
Zesty, bright, slightly sweet, and acidic, lemon juice brings out the taste of fish dishes. On the plus side, lemon juice blends with any spice or seasoning. It's the perfect option for seafood.
Your recipe would work with a one-for-one substitution of lemon juice for tarragon vinegar.
Note: you need to make sure your lemon juice is fresh enough before using it, since it can
goes bad
in a short time.
Tarragon Vinegar Alternatives for Salad Dressings
8. Balsamic Vinegar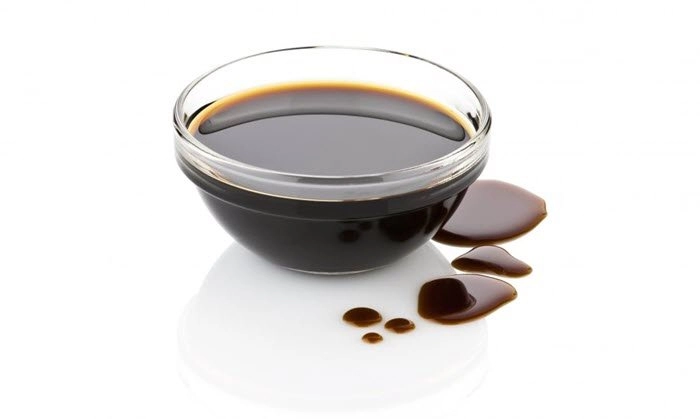 Everyone loves flavor-filled salad dressings. Balsamic makes for the perfect replacement for tarragon vinegar.
How to Use
With Balsamic vinegar, you get a sweet and high-quality dressing. Pair it with olive oil for the best quality, as in Caprese salad [2]. If olive oil is unavailable, don't worry; other oils work fine.
Substitute balsamic for tarragon in equal ratios.
9. Apple Cider Vinegar
Apple cider vinegar is a healthy alternative to tarragon vinegar in your recipe.
How to Use
Although its flavor is more tart and aromatic, it works fine as a substitute. Apart from its use for salad dressings, it can be used in chicken recipes.
Since apple cider is potent, a substitution of one teaspoon for one tablespoon of tarragon works. But, you can increase the quantity if you like.
Note: apple cider vinegar is different from apple cider.
Click here
to learn more details.
10. Cranberry Vinegar
Cranberry vinegar is an uncommon substitute for tarragon, but this would suffice in the absence of all other options.
It's made from balsamic vinegar mixed with white wine and cranberries. This has a noteworthy sweetness combined with a perfect level of acidity.
How to Use
Cranberry vinegar can be used in salads, soups, sauce, poultry, or duck.
You can still prepare your meal even when tarragon is unavailable with the available options we have given you.
Substitute With Tarragon Flavor
11. Tarragon Leaves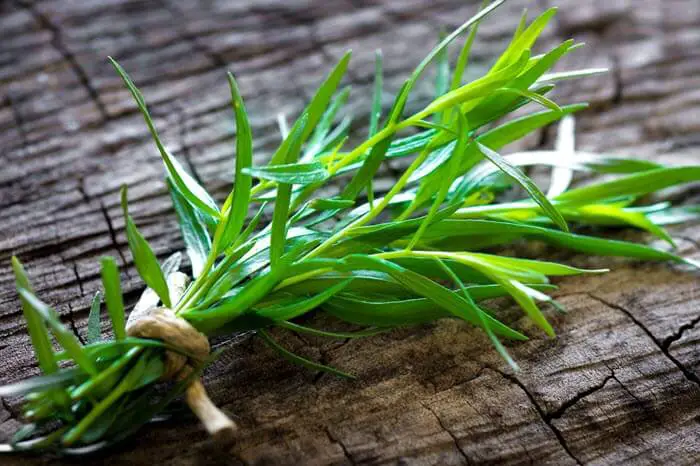 Only tarragon leaf itself can be the ultimate source of tarragon flavor. So if you solely desire tarragon flavor, add the dry leave to white wine.
How to Use
Take note that the flavor of the leaves will be more intense. So in your recipe, add the equivalent amount of white wine to the dish and then add a pinch of dry tarragon leaves.
12. Homemade Tarragon Vinegar
You can also make your own tarragon vinegar, it's easy but it will take about 2 weeks. Let's see how you can prepare your tarragon vinegar recipe at home.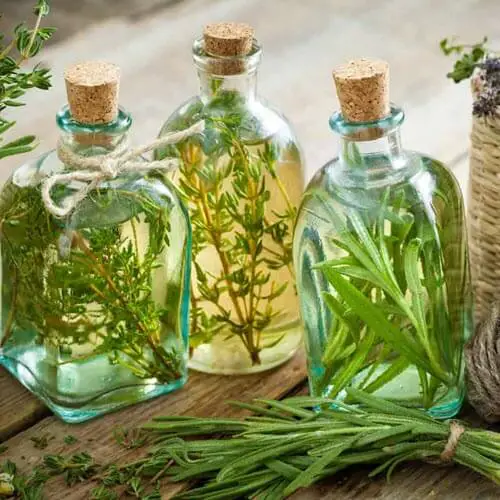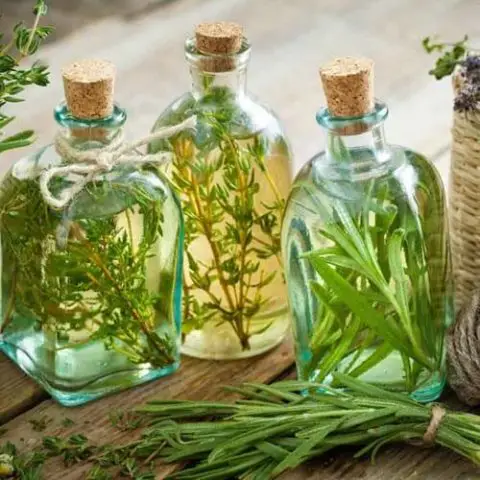 How To Make Tarragon Vinegar
Total Time:
14 days
5 minutes
Homemade tarragon vinegar recipe
Ingredients
1 cup of white vinegar
¼ cup of tarragon leaves
Instructions
1. Boil your vinegar for about 10 minutes in a saucepan over medium heat.

2. Crush the tarragon leaves a little and place them in a jar.

3. Pour your warm vinegar into the jar and let it sit for at least two weeks. If you want a deeper color and a more robust flavor, you can keep it for a month.
Nutrition Information:
Yield:

8
Serving Size:

1
Amount Per Serving:
Calories:

10
Total Fat:

0g
Saturated Fat:

0g
Trans Fat:

0g
Unsaturated Fat:

0g
Cholesterol:

0mg
Sodium:

2mg
Carbohydrates:

1g
Fiber:

0g
Sugar:

0g
Protein:

0g
That is it! With this simple recipe, your homemade vinegar is ready.
Let's answer some tarragon vinegar questions you might have.
FAQ About Tarragon Vinegar
What can I do with tarragon vinegar?
You can use tarragon vinegar as a deglazing agent. You can also infuse it into your meat recipes or salads.
Where can I buy tarragon vinegar?
You can find tarragon vinegar in grocery stores or purchase it online. Check the produce section if you seek the fresh leaves, while you can find dry tarragon in the spice aisle.
How to use tarragon vinegar?
You can use it to replace lemons in dressings, sauces, and marinades. When paired with olive oil, tarragon vinegar can be used to substitute for vinegar vinaigrette.
How long does tarragon vinegar last?
If kept in the fridge, its quality can last for about 4months.
Final Words
We are confident that this article has given you the best options and recommendations for tarragon vinegar substitute. Keep having fun in the kitchen with the different options available to you.