Ghee is popular all over the world because it's great for cooking and contains health benefits like many other forms of dairy products do.
What to do if you can't find it in your kitchen?
In this blog post, we will explore how to substitute ghee with alternatives such as butter, coconut oil, and olive oil so you can have your favorite dishes without having to worry about health issues from trans fats.
What Is Ghee
Ghee is a type of cooking oil that has been used in Indian cuisine (like curries) for thousands of years.
It is made from boiling butter, and the milk solids are removed once they have settled to the bottom. Because ghee contains no lactose or casein, it is often used by people with dairy allergies or sensitivities.
One thing to keep in mind when using ghee is that it has a much higher smoke point than regular butter so make sure you are watching your pan closely!
Vegan & Dairy-Free Substitutes for Ghee
Here are the 9 most popular vegan substitutes for ghee:
1. Coconut Oil
Coconut oil is a suitable replacement because it is similar in texture to ghee. It usually replaces ghee in a 1:1 ratio.
Be careful with coconut oil because virgin coconut oil has a lower smoke point than ghee. This makes it a poor substitute for frying.
Though it is not the best choice for frying, coconut oil is a good ghee substitute in recipes that call for solid fat instead of liquid fat. It is also instrumental in desserts.
2. Vegetable Oil
"Can I use vegetable oil instead of ghee?" The answer is – yes!
Vegetable oil is a cheaper option and is mainly used as a substitute for ghee as a shortening agent for crusts and pastries.
It will generally add moisture to your dish, so be aware of this fact before choosing it as an alternative.
The best substitute measurement to go off of is one part vegetable oil to one part ghee. In terms of flavor, it is very bland and will not add much flavor to your dish.
Further Reading: 10 Healthy Substitutes for Vegetable Oil in Waffles
3. Olive Oil
Olive oil is a good substitute because many people have it readily available in their pantries at all times.
It is not the best choice if you need solid ghee since it is liquid. However, if you need melted ghee, olive oil is a good alternative.
Olive oil should be used as a replacement for ghee on a ¾ volume scale. Meaning for 1 part ghee, you will need ¾ part olive oil.
In terms of taste, olive oil is a suitable replacement because it has a similar nutty flavor profile to ghee.
4. Soybean Oil
Soybean oil has a very long shelf life which makes it the perfect kitchen staple. It is also a good source of protein and a decent alternative to ghee.
It does not have as strong a flavor as ghee, so be sure to add some spices to strengthen the taste of your dish.
This oil has a high boiling point, so it is a good substitute for frying and baking.
Use ¾ tablespoon of soybean oil for every one tablespoon of ghee that your recipe calls for.
5. Sunflower Oil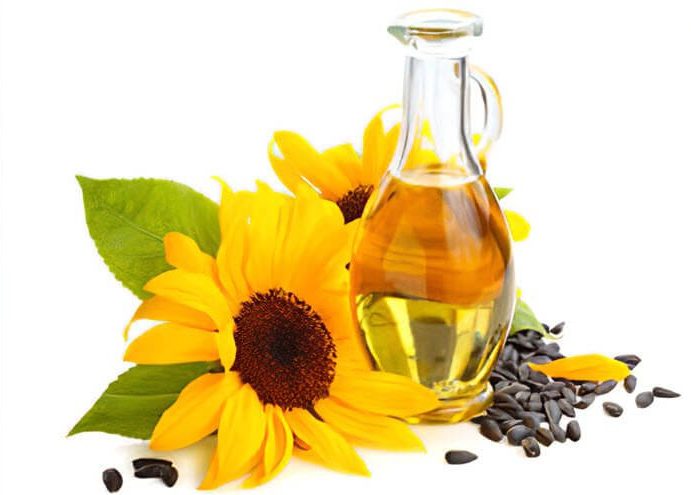 Sunflower oil is another oil with a high smoke point. Refined sunflower oil has an exceptionally high smoke point making it an ideal alternative to ghee if you are frying or sauteing.
Virgin sunflower oil has a robust nutty flavor, but it is hard to find.
If you choose to use virgin sunflower oil as a replacement, be sure to use it in vinaigrettes or dressings since it does not have as high of a smoke point as its refined counterpart.
6. Canola Oil
Canola oil can be used for high-heat cooking and low-heat cooking, similar to ghee.
It is also great for deep frying. If your recipe calls for ghee to deep fry, canola oil may be the best choice for a replacement.
Canola oil is very versatile and is used in a ¾ ratio to ghee. For every 1 part ghee in your recipe, use ¾ part canola oil.
If you have a recipe that relies on ghee's strong flavor like Indian-inspired dishes, steer away from canola oil. Its flavor is very mild and does not add to the dish's flavor as ghee does.
7. Sesame Oil
Sesame oil has a strong flavor profile like ghee. Many choose to use this alternative when frying food.
There are many types of sesame oil on the market. Toasted sesame oil is the best choice for replacing ghee.
You can expect a robust and nutty flavor similar to ghee when cooking with sesame oil.
When substituting with sesame oil, use a ¾ ratio. For every 1 part ghee, use ¾ part sesame oil.
8. Grapeseed Oil
Grapeseed oil is popular when cooking because it has a neutral flavor profile that easily blends into the dish's flavors. If you want to use grapeseed oil to replace ghee, expect to use an even ratio.
You can use grapeseed oil for frying, sauteing, or baking. It has a high smoke point, making it a good option for these cooking techniques.
For oil with its level of versatility, grapeseed oil is quite affordable compared to other products with similar levels of versatility.
9. Avocado Oil
If you are looking to replace ghee with a healthier alternative, avocado oil may be your answer. It is one of the healthiest oils out there.
Avocado oil has a fresh and buttery flavor. Its heat point is very high, making it a good alternative for almost any ghee recipe. If you are a fan of avocado, you might prefer this option.
Non-Vegan Substitutes for Ghee
1. Butter
Can you substitute butter for ghee? Why not! Butter is the most common alternative for ghee because it is most closely related to ghee itself.
Ghee is essentially melted butter with a lower dairy content. The flavor of your dish will not be compromised that much if you use butter instead of ghee.
Be prepared for a slightly sweeter taste in your dish if you choose this replacement. It is best as a replacement in baked goods due to this sweetness.
2. Clarified Butter
Ghee is a type of clarified butter. However, regular clarified butter does not solidify at room temperature like ghee. The taste of clarified butter is not as strong as ghee's distinct taste.
Clarified butter and ghee are incredibly similar in their cooking properties making clarified butter a great alternative in almost any recipe.
You can use clarified butter in a 1:1 ratio when substituting.
3. Homemade Ghee
Making ghee from scratch if you have none in your kitchen sounds like a daunting task, but it is pretty simple.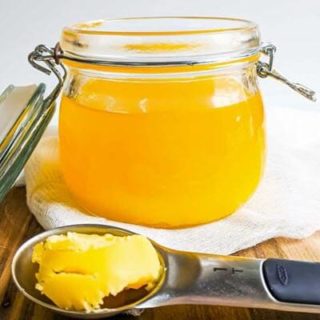 Homemade Ghee
Make your own ghee at home!
Ingredients
1 pound of butter
Storage container
Instructions
Melt butter in a pan until it is fully melted and foam begins to form.
Remove the foam with a spoon. This may take a while.
Continue cooking the butter until the middle is translucent. You should notice the milk solids in the bottom of the pan. This is your ghee!
Let it cool, and then strain it in a cheesecloth, coffee filter, or nut milk bag.
Nutrition Information:
Yield:

2
Serving Size:

1
Amount Per Serving:
Calories:

1626
Total Fat:

184g
Saturated Fat:

117g
Trans Fat:

7g
Unsaturated Fat:

55g
Cholesterol:

488mg
Sodium:

1458mg
Carbohydrates:

0g
Fiber:

0g
Sugar:

0g
Protein:

2g
FAQs About Ghee Substitute
What is a good ghee substitute in baking?
Ghee is an ingredient that has been used for a long time in Indian cooking and baking, but what if you don't have ghee? There are several substitutes available:
Butter
Soybean Oil
Grapeseed Oil
Coconut Oil
What's a good substitute for ghee when making paratha?
If you can't find ghee in your kitchen when making paratha, try using clarified butter or browned butter.
Final Words
Ghee can be difficult to find in the United States and may not always be available at your local grocery store.
Don't worry, all the above ingredients will produce a similar taste profile as well as texture when used in place of ghee so feel free to experiment with different options!