"Sugar brings happiness. Eating it once or twice a week in a desert, that's what life is about. There is nothing wrong with it."_Adriano Zumbo.
Everybody loves a good dessert, and sugar is a crucial ingredient. Different sugars can make your dessert or pastries come alive.
In this article, we'll talk about palm sugar and coconut sugar. Are they the same? What's the difference between them? Let's find out!
30-second Summary
Palm sugar and coconut sugar are different. Palm sugar is made from the sap of palm trees, while coconut sugar comes from the flowers of coconut trees.
Palm sugars have a distinct caramel and palm flavor, while coconut sugar has a butterscotch-caramel vibe or flavor.
Both sugars are natural sweeteners. You can use them in every recipe that calls for sugar.
Palm Sugar, Coconut Sugar: What Are They?
Palm and coconut sugars are alternative sugars [1]. Initially, they were found in parts of Southeast Asia, but they were imported to North America.
They are both natural sweeteners, and they are obtained from trees. Other examples of natural sweeteners are maple syrup, agave nectar, and honey.
Palm sugars are gotten from the sap of palm trees. The extracted sap is reduced to crystal sugars through the process of boiling.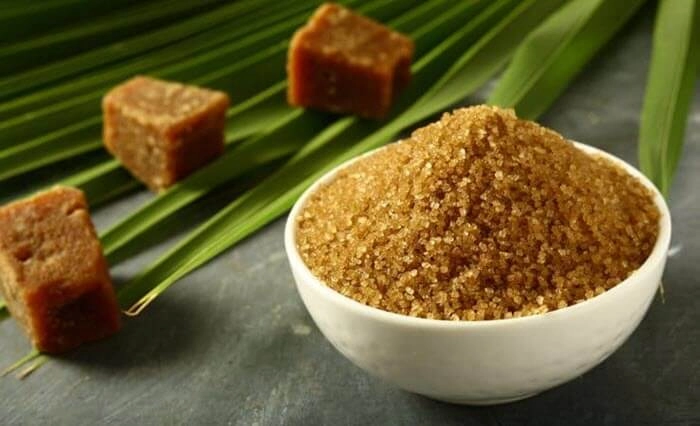 Coconut sugars are gotten from the buds of coconut tree flowers. And it's also boiled in large vessels to form sugar paste or jaggery [2].
Note that these sugars are not chemically altered. They do not contain any artificial flavor or additives.
Now that we know what these sugars are, it's time to learn the differences.
Palm Sugar vs. Coconut Sugar: Differences
We can compare these sugars under the following headings:
| | | |
| --- | --- | --- |
| | | |
| | | |
| | gotten from the palm tree trunks | gotten from the buds of coconut tree flowers |
| | | |
Taste
Palm sugars have a caramel flavor with distinct smoky palm undertones. Its mild flavor mixes well when combined with other flavors.
But, coconut Sugar does not have the characteristic coconut flavor. It tastes like natural brown sugar with a more earthy flavor. It gives a butterscotch-caramel vibe.
Pure palm sugar is hard to find, so most palm sugars you see are mixed with cane sugar.
Origin
They originate from two different trees. Palm sugar is gotten from the palm tree trunks. While coconut sugar comes from the sap in the flowers of coconut trees.
Color
Palm sugars are brown, but they have a lighter hue. The color of coconut sugar depends on the variety used and the harvest time. But generally, coconut sugars have a dark shade.
To ease the confusion between what both sugars are, we have curated some frequently asked questions that you will find helpful.
Also read: 17 Best Coconut Sugar Substitutes (Healthy & Tasty)
FAQs About Palm Sugar, Coconut Sugar
Coconut sugar vs coconut palm sugar: what's the difference between?
Coconut sugar is the same as coconut palm sugar. They are the same thing but with a different name.
Is palm sugar the same as coconut sugar?
No. Many people use the terms coconut sugar and palm sugar interchangeably. Some people call coconut sugar "coconut palm sugar." This is wrong and a significant cause of confusion.
Is coconut sugar good for you?
Coconut sugar retains nutrients like potassium, zinc, calcium, and iron from coconut sap.
It also contains inulin [3], a soluble fiber that reduces the risk of high blood sugar levels.
These nutrients are good, but coconut sugar does not contain all these nutrients per serving.
To gain these nutrients from your sugar, you need to eat a lot of it. Too much sugar intake is unhealthy. You might have to balance the intake of these nutrients by eating raspberries, strawberries, and other foods.
Is Coconut sugar better than cane sugar?
Nutritionally, coconut sugar contains more minerals than cane sugar.
As sweeteners, both sugars work great for any recipe. You have to be mindful of the texture and flavor; the bottom line is: "what do you hope to achieve ?".
If you want a cake with a minor hint of flavor but more sweeteners, then cane sugar is for you.
But if you want a more flavored sugar with a dark hue, then coconut sugar is the best option.
Is coconut sugar a better option than palm sugar?
Coconut sugar seems to have more nutrients when compared with palm sugar. It takes the upper hand because of inulin, low fructose, and low glycemic score.
Can I use Coconut Sugar to make cookies?
You certainly can. But take note that if you use coconut sugar, your cookies might come out brown, not white.
Can Palm sugar get spoilt?
Palm sugar does not go rancid quickly. If stored properly in a dry, cool, airtight container, it can last two years.
With time, it might become lumpy, and its texture might change, making it undesirable for use.
You may like: What Can You Substitute for Palm Sugar
What can I use natural sweeteners like coconut, palm, and cane sugars for?
Sweeteners can be used in various dishes, from desserts, pastries to savory dishes even drinks.
Palm sugars can be added to rice dishes, lentil soups, curries, etc.
Coconut sugars can be sprinkled into parfait, sauces, or added to cakes, etc.
Cane sugars, like other sugars, can be added to any food that sugar can be found.
Note that you have to taste as you go through the process to ensure you've added your desired quantity.
Check out this video of how to use coconut sugar while baking.
---
Conclusion
Sugar is addictive! When you find one that keeps your tastebuds hooked, don't be afraid to explore it!
I hope this post can be helpful when you want to know the difference between coconut sugar and coconut palm sugar. If any related questions, don't hesitate to let me know.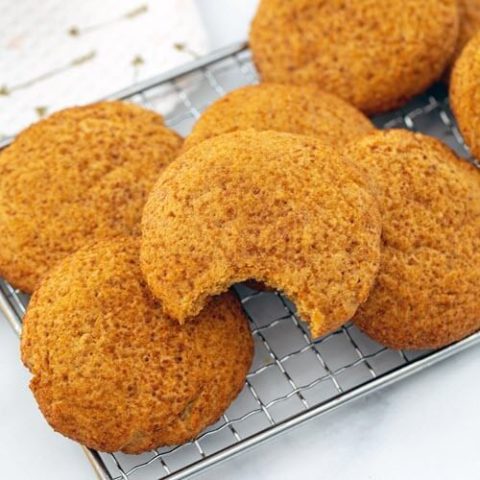 Coconut Sugar Cookies
A simple recipe of coconut sugar cookies.
Ingredients
6 tablespoons of butter
½ cup of coconut sugar
1 large egg
½ teaspoon vanilla
1 cup all-purpose flour
1 teaspoon baking soda
¼ teaspoon kosher salt
Instructions
Heat your oven to a temperature of 375F. Line your baking sheet with parchment paper.
Put butter, coconut sugar, egg, and vanilla in a bowl and beat until smooth.
Put the flour, baking soda, and salt into the mixture. Beat until all ingredients combine.
Scoop a generous quantity of the dough onto your already prepared baking sheet.
Bake the dough for 8-10 minutes. Or until the top of the cookies look cooked and dry.
Allow the cookies to cool in the pan for 1 minute, then transfer them to a cooling rack to cool fully.
Once cool, serve immediately. You can preserve it in an airtight tin to preserve its texture.
Nutrition Information:
Yield:

8
Serving Size:

1
Amount Per Serving:
Calories:

189
Total Fat:

9g
Saturated Fat:

6g
Trans Fat:

0g
Unsaturated Fat:

3g
Cholesterol:

46mg
Sodium:

274mg
Carbohydrates:

24g
Fiber:

0g
Sugar:

12g
Protein:

2g