The broth has become one of the most used soups in culinary history.
Chicken broth, however, tops the popularity chart. It is present in stews, soups, rice, pasta, to mention a few.
Can it be used in all meals- including vegetarian meals?
This article will answer every question about chicken broth and vegetarian meals.
We'll also add recommendations for chicken broth substitutes in your vegetarian meal. Let's get to it!
Chicken broth is not vegetarian. It contains chicken meat or bones. However, chicken broth can be substituted with bullion cubes, water, dry wine, coconut milk, vegetable broth, etc.
Beef broth is also not vegetarian, but like chicken broth, you can always find beefless substitutes for your vegan recipe.
Is Chicken Broth Vegetarian?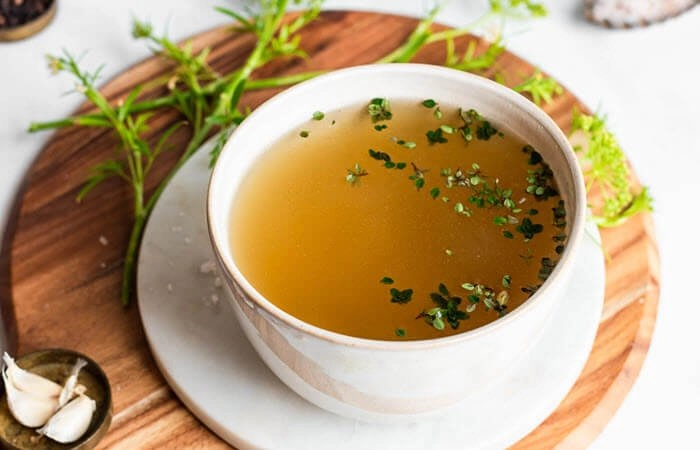 No. Chicken broth is not vegetarian. Chicken broth consists of vegetables, spices, and, most importantly, cooked chicken meat.
A vital characteristic of a vegetarian meal is that it's devoid of animal-based products.
If you have ever wondered: "does chicken broth have chicken in it?". The answer is yes. It's not just a name; it's a primary ingredient.
Is Chicken Stock Vegetarian?
Like chicken broth, chicken stock is a derivative of chicken. It is obtained from simmering chicken bones for a long time to extract the collagen.
That being said, chicken stock is not vegetarian.
Is Chicken Powder Vegetarian?
Yes. The chicken powder is vegetarian. It is an expert mix of onion, garlic, and pepper flavors to taste like chicken but isn't made from actual poultry. It can substitute for basic chicken broth.
Is Beef Broth Vegetarian?
Traditional beef broth is derived from beef or cattle bones, this already gives it an animal base, so it's not vegetarian.
However, beef broth powders can substitute for beef broth in vegan meals. You can always search for broth powders marked "beefless" in stores nearby.
Read also: Top 15 Beef Broth Substitutes for Your Recipe
Can Vegetarians Eat Chicken Broth?
Chicken broth and stock are animal-based products, so strict vegetarians cannot consume them.
However, if you are a pollotarian, you can eat chicken broth or its stock.
Pollotarians can adhere to vegetarian diets that incorporate only poultry as their meat source.
Can vegans eat chicken broth? Only pollotarians can; strict vegans cannot.
Can I Use Vegetable Broth Instead Of Chicken Broth?
You can. Vegetable broth can substitute for chicken broth in vegan meals.
Broth refers to any simmered flavorful liquid containing water, vegetables, or animal parts. So, if you don't use animal products, you can use only vegetables.
We have curated five vegetable broths you can use in your vegan meal to give you options.
Vegetarian Chicken Broth Substitutes
1. Water
Yes, water can substitute for chicken broth in simple recipes. If your recipe calls for a bit of broth to glaze a pan or thin out your stew, water is your best bet.
You have to bump the quantity of the ingredients a bit more to give that "brothy" flavor.
That means to increase the amount of salt, pepper, dried herbs, or whatever spice you are using until the flavor is good enough for you.
However, if the chicken broth is the main ingredient for your meal, water may not do the trick. Move along to our subsequent recommendations.
2. Vegetable Stock
Vegetable stock is a fantastic vegetarian substitute for chicken broth. It is vegan-friendly and contains more nutrients because of its vegetables.
Your vegetable stock can contain onions, celery stalks, garlic cloves, carrots, and green beans.
Since vegetable stock doesn't simmer for a long time, you can be sure of a richer stock, unlike chicken broth.
Vegetable stock is a safe choice when you are unsure of your guest's preference.
3. Coconut Milk
We recommend coconut milk for dishes that are compatible with its flavor. So basically, African or Indian based foods.
However, if you are feeling adventurous, infuse its creamy flavor into your meal; by all means, give it a shot!
Be mindful of the quantity of coconut milk you use. Coconut milk is sweet; too much of it can change the entire flavor of your recipe.
4. Vegetable Bouillon Cubes
Bullion cubes or granules make a great chicken broth substitute. You can source vegetable bouillon cubes in the grocery stores near you.
To create your broth substitute, dissolve one bouillon cube into 1 cup of boiling water and use it in your recipe. Feel free to scale up the quantity if necessary.
Since bullion cubes are saltier than broth, you might want to scale down the quantity of salt in your recipe.
Additionally, please resist the urge to sprinkle the cubes directly without dissolving them.
5. White or Dry Wine
White wine comes in handy if your recipe requires about ½ a cup of broth. The white wine plus the other ingredients give your broth an exquisite taste and a touch of acidic flavor.
Be careful when you use dry wine, as it's powerful enough to change the flavor of your dish.
6. Vegan Chicken Borth
You can use other options as chicken broth substitutes in your recipe, but the best is to create yours.
Follow along as we give you steps to make your vegan chicken broth.
How To Make Vegan Chicken Broth
Total Time:
2 hours
5 minutes
Your easiest vegan chicken broth recipe!
Ingredients
2 ribs of celery
9 cups of water
1 large onion ball
2 leeks
4 large carrots
8 sprigs of parsley
2 cloves of garlic
8 sprigs of thyme
5 whole peppercorns
1 bay leaf
1 teaspoon of ground paprika
1 teaspoon of ground turmeric
Salt
Instructions
1. Wash, clean, and chop all vegetables.

2. Pour them into a large pot and boil in water over high heat.

3. After boiling, allow simmering for about 2 hours on low heat and cool.

4. Place a strainer on a bowl and pour the stock through the mesh. Use a wooden spoon to mash the cooked veggies to release more liquid.

5. Once strained, use immediately or store in airtight containers in a fridge.
Nutrition Information:
Yield:

1
Serving Size:

1
Amount Per Serving:
Calories:

536
Total Fat:

24g
Saturated Fat:

7g
Trans Fat:

0g
Unsaturated Fat:

11g
Cholesterol:

74mg
Sodium:

932mg
Carbohydrates:

66g
Fiber:

18g
Sugar:

19g
Protein:

24g
Broths soups are a constant in the kitchen. They give your meal an earthy and warm vibe.
Whether vegan or not, there is a broth for everyone.