Asian food lovers who have tasted Kimchi agree that it is a ten over ten! It doesn't just give spice and flavor, but it's packed with nutrients.
So the question is, can this fantastic side dish be eaten forever? Can Kimchi go bad? Are there risks associated with eating expired Kimchi?
In this particular article for Asian food lovers, we'll give answers to those questions and more.
15-Second Summary
How long does Kimchi last?
Approximately three months for homemade Kimchi. Eight months to 1 year for store-bought Kimchi
Does Kimchi go bad?
Yes, it can go bad when stored improperly.
How do I know if Kimchi is bad?
Check out molds, pungent smells, and tastes that deviate from the normal.
Does Kimchi Go Bad?
Yes, Kimchi does go bad.
Some people might find it difficult to believe when we say Kimchi can go bad. We understand why, especially since it's prepared by fermentation.
However, Kimchi can go bad, if stored improperly. This automatically changes its state, making it very unpleasant.
How Long Can Kimchi Last?
Traditionally, Kimchi is prepared and buried in the ground for years without it going rancid.
New methods have been used in recent times, such as sealing Kimchi in brine or vinegar in airtight jars. The fermentation process continues, but it doesn't last till eternity.
So, with that information, how long does Kimchi last?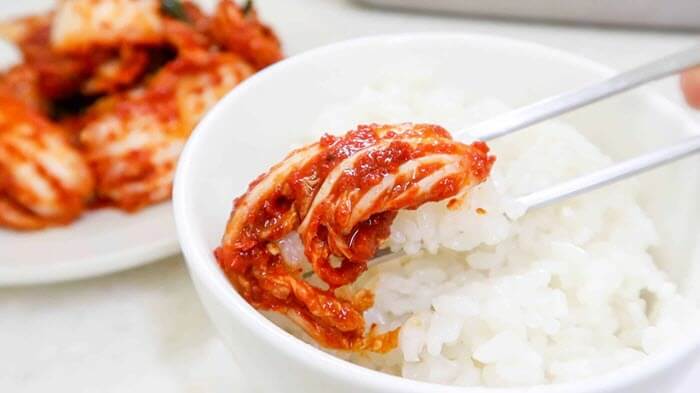 Homemade Kimchi
Homemade Kimchi can last for days or a week. But if you want sour and tangy-tasting Kimchi, you can keep it for about 3months in a fridge.
If you keep homemade Kimchi in your pantry, then ensure it's in a dark corner.
For sweet Kimchi, containing fruits and sugar, it'll last about 4 or 5 days in the pantry. While in a regular fridge, it lasts for a month or two.
In contrast, if your Kimchi has lots of salt and vinegar, it can stay in the pantry for about a week. And in a fridge for 3months or more, depending on your preference.
Store-bought Kimchi
Store-bought Kimchi usually lasts a little longer. We attribute this to the addition of preservatives.
Like all canned foods, store-bought Kimchi has a "best by" date. If the jar is left unopened, it should last for about 8 months to 1 year.
So, how long does kimchi last in fridge after opening? It will last for about three months when refrigerated if it is opened.
Note that the best-by date doesn't mean the vegetable ingredients are bad. It shows that the sourness might be too much for some people's taste buds by that time.
Despite refrigeration, the fermentation process continues, it might be slower, but it's ongoing. Since we know the fermentation is continuous, how do you know when it has gone bad?
How to Tell If Kimchi is Bad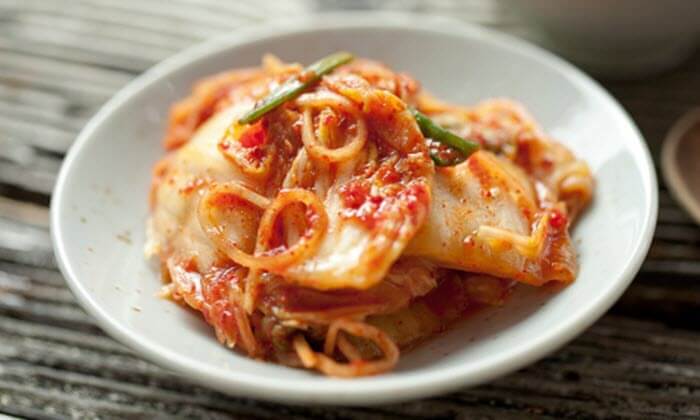 Despite its fermenting abilities, there comes a time when your Kimchi has to go. So, how to know if Kimchi is bad? Look out for:
Mold
If you notice molds inside your Kimchi, you want to get a new one. Molds can grow if other foods contaminate your Kimchi. Suppose you see dark spots; you should consider discarding them too.
Smell
Kimchi has a sharp sour aroma, and it gets a more intense aroma with time. So a sour smell is typical, but when it becomes rotten and deviates from the usual, then it's bad.
Taste
Any taste that's different from the sour, delicious, and flavorful kimchi taste is a sign that it's bad.
With Kimchi, you are meant to enjoy the fermented taste. So if your Kimchi tastes off and you aren't enjoying the taste, it's time to let it go.
Additionally, if it smells like alcohol, looks dry, or comes in contact with contaminated air, it's spoiled.
So, how do you store Kimchi for the best quality?
How to Store Kimchi? 5 Tips for You
The best vessel to store Kimchi is a glass jar.
Avoid continuous opening and closing of the jar all the time. If the Kimchi is in a large pot, transfer small portions to smaller jars.
Avoid using dirty utensils on Kimchi; it can predispose it to infection.
It's best to store your Kimchi in the refrigerator. You can keep Kimchi at room temperature, but the resulting mixture will be very tart, and it can explode like a wine bottle on opening.
Keep the jar airtight-closed after opening to prevent contaminating it with air.
Even if it goes bad, are there any risks associated with eating Kimchi that is spoilt?
Risk of Eating Expired Kimchi
Consuming expired Kimchi sets you up for food poisoning. If your Kimchi contains pickled shellfish or seafood, you might be at risk of botulism, shellfish poisoning, and anisakid infection.
These are usually characterized by nausea, vomiting, bowel blockage, bleeding, and respiratory disturbances.
To keep your Kimchi safe, can you freeze it?
Can You Freeze Kimchi
Yes. You can freeze your Kimchi. We recommend this storage method. Freezing doesn't remove the fermentation process, but it slows it down. Keep Kimchi in airtight containers or zip lock bags.
Would you like to prepare your Kimchi? We have an easy recipe for you.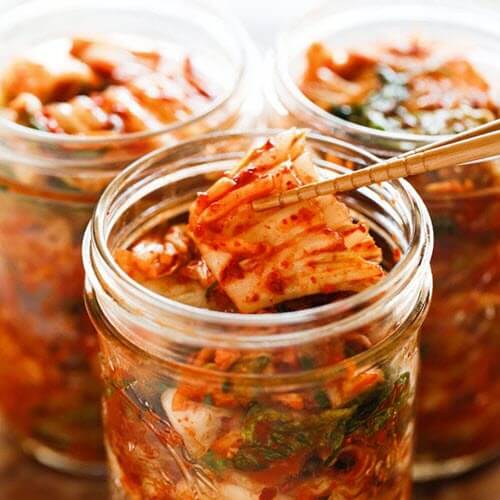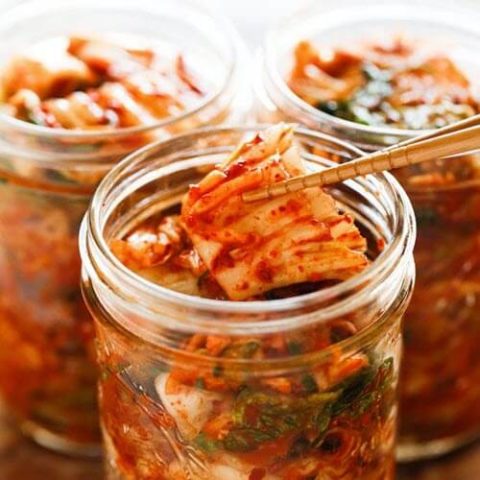 Homemade Kimchi
Ingredients
1 medium-sized napa cabbage
1 tablespoon of grated garlic
8 ounces of Korean radish
1 teaspoon of grated fresh ginger
2 tablespoons of shrimp paste or fish sauce
1 tablespoon of granulated sugar
8 ounces of Korean radish
1 to 5 tablespoons of Korean pepper flakes
4 medium-sized scallions
Water
Kosher salt to taste
Instructions
1. Cut the Napa cabbage lengthwise into 2-inch strips.

2. Then place the cabbage into a wide bowl and add salt. With your fingers, gently massage the salt into the cabbage until it feels soft. Cover the cabbage with a lid and allow it to sit for about 2 hours.

3. With cold water, rinse the cabbage thrice. Then place in a sieve to drain for about 20minutes.

4. Prepare the sauce for the Kimchi. Mix the fish sauce, shrimp paste, sugar, ginger, garlic, and water till it forms a paste. Add the number of pepper flakes you prefer. Set aside the paste.

5. Mix the scallions, radish, and cabbage.

6. Next, thoroughly mix the prepared paste with the vegetables until they are coated thoroughly.

7. Pour the mix into a jar and press until the liquid from the mixture covers the jar's content. Allow a one-inch distance from the jar and seal tightly.

8. Keep the jar away from sunlight and allow it to ferment in a cool dark place for about 5days.

9. Check your Kimchi daily with a clean spoon or finger press the vegetables to keep them submerged. This also releases gas and taste to determine the degree of sourness.

10. Once you are satisfied with the result, transfer it to your refrigerator. Feel free to use it after a week or two; the flavor would have all come together by then.
Nutrition Information:
Yield:

1
Serving Size:

1
Amount Per Serving:
Calories:

295
Total Fat:

3g
Saturated Fat:

1g
Trans Fat:

0g
Unsaturated Fat:

2g
Cholesterol:

68mg
Sodium:

4841mg
Carbohydrates:

59g
Fiber:

17g
Sugar:

23g
Protein:

17g
Try out this simple recipe for a delicious delicacy.
Spicy, tart, sour, and a little pungent are the flavors that come alive in Kimchi. If you are looking for an Asian delicacy with a burst of flavors, try Kimchi.